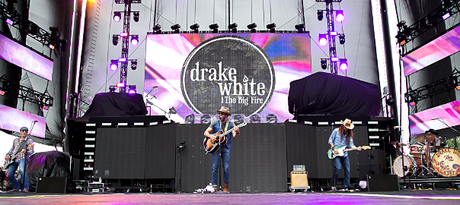 It isn't always easy to be the first act of the day on a main stage. And it isn't always easy to travel 900 miles away from your hometown to play in front of music fans. But Saturday at CMT Music Fest, Drake White & The Big Fire did both of those things and knocked it out of the damn park.
With the early afternoon crowd milling about, Drake took the stage with his band and did a fantastic job of getting things started with more country music. And when they started playing I Need Real, the milling about turned into active watching and listening - with a side of toe tapping for good measure. And by the end of song two, Alabama Dirt Road, there weren't many people in the vicinity who hadn't taken a spot close to the stage to hear the Hokes Bluff, Alabama boy show CMT Music Fest what he had to offer.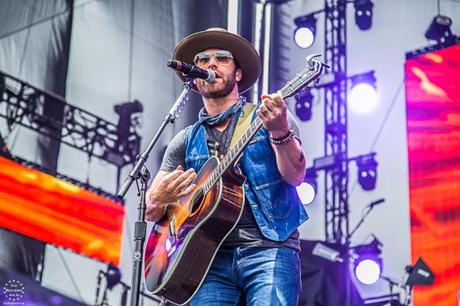 Drake was great with the crowd on Saturday, interacting between songs and during, giving call and answer opportunities and taking a second to personally apologize that Kip Moore and Eric Church weren't able to play for them in the storm on Friday night. It also became clear that country music is a natural fit for him, not because of where he's from, or even the way he sings, but because he's a natural born storyteller who clearly loves what he's doing.
Note: Just moments before Drake White hit the stage I heard someone yell "Come on Drake!" from the crowd and thought to myself, only at a country music festival is that anything other than a call for Drake to get up on stage and sing Hotline Bling.
White's set was real good, honest to goodness country fun, with more tracks like Everybody's Got A Story, Back To Free, and Equator... but my 2 biggest highlights of the show were most certainly his cover of James Brown's I Feel Good (complete with tambourine action by Drake) and Livin' The Dream, which drew a huge pop from the crowd and gave everything something to remember and sing along to.
It was a job well done by the Alabama boy, and we're sure we'll see more of him again soon.