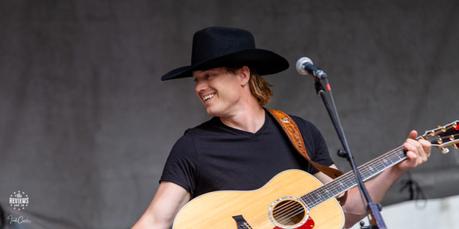 In the world of country music, there ain't no party like a tailgate party.
And what better way to kick off the big event than with a gig showcasing some of the province's brightest young stars?
On July 17, Ottawa's Sparks Street played host to the CMAOntario official tailgate party, with a slew of performers (including some of the night's nominees) rocking out to an excited crowd of devoted fans.
First up, five-time female artist of the year nominee Tianna Woods kicked things off with a high-energy set, which included 2018's My Eyes Are Up Here, which was produced by CCMA Award-winning producer J. R. Hutt, along with an ode to Tom Petty with I Won't Back Down.
A multi-talented country recording artist, musician, actress, dancer and performer, the Burlington native has headlined and performed in countless fairs, festivals and jamborees in Canada, the U.S. and as far away as Japan, and has released three albums and 15 singles to Canadian Country Radio, two of which landed in the Top 100.
This slideshow requires JavaScript.
Hailing from Ontario's cottage-country, Kansas Stone's Brian Vain and Matt Davey brought their outdoorsy, southern rock sound to the outdoor stage - and fans couldn't get enough. In addition to rocking out to some of their most celebrated tracks, including Blaze Of Nothing (which earned them a CMAOntario nom for video of the year), the band also gave fans a little taste of what's to come.
After playing and writing music for more than 15 years - together and apart - while Matt comes from a rock background and Brian country, the pair came together four years ago to form Kansas Stone.
This slideshow requires JavaScript.
Next up, celebrating three nominations at this year's awards, including female artist, music video, and album of the year, Uxbridge's Leah Daniels got fans dancing from minute-one. Performing hit after hit, including Go Back, 1st, and her now signature cover of Canadian icon Alanis Morrissette's You Oughta Know, Leah was (as always) pure sunshine.
This slideshow requires JavaScript.
Hometown girl Brea Lawrenson is known for emotions and stories in her music - the kind that have put her on the charts several times over the years. And Sunday's performance had those feels in spades. No stranger to a crowd, including those lucky enough to catch her at Ottawa Bluesfest, Boots & Hearts, or Cavendish Beach Music Festival Brea has shared the stage with a number of well-established artists over her career. A former CMAOntario new face just two years ago, this diva knows how to command a stage.
This slideshow requires JavaScript.
Wrapping things up with a bang, Rising Star nominee (and this year's winner) Jade Eagleson busted out a little Brothers Osbourne to get the crowd going before breaking into a number of tunes that have made this small-town boy from Bailieboro one to watch. As the winner of the Boots & Hearts Emerging Artist Showcase in 2017, his debut single Got Your Name On It had folks excitedly singing along on Sparks Street. And honestly, with that deep, rolling voice, how could you not?
This slideshow requires JavaScript.