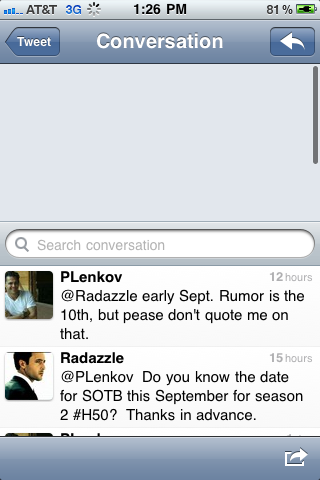 Shhhh… Here's a little info on when 2nd Season for Hawaii Five-0 might start.
  I saw this late 
Friday night
 from @PLenkov!  I know, I know, he didn't want anyone to quote him and he said it was a " Rumor" but I saw it and retweeted this:
@WEBSouffle RT@PLenkov -early Sept. Rumor is the 10th, but please don't quote me on that.-> Sunset on The Beach MAY BE Sept10 #H50
Hey, it's public! And I did say the SOTB Red Carpet Event MAY BE 
on Sept 10th.
So, If it's like the same events in the past for "Lost" in Waikiki. there is a strong likelihood the series primetime premiere on CBS will happen the following Monday on the 12th. Or a week later. You never know.
I DO know whenever it is, we will ALL be there watching!!!Aloha!