This is a Sponsored post written by me on behalf of CLR for SocialSpark. All opinions are 100% mine.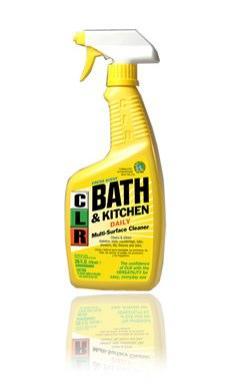 If there's one chore I absolutely hate, it's cleaning my bathroom! In fact, my bathroom needs cleaning right now, and I keep procrastinating because I dread it so much. We have a very old Jacuzzi tub in there, and it never seems to look clean, no matter how much I scrub at it. And I absolutely hate cleaning tile. The grout always looks stained. I've tried using products with harsh bleach and chemicals, but I worry about the effect of these products on my children and pets.

I recently read about a product for cleaning bathrooms and kitchens that I'd like to try. It's called CLR Bath & Kitchen Cleaner, and it's known for being…

- Fast acting and powerful
- Cleans quickly and effectively
- Makes short work of stubborn dirt, calcium, lime, hard water stains and soap scum
- Has the Environmental Protection Agency's "DfE" ("Design for the Environment" designation, meaning its safer chemistry is not harmful to everyone in your home)

This sounds like my kind of product, not only because it's safer for my family, but because it sounds like it really works at getting my bathroom cleaner! Needless to say, that would make me very happy! And I like that it can be used in so many areas, such as on ceramic tile, toilets, shower doors, bathtubs, sinks, shower heads and doors, and white grout and caulk. That means I won't need separate cleaners for each of these areas of my bathroom.

I'm really excited to try the CLR Bath & Kitchen Cleaner in my bathroom and kitchen! I'd love to hear about your experience with this product. Learn more about CLR Bath & Kitchen Cleaner on their website, and be sure to follow them on Twitter, too, at @clrcleaners.