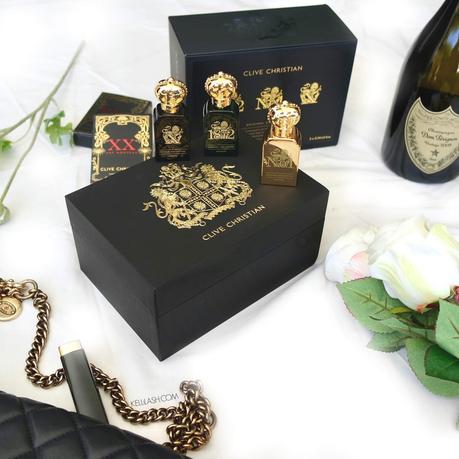 With a month that focuses hugely on Valentines Day we are surrounded by flowers, chocolates, perfume, champagne and so on ... yet I for one believe that every day should be a day to show that you love someone which doesn't always mean with material items either; but let's not deny that getting spoilt is always welcomed. You can't beat some g
ood old fashioned romance and speaking of which, did you know that Queen Victoria and Prince Albert made perfumes for each other as a symbol of their love for another? It is this romantic tale which led me to fall in love with one of the most luxurious fragrance brands in the world who are responsible for those royal scents in question. I am currently obsessed with The Crown (on Netflix) so I just had to share this one in a post! 
One of the hardest blogging tasks is describing fragrance; getting your excitement and love across in writing isn't easy because for me a fragrance is a memory, a feeling, a way of life and it just becomes

you. 
Anyone that wears fragrance has their own signature, the scent we want people around us to recognize us by. It is no secret that I am a huge fine fragrance fan and I look for scents that are
unique
 and no one else has. there is nothing more satisfying than being complimented on your scent, it's just a feel good factor! 
In this huge industry there is premium and there is premium. I'm now talking about a brand that is classed as the 'most expensive in the world'; so what does expensive really smell like? Just think what Chanel is to the handbag world and Dom Pérignon is to the Champagne World ..... Clive Christian is that to the Perfumery world. A fragrance fit for Royalty ... quite literally!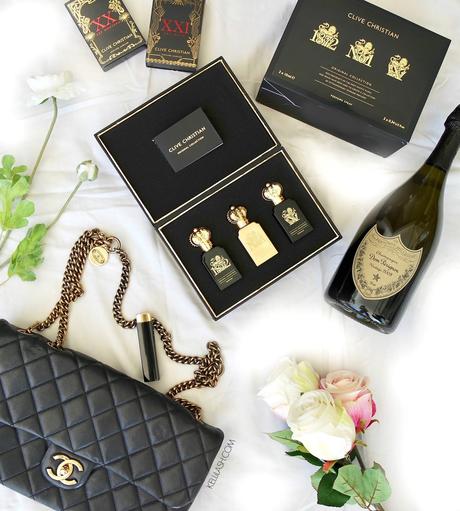 Clive Christian Perfume
This is in fact a brand whose background revolves around
LOVE
as each scent offers up one masculine and one feminine take on that same fragrance to simply compliment each other.
ABOUT THE BRAND
Clive Christian was established in 1999, England and is the world's leading independent perfume house with all perfumes containing between 20-25% pure perfume. 
The 
brand's predecessor
, 
the Crown Perfumery Company established in 1872
, is the only house ever to have been granted permission to use Queen Victoria's crown on its bottles; an image that defines every bottle of Clive Christian perfume to this day. This
 British perfume house has designed many sought after fragrances and their famous  '
No1'
 scent was in fact considered to be the
most expensive perfume in the world
back in 2001 and 2006. It sells for a whopping $2,150/€1894 per ounce and is still top of that list today.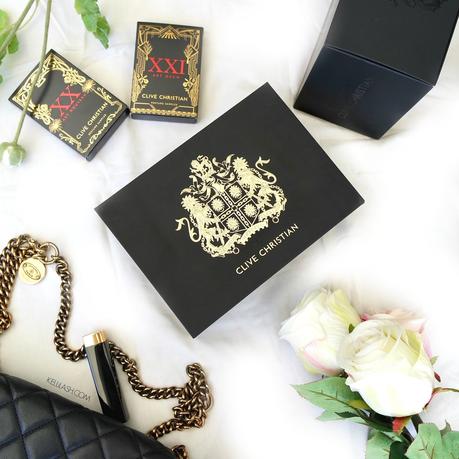 Clive Christian Perfume
The
 first time I discovered the brand 
Clive Christian
 was in my favourite perfumery store in Cannes called 
Taizo Perfumery
 and as you can readily imagine they have so many luxury brands that are truly unique and very extra. I remember inhaling every scent in the store though it was in fact my husband that fell in love with a Clive Christian perfume. However, I now feel like Valentines Day has come early and I have a (not-so) secret admirer as I was very kindly sent over this incredible 
Travel set 
by
 Clive Christian
 themselves to showcase just how special they are.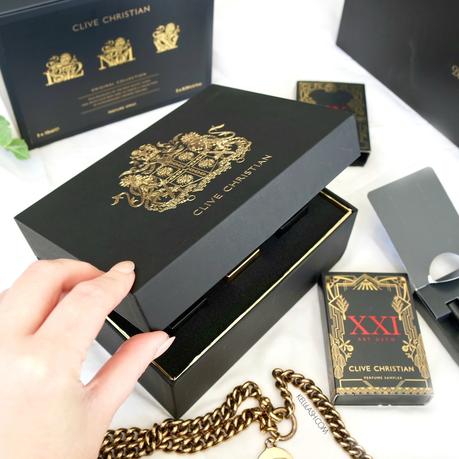 Clive Christian Perfume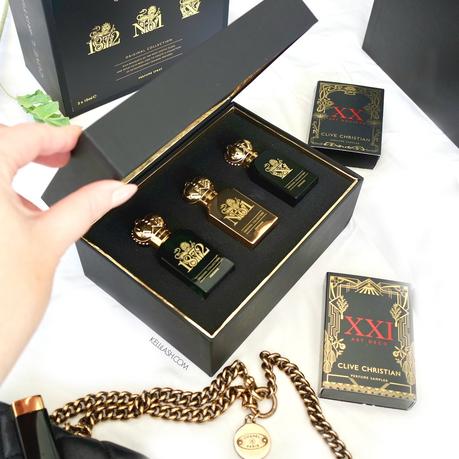 Clive Christian Perfume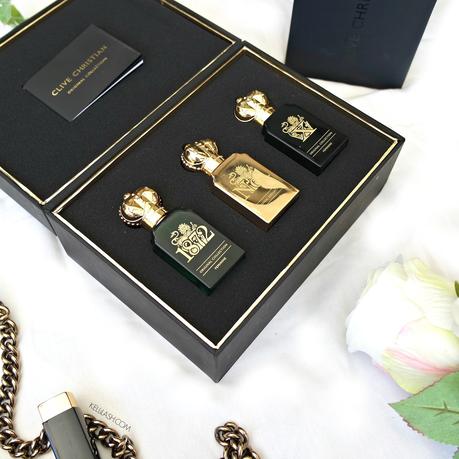 Clive Christian Perfume
THE LOVE STORY 🖤 LOVE IS IN THE 'HEIR' 
This brings me on to explain why Clive Christian perfumes have 'pairings'. 

In ode to Queen Victoria and Prince Albert who made perfumes for each other as a symbol of their love for one another, many of the brands scents are created in matching pairs so that they offer a complimentary interpretation for him and her; yet still being the same perfume. Hence you have the 'Feminine' side and the 'Masculine' side but you can of course choose to wear which ever side you prefer. 
The perfumes can also all be layered up in which ever way you like.
THE CROWN STOPPER
As you can see, each lid of every bottle is in fact a crown and as I mentioned above, back in 1872 the brands predecessor Crown Perfumery catered for high society in London and Queen Victoria was so impressed by the perfumes that she allowed an image of her crown to be used for the cap of the bottle. As Clive Christian took over, the crown stopper still applies and symbolises the brands British quality and excellence. He has stuck to the same values by cutting no corners unlike a lot of other brands today that do so to lower costs but with a brand like this, it shall forever be opulent and extravagant. 
Clive Christian was in fact made an OBE in 2012 for services to luxury goods as the design of the bottle takes as much work as its contents.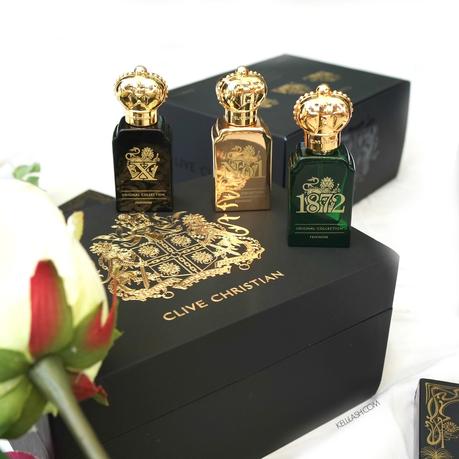 Clive Christian Perfume
TRAVEL SET ORIGINAL COLLECTION,
 Feminine
£195 3x10ml
(also available in Masculine)

here!
This is a perfect starter set that allows you take your scent with you wherever you go and gives you a mix of intense feminine perfumes containing a miniature 1872, No1 and X. Each 10ml bottle has the same intensity and concentration (20%) as the 50/100ml sizes but allows you discover which scent you love more. 

Obviously all fragrances are parfum and not a toilette. 
• 1872 - 
Citrus Floral
(30ml £135 - 50ml £225 - 100ml £350) 
here!
A floral, fruity citrus that combines clean crisp top notes with the intense bouquet of Rose de Mai, one of the rarest ingredients in nature. This is fresh, light and a perfect summer perfume that shall make you feel like you are sitting in the French Riviera. 
• No1 -
Floral Oriental
(30ml £295 - 50ml £450) 
here!
The most expensive of them all, with top notes of Mirabelle Plum, White Peach and Bergamot which slowly reveal Jasmine, Carnation and Rose. This one is a rich, elegant, sophisticated scent that has an old fashioned feel to it but with a modern intake. I feel 'enchanting' is an ideal word to use here! 
• X - Chypre Floral 
(30ml £135 - 50ml £225 - 100ml £350) 
here!
Exotic Chypre and Egyptian Jasmine make this exotic alongside Bergamot, Mandarin, Rhubarb, Cashmere and Cedarwood. This is so unique yet really reminds me of a scent I used to wear when I was younger and really takes me back.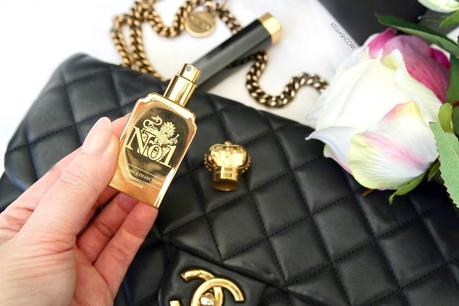 Clive Christian Perfume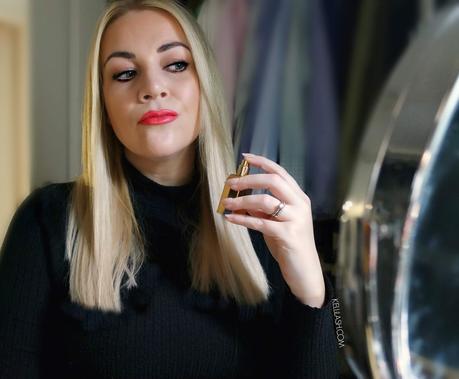 Clive Christian Perfume
Picking a favorite hasn't been an easy task as all three scents are so beautiful.
I always gravitate towards more floral, oriental, powdery, spicy kind of notes ... so
 it's been a tough call between X and 
No1 
but X just
 feels like me,

hence it is surely my
favourite.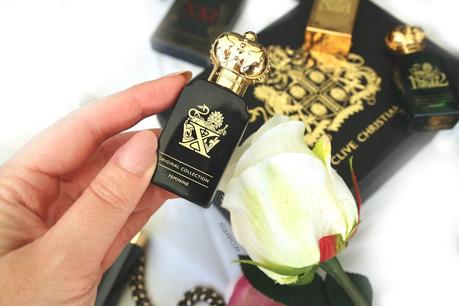 Clive Christian Perfum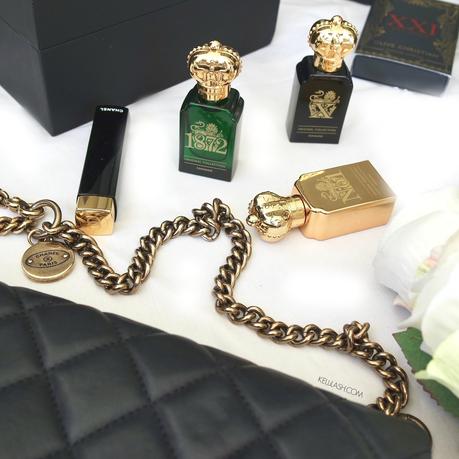 Clive Christian Perfume
A STUNNING, UNIQUE, WORTHY BRAND
Like Victora and Albert, I am in true love. I feel some brands compromise on quality when it comes to making smaller sized sets like this but the stunning black case oozes luxury yet is very lightweight and portable. The perfume bottles themselves are like my very own crown jewels being so luxurious and weighty and so beautiful to look at. They are the perfect size for any handbag (and look very at home in my Chanel) and definitely cause attention when you pull them out, although I will save these ones for special occasions out!
The perfume itself is intense and being of a high concentration you don't need to use much which in turn means they will last on your skin all day and all night as I could in fact still smell it on my clothing the next day. Everything from the packaging, the design, the bottle .... is just exquisite. For me they are a symbol of British culture at its best and being British myself, I feel very honoured and special each time I wear them.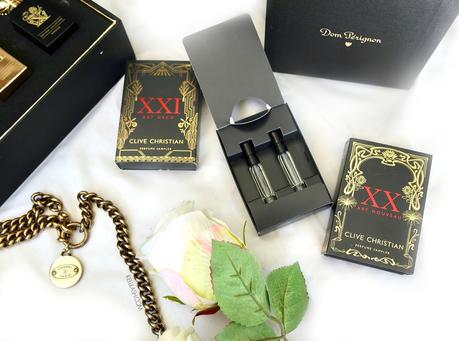 Clive Christian Perfume
I love that Clive Christian sample because this is a brand that you need to wear on your skin before making your decision and the sample packs are even just as luxurious as the real thing (above). 
The Travel set is just incredible as you can see and would make the ultimate unique gift for anyone - male or female!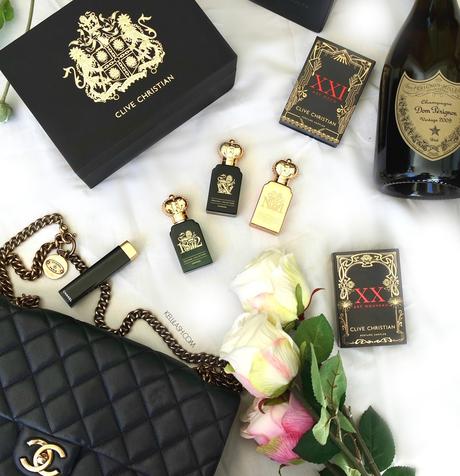 Clive Christian Perfume
Obviously there is that luxury price tag due to the concentration of these perfumes, so I know this is a brand that won't be for everyone but for those who are really into fragrance (like me) are strive to find something unique and individual, will definitely find it here. In that respect Clive Christian Fragrances
 are 
worth every single penny as they are so much more than
 just a scent.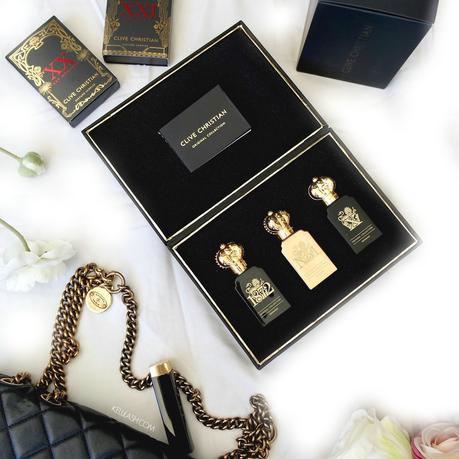 Clive Christian Perfume
To make the perfume world even more exciting, Clive Christian have a new collection out called Addictive Arts which uses pioneering perfume technology inspired by mood enhancing ingredients and the thrill and rush of hedonism. Not for the faint hearted as they retail for an impressive £525 (75ml) ... so I guess I need to go investigate! See here for more details. 
Once again, I thank the CC team massively for this amazing gift and opportunity to be able to tell you all about this incredible brand as it has captured my heart entirely.Have your ventured into the world of Clive Christian fragrances yet? Please do let me know your thoughts!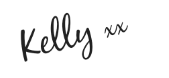 * Travel Set was Gifted from the brand for review.
* Not sponsored.