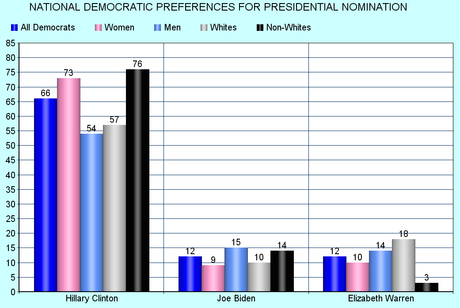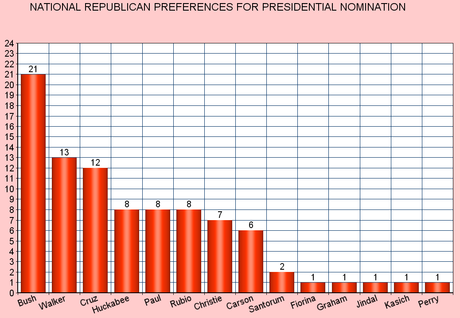 These charts were made from a new ABC News / Washington Post Poll -- done between March 26th and 29th of a random national sample of 1,003 adults. The survey has a margin of error of 3.5 points (6 points when only Democrats or Republicans are asked to respond).
I like they they divided the Democrats into five groups (all Democrats, men, women, Whites, and Non-Whites) and looked at the support for the top three possible candidates. Note that Hillary Clinton not only leads among all Democrats significantly, but has majority support among the other groups too.
Notable is the lack of growth in support for Warren, even though two left-wing groups spent over a million dollars trying to drum up support to get her to run. It seems that the huge majority of Democrats believe Senator Warren when she says she is not a candidate, and don't want to disrespect her by trying to get her to change her mind.
The only interesting thing that has happened among Republicans is that Ted Cruz has increased his support by officially declaring his candidacy -- but there is still no clear leader, with Bush being the most popular so far, but only getting 21% support.
Also interesting is that no Republican still can match Clinton in a head-to-head battle. She easily beats the top four GOP hopefuls with double digit leads over all of them (see chart below).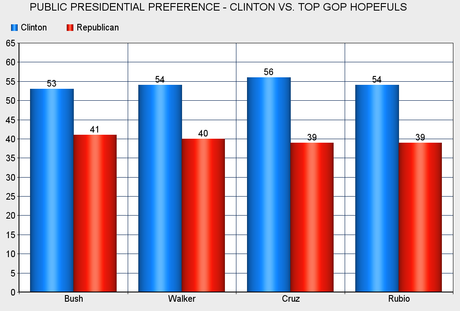 ------------------------------------------------------------------
Public Policy Polling also has a new survey of national Republicans -- done between March 26th and 31st of 443 Republican primary voters, with a margin of error of 4.7 points. Those results are in the chart below. It also shows a gain by Cruz, but no real leader among all of the hopefuls.