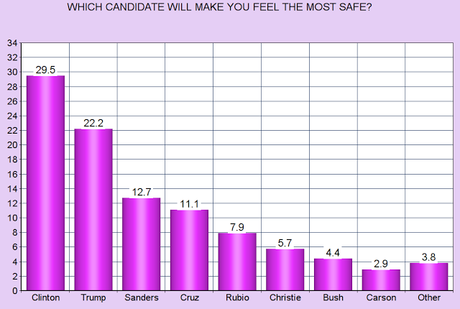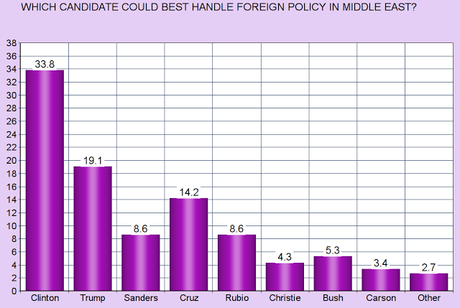 The Republicans have tried to pose themselves as the best to make this country safe, and the best to handle United States policy in the Middle East -- but the American public is not buying it. The top two Democratic candidates (Clinton and Sanders) would make Americans feel safer than the top two Republican candidates (Trump and Cruz) -- 42.2% to 33.3%.
And the same is true of who the public thinks could best handle foreign policy in the Middle East -- 43% to 33.3%. And the candidate that leads all the others in Hillary Clinton -- gathering 29.5% on making Americans feel safest, and 33.8% on being best to handle Middle East policy.
Republicans have tried to win the public by drumming up fear. But it seems the public prefers the calm and rational thinking of the Democrats -- especially Hillary Clinton.
The charts were made from information in a new Emerson College Poll -- done between December 17th and 20th of a random national sample of 754 registered voters, with a 3.5 point margin of error.