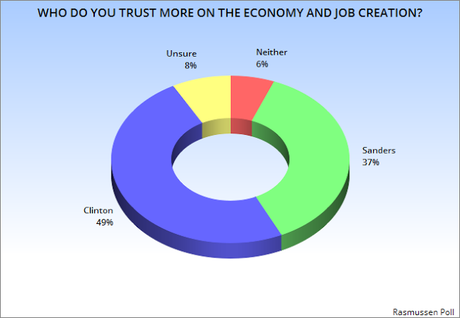 Bernie Sanders and his supporters like to brag about the size of their crowds, and say it shows their's is the most popular campaign. But the primary and caucus results don't show that. Hillary Clinton leads Sanders by about 261 delegates won in primaries and caucuses (and by 689 total delegates) -- and leads him by about 2.5 million votes overall.
Now, this new Rasmussen Poll shows that Democrats trust Clinton more than Sanders on the economy and job creation (which polls have shown are the most important issues to Democrats) by a 12 point margin (49% to 37%).
I'm not saying Sanders should suspend his campaign. I have no problem with him taking it all the way to the convention, if that is his desire. But I must admit that I just don't see any path to the nomination for him.
This Rasmussen Poll was done on April 11th and 12th of a random national sample of 1,000 likely voters, and has a 3 point margin of error.