Don't Stop Living - Jonny Blair - a lifestyle of travel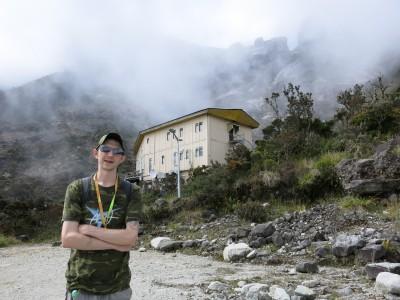 Arrival at Laban Rata, base for the night on Mount Kinabalu.
After completing the first day of the hike, we arrived at our base of Laban Rata for the night. We had reached the 6 kilometre mark and would be spending the night in this mountain village. Basically Laban Rata is one massive hut and a few other smaller huts and it is situated just 2 kilometres from the peak of Mount Kinabalu.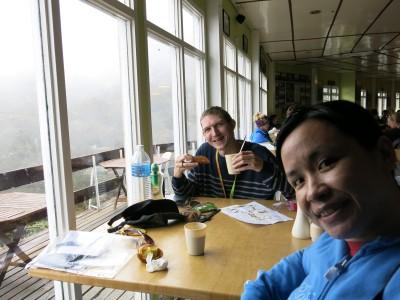 Tea, coffee, warmth and muffins at Laban Rata.
On arrival at Laban Rata, water, tea and coffee is all free so the first thing you do is grab a cup. There are plenty of tables and chairs in the main dining area. We also picked up our key for The Waras Hut, our base for the night. I went back down the hill to our 5 bed dorm in the Waras Hut just to leave our bags in, then back up to Laban Rata.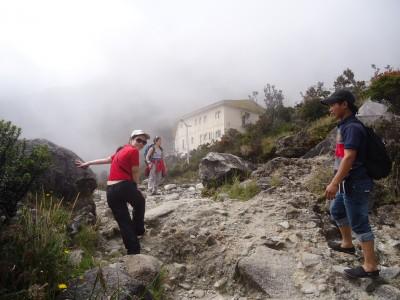 Almost there at the Laban Rata base!
Of the 5 beds, only 3 were to be occupied for the night. Hardly "sold out" or "no room left" which is what the Sutera Sanctuary Lodges had tried to tell us. Sutera Sanctuary Lodges have a monopoly on accommodation at Laban Rata and think they can bully their customers. Don't give in to their demands! Check out my post on booking Mount Kinabalu.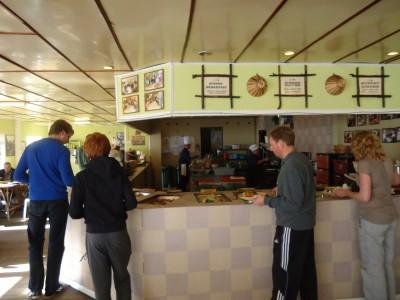 The buffet restaurant at Laban Rata, Mount Kinabalu, Malaysia.
The biggest and best surprise for me was the fact that at the main hut at Laban Rata they del Guinness!! Quite astounding that the only two beers available here are Tiger and Guinness.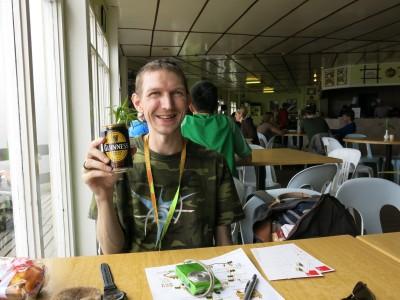 Loving the fact they have Guinness at the base at Laban Rata!
Admittedly it's the Guinness Extra Stout and it's in tins  only. But beggars can't be choosers and I had one as we sat at our table by the window ready for dinner and sunset.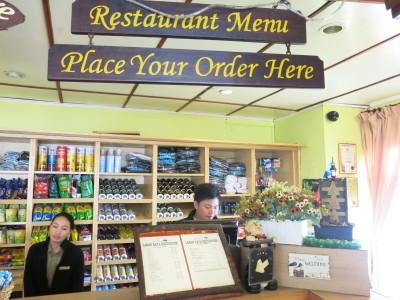 This is the souvenir shop behind the restaurant menu.
You can also buy souvenirs at Laban Rata. Stuff like t-shirts and postcards. I wrote my brother his postcard whole I drank my Guinness.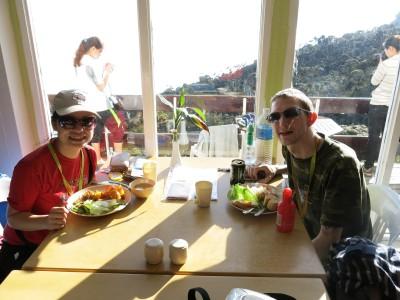 Enjoying dinner pre sunset at Laban Rata on Mount Kinabalu.
Then it was dinner time and it's a buffet free for all. We were hungry enough after the hike and got tore into the meal.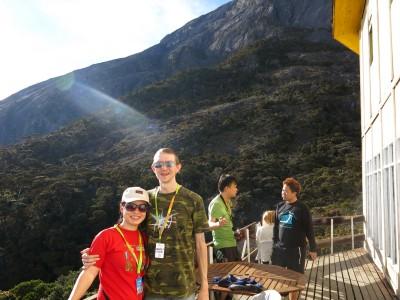 On the balcony at Laban Rata anticipating the sunset!
Following the meal you have a bit more time to relax and watch the sunset.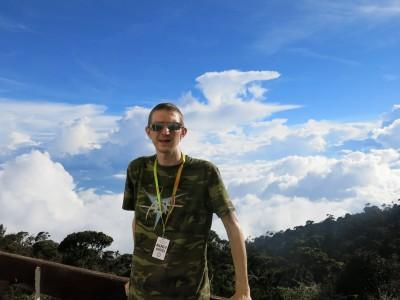 Up in the clouds at Laban Rata, Mount Kinabalu, Malaysia, Borneo.
Sunset from the balcony at Laban Rata was pleasing, but you are tired so it's time for an early night. The wake up call will be around 2 am..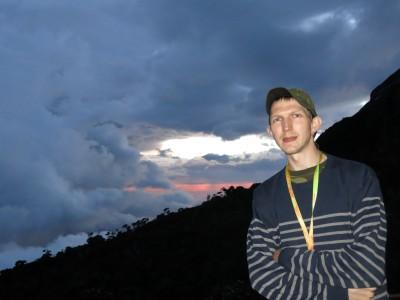 The suns sinks over Mount Kinabalu at Laban Rata and it's time to sleep…
My Videos from Laban Rata, Kota Kinabalu, Malaysia:
Original article: Climbing Mount Kinabalu in Borneo: Day 1 Part 5 – Sunset and Dinner at Laban Rata
©2013 Don't Stop Living. All Rights Reserved.