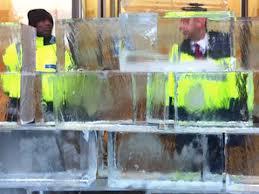 Looked like a cold and slippery scene in front of Shell yesterday… Click the picture for The Guardian's video from the action.
Environmental protesters opposed to Shell's Arctic oil drilling plans stacked a wall of ice blocks in front of an entrance to the company's London headquarters yesterday. Some 15 activists from the group Climate Justice Collective participated in the action against Shell, saying its drilling efforts off the coast of Alaska are both taking advantage of and contributing to the problem of receding sea ice.
Meanwhile, Democracy Now reported that more naturally occurring sea ice moving into the vicinity of Shell's Arctic drill rig forced the company to halt its efforts Monday, just one day after it began drilling an exploratory well. The Arctic has seen unprecedented melting rates this summer, with scientists expected to announce a record low for the Arctic sea ice minimum this week.
See a video of the action here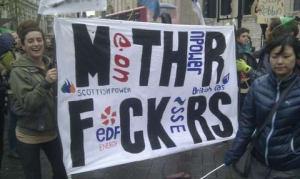 Image from the Big Six Energy Bash, which Climate Justice Collective participated in earlier this year.