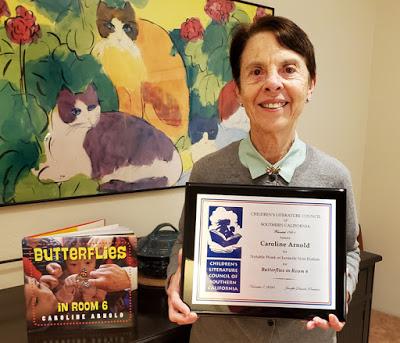 Caroline with CLCSC Award for a Notable Work of Non-Fiction for Butterflies in Room 6


Yesterday, November 7, 2020, the Children's Literature Council of Southern California held their Fall Gala and celebrated this year's children's literature awardees at a virtual ceremony. I am proud to have received the award for a Notable Work of Juvenile Non-Fiction for my book
Butterflies in Room 6
. Other award winners this year are Laura Taylor Namey, Margaret Dilloway, Roseanne Greenfield Thong, Rebecca Constantino. Following an inspiring keynote address by author Deborah Heiligman, the award winners was introduced, and then we each gave a short acceptance speech. Here are my remarks:
It is indeed an honor to be receiving this year's nonfiction award for my book Butterflies in Room 6. Thank you. 
I have been writing books for a long time, and pleased that a number of them have been honored by Children's Literature Council in the past. For this book, Butterflies in Room 6, it is the first time as both author and photographer. A challenge in taking photographs of children and animals is that neither stay still for long! For many years I worked on books with photographer Richard Hewett, now passed away. I learned a lot about photography from him—a key being patient and willing to take LOTS of photos to get just the right one. I have also learned from my husband Art, my in-house tech guru, who is an excellent photographer and who helped me with the close-up pictures in this book
The idea for Butterflies in Room 6began with an author visit several years ago at Haynes School in Los Angeles where I met Jennifer Best, a kindergarten teacher, who told me how she hatches eggs every year with her students as they learn about life cycles. The following spring, I embedded myself in her classroom, which enabled me to follow the process and get the photos I needed for my book Hatching Chicks in Room 6. At the time, I noticed that the children were also raising Painted Lady butterflies--watching the caterpillars grow in a jar, turn into chrysalises, and, after a week or so, emerge as beautiful butterflies. It seemed like the perfect sequel to Hatching Chicks. So, two years later, I was back in Room 6, learning about caterpillars and butterflies.
But this time, I wanted to do the project myself at home first so I could anticipate the pictures I would need and get some practice taking pictures of butterflies. Most people who raise butterflies start with caterpillars. But I wanted my book to show the whole butterfly life-cycle, from egg to adult. So, I ordered Painted Lady butterfly eggs from a scientific supply house. The tiny blue eggs, no bigger than a grain of salt, came in a small vial. A note with the package said there were 35 eggs, with a few extra, in case some didn't hatch. In fact, there were 100 eggs in the vial and every single one of them hatched! I soon had 100 very hungry caterpillars in containers all over my house! I had also ordered special caterpillar food to feed them, and within a few weeks, I had 100 beautiful butterflies.
Mrs. Best also ordered butterfly eggs, and I followed the students in Room 6 as they raised their butterflies, documenting the children's excitement at each step of the process—looking through magnifying glasses, watching the caterpillars grow, and letting the butterflies rest on their hands for a moment before thy flapped their wings and flew away into the neighborhood. 
I couldn't have written Butterflies in Room 6 without the help of Jennifer Best and her kindergarten students. I thank them for welcoming me into their classroom and for sharing the wonder of metamorphosis with me. I am also grateful to the children's parents and the school principal, Barbara Meade, for their enthusiastic support. And I thank everyone at Charlesbridge Publishing, especially my wonderful editor Alyssa Pusey, who contributed to making this such a special book.
I want to express my gratitude to the Children's Literature Council for choosing Butterflies in Room 6 for this very special honor today, especially Charmetria Marshall and everyone on the award committee.And to President Jennifer Driscoll and all the people who worked so hard to make the arrangements for this special virtual celebration—Thank You!
And here is my beautiful plaque!