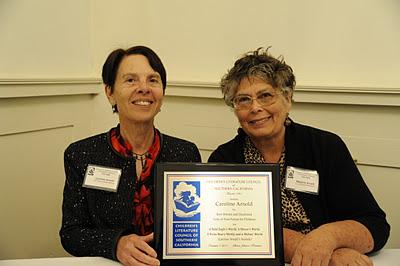 Caroline and Marjorie Arnett at the CLC Gala
   Attending the annual author luncheon of the
CLC
(Council on Literature for Children in Southern California), is a fall ritual for me.  I think I have been to most of them over the years and I always look forward to it.  This year was the gala celebration of the organization's 50th anniversary, held at the historic Romanesque Room in Pasadena.  I was so pleased to have my books
A Polar Bear's World, A Walrus' World, A Moose's World
and
A Bald Eagle's World
honored as The Best Written and Illustrated Suite of Nonfiction for Children and happy that so many of my friends were there to help celebrate at this special event.  Here are my remarks upon receiving the award: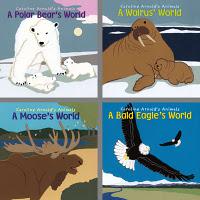 I am truly honored.  It is especially nice to be here at the celebration of the 50th anniversary of the organization that I still think of as SCCLCYP.  Remembering what all the letters stood for, ...Southern California Council on Literature for Children and Young People... was a little like learning to spell Mississippi when I was in first grade–once you start, you just go as fast as you can until you get to the end.  I was not there at the beginning of SCCLCYP, but I do remember my first Author Luncheon 31 years ago in 1980.  It was held at the Biltmore Hotel in downtown Los Angeles and I remember being awed both by the elegant surroundings (there was a string quartet playing in the lobby) and the fact that this was my first professional event as a new author. I had just published my very first book, an easy read story about birds, and I was feeling totally intimidated by the roomful of other much more established authors.  I never imagined that one day I would be standing in front receiving an award.  
The books that are being honored today are the last four in a series of twelve books published by Picture Window Books.  The first four in the series were about black and white animals, the next four about Australian animals, and these focus on animals that live in Alaska or the Arctic. 
Many of you know me as a writer specializing in books about animals and the environment.  For many years, I worked with photographers, including my husband, Art, who is here today.  With all of those books, I needed stories that lent themselves to photography.  That meant, no nocturnal animals, no underwater animals, no remote locations.  So many times I said to myself, "It would be so much easier if I could just do the art myself!"  Then I wouldn't have to worry about backgrounds, I could set my stories in any location, and I could make the animals behave as I wanted. With the Picture Window Books animal series I finally had the chance. 
The books in this series are intended for children in the primary grades.  (They are also perfect in preschool)  The main story of each book is short and told from the point of view of a baby animal growing up in the wild.  Factual information not essential to the flow of the story is put in sidebars and in front and back matter.  
For the illustrations in these books, I chose a cut-paper collage technique.  I wanted a poster-like look with bold colors that would make the images easy to see, even by a child in the back of the room when a teacher or librarian is reading the book aloud.  The essential parts of each illustration are the outlines.  Basically, as I do the art, I am drawing with scissors. I do, in fact, draw each image in pencil first, but the final result comes from cutting it out with my best sewing scissors. I typically cut out the animals first and then position them on a background.  I use flat colors, overlapping the paper in layers.  When the art is scanned for the book, a slight shadow around the edges of the paper creates a subtle 3-D effect.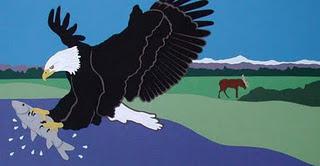 I rely on photographs and personal observations of the animals as references for my drawings.  When possible, I like to observe animals in their natural habitats. I have been to Alaska and have seen both moose and bald eagles in the wild.  To learn about polar bears and walruses, I went to Sea World and the San Diego Zoo.  The wonderful thing about zoos is that you can see huge animals like these just inches away on the other side of the glass.   Basically, I discovered, walruses are huge lumps.  They are a bit like your living room sofa with tusks.  And yet, they are surprisingly agile in the water.  I also find nature films and video helpful in my research.  While I was working on the eagle book, I kept my second computer screen open to a live webcam at an eagle nest on Catalina island.  It was amazing.  In real time, I could watch the young chicks toddling around the nest waiting for their parents to bring them food, and then suddenly the adult eagle would arrive, swooping in with a fish in its talons. 
I never get tired of watching animals and learning about them.  I know from my school and library visits that kids love to learn about animals too.  I want to thank all the teachers and librarians and parents who put books like mine into the hands of children.  And I want to express my gratitude to the CLC for choosing my books for this very special honor today.  Thank you, Marjorie Arnett, for your great introduction.  And thanks to Barbara Metzenbaum and all the people on the award committee for choosing me to receive this award.