They say all roads lead to Rome, but it's safe to say that some are more well-worn than others. In a city with so many superlative sights, there's nothing wrong with heading to the tried-and-tested classics, but sometimes it's good to wander down the road less traveled too. Here are our top 10 must-sees in the Eternal City. Classic or quirky: which is better? We'll let you decide…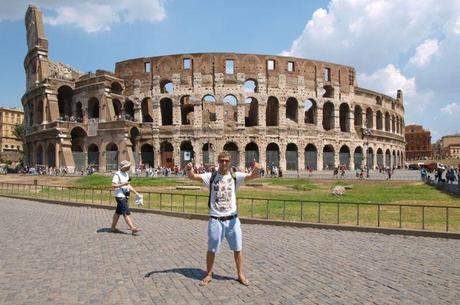 CLASSIC ROME
1.   4 million visitors a year can't be wrong – the Colosseum must be bringing in the crowds for some reason. Whether it's the awe-inspiring scale, the grizzly history or the fact that this is the symbol of Rome, you'd be a fool to miss it off your Rome itinerary.
2.   With its sturdy, soaring columns and vast dome, the Pantheon is one of the greatest structures of all time. The epitome of Classical architecture, this is one sight that really will take your breath away.
3.   If you throw a coin into the Trevi Fountain, you'll be sure to return to the Eternal City, or so the legend goes. It's not clear, then, whether the amount of people that come to part with their pennies is testament to this gorgeous fountain or the city itself – we're willing to bet it's both.
4.   It's tempting to become blasé about sights when you've seen endless images of them, but believe us – nothing will prepare you for the moment you first lay eyes on the Sistine Chapel. Intricate beyond belief, this magnificent masterpiece is one of the feats of human achievement.
5.   It might not be the most beautiful square in Rome, but you don't come to Piazza di Spagna for the visuals (although it's no blight on the landscape by anyone's imagination). The big draw here is the atmosphere, and with thousands of locals and visitors passing through every day, it's got that in bucketloads.
QUIRKY ROME
1.   Why not head to the Pasta Museum? You'll discover the history of this Italian staple as well as learning about production methods – then you can legitimately justify your indulgence as a cultural experience.
2.   You've seen the Colosseum – now why not try being a gladiator yourself? Several schools offer gladiator training, just make sure you don't put your skills to use in real life, or you might end up with your very own exhibition in the Crime Museum.
3.    It's hard to believe some entire neighbourhoods manage to stay off the radar, but creative, kitsch and achingly-cool San Lorenzo has done just that. Localnomad has some nice apartments in Rome that will help you feel like a local, and San Lorenzo features in their selection.
4.    The eerie Capuchin Crypt is home to the bones of some 4,000 monks, unsettlingly arranged as if they were decorations rather than human remains. Both macabre and humbling, this is a sight you won't forget in a hurry.
5.    There's nothing unusual about scoffing ice cream in Italy, but the range of flavours at Gelateria Fatamorgana is truly out of the ordinary. Taste bud-tempting combinations such as pear and gorgonzola, almond and cardamom, honey and liquorice or black cherry and beer certainly merit a visit (or three…)