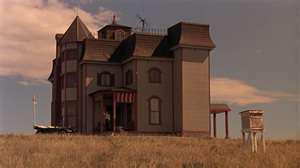 Classic Movie Review Day is finally here! Yeah I know you probably don't care, but I am excited to get this series started, and hopefully make it a permanent part of this growing blog.
As you all probably know by now, Days of Heaven was my first choice for a classic film, one that many people say represents top-notch 70s cinema, and considering the 70s are one of the top decades in film, that's saying something. for me though, I am not sure if I can agree, but I'm also not sure if I can disagree. Like many of Malick's films, Days of Heaven is going to require more than one viewing to determine just how great it is. But don't worry, if I know anything from this first viewing, it's that Days of Heaven is for certain a great film.
Set in 1916 just before World War I, Bill (Richard Gere) who is a manual laborer in Chicago, gets into a bit of a fight with a boss he's working for. Bill knocks him down killing him by accident, and knowing that he won't be able to get away with it, he takes his girlfriend Abby and his sister Linda and flees from town.
Their next stop is the Texas Panhandle where they are hired by a rich farmer, along with many others. To keep from attracting any unwanted attention or gossip or such things, Bill and Abby (Brooke Adams) pretend to be brother and sister. This originally does not work out too well because the rich, young farmer falls in love with Abby, but after Bill overhears a conversation between the farmer and the doctor explaining that the farmer only has a year to live, bill gets the idea that Abby can inherit all of the money and they can live together happily. So, Abby marries the farmer and everything seems to be going well at first.
But of course, "everything" doesn't always go as planned. One night Bill and Abby are alone at the gazebo and he kisses her, the farmer sees this and thinking they are siblings he confronts Abby about the unusual behaviour. She denies that anything strange is going on between her and Bill, but in the meantime Bill begins to think that Abby is falling in love with the farmer, so he catches a ride with a circus and does not return for another year.
Days of Heaven is a movie that due to its one-sided point of view, the audience doesn't really connect with the film emotionally. The character of Linda is narrating the movie, and so other characters like Bill, Abby, and the farmer do not seem as close to us. This is something many people tend to not like about Malick, we never can seem to find any sort of serious attachment to the characters in his movies, and usually I think that is because Malick has a greater purpose for his films than a simple little story with memorable characters and dialogue. However, this tactic may work in a movie like The Tree of Life, but coming from a drama similar to Days of Heaven, I generally want more from the characters then I get here.
Still, Days of Heaven has remained and will always remain one of the most visually stunning films ever caught on film. Pictures do not do it justice, I will never forget this film for its visuals alone, and if I made a list of the most beautiful films in history, this would make the top 10 for sure. Nestor Almendros won an Oscar for his cinematography for good reason.
Even without the emotional power of a character driven film, Days of Heaven's tragic story never fails to tug on the heart-strings of its viewers. We might not care like we should, but we feel for our three heroes all throughout the film and don't stop until the credits roll.
Final Word – It might not be the best piece of cinema around the block, but Malick with his incredible writing and fantastic direction always seems to get the job done. For an hour and thirty minutes, Days of Heaven sure has a lot of ambition.
Grade: A-