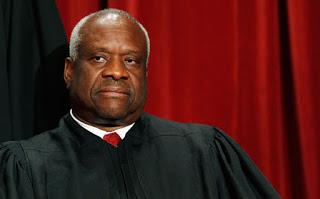 Clarence Thomas
The #MeToo Movement is targeting U.S. Supreme Court Justice Clarence Thomas for removal from the bench
because of his apparent false statements to Congress (a crime) about sexual-harassment allegations
involving Anita Hill and other accusers in 1991. We've seen signs that Thomas' crookedness goes way beyond sex-related misconduct to include pervasive courtroom crookedness that affects every citizen in three Southeastern states.
Could Thomas' history of creepy behavior toward women, plus evidence that he has helped create a culture of corruption in federal courts across a significant swath of the United States, be enough to bring him down? Knocking a justice from the nation's highest court is, without doubt, a difficult task. But Thomas might have provided enough evidence on at least two fronts to get the job done.
Precedent exists for such an outcome;
three federal judges have been impeached since 1989
on charges that include lying under oath.
More than 60 Supreme Court justices and federal judges have been investigated for impeachment
-- and that includes former District Judge Mark Fuller (Middle District of Alabama), who was forced to resign after being arrested for beating his wife. Circuit Judge Bill Pryor, with his duty station in Birmingham, should be investigated for lying to Congress, based on his apparent failure to disclose
his history of posing nude for gay-porn photos that appeared at badpuppy.com
.
We've seen signs that Thomas' creepiness involves more than his predilection for discussing pornography, breast sizes, and personal sex practices with women in the workplace. It also involves signs that he has helped turn federal courts into a sewer, especially in the South.
Each SCOTUS justice has a circuit assignment, and the Eleventh Circuit (covering Alabama, Georgia, and Florida) is assigned to . . . Clarence Thomas. Is it a coincidence that the circuit over which Clarence Thomas presides happens to be perhaps the most corrupt circuit in the country -- with stiff competition from the Fifth Circuit (covering Mississippi, Louisiana, and Texas). We think not.
If you ask former Alabama governor Don Siegelman, he almost certainly would say it's not a coincidence, especially when you consider Thomas has deep ties to the Bush family -- he was nominated to the high court by George H.W. Bush -- and generally is considered the most right-wing justice on the court.
We've written a five-part series titled "The Cheating of Don Siegelman," focusing on the myriad ways the Eleventh Circuit butchered the appeal and wrongfully sent Siegelman and codefendant Richard Scrushy to prison. The most obvious cheat job? The prosecution brought the Siegelman case almost a full year after the five-year statute of limitations had expired, meaning the case could not (by law) be heard at trial, much less go to a jury. The Eleventh Circuit glossed over that issue, and court corruption does not get much more stinky than that.
You don't have to be a former governor to get cheated in the Eleventh Circuit. Mrs. Schnauzer and I have experienced such cheat jobs multiple times. And how is this for irony? The chief author of the Siegelman opinion is an evil old bastard from the Richard Nixon/Gerald Ford era named Gerald Bard Tjoflat. The chief author of the opinion in my employment-discrimination case against UAB -- where the Eleventh Circuit grossly violated its own precedent (
Snook v. Trust Company of Georgia
) by granting summary judgment to the university, with no discovery conducted in the case -- was none other than Gerald Bard Tjoflat.
We have two pending cases in Alabama -- we call them "The Jail Case" and "The House Case" -- and the usual Eleventh Circuit corruption recently has reared its nasty head, like a creature from the black lagoon. U.S. District Judge Virginia Emerson Hopkins administered "The Jail Case" cheat job, while our "old friend" Gerald Bard Tjoflat led the way on "The House Case" cheat job.
Details on those unlawful rulings are set for upcoming posts. For now, we'll say they are so gross that they cannot stand, as a matter of law -- and as a practical matter, they had better not stand.
But what does all of this have to do with Clarence Thomas? As already noted, Thomas oversees the Eleventh Circuit. We're not sure what that entails, but it raises this dark question: Does Clarence Thomas have the power to manipulate federal court cases in Alabama, Georgia, and Florida? Is he able to make sure his moneyed friends on the right receive favorable treatment in the Heart of Dixie?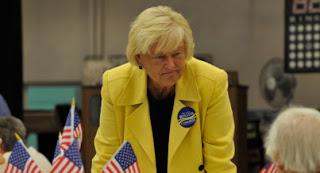 Michele Rollins
Those questions hit disturbingly close to home because defendants in our "Jail Case" include members of the uber wealthy Rollins family -- the folks behind Orkin Pest Control, Rollins Jamaica resorts, Dover Downs, and other highly profitable enterprises, from their primary bases in Atlanta and Delaware. After Ted Turner, the Rollinses reportedly are the largest land owners in the Southeast.
Specific defendants in our "Jail Case" include former Campus Crest Communities CEO Ted Rollins, Rollins Jamaica Ltd. chair Michele Rollins, and Birmingham-based home builder Zac Parrish (Ted Rollins' former stepson). I earned the ire of the Rollins' family by reporting accurately on Ted Rollins' grotesquely corrupt divorce from Sherry Carroll Rollins in Shelby County, Alabama.
How intense is the Rollins family's ire? This is from our complaint in "The Jail Case." (Complaint is embedded at the end of this post.)
At about the same time of Shuler's incarceration, Campus Crest Communities CEO Ted Rollins engaged in a flagrant defamation campaign against the Shulers via two Web sites—legalschnauzerexposed.com and rogershuler.com. Rollins apparently was angry about Legal Schnauzer's accurate reporting on his divorce from Birmingham resident Sherry Carroll Rollins. The Rollins Web sites referred to Roger Shuler as a "perv," "liar," and "sicko" and suggested he had sex with cats. They said Shuler had severe mental illness, that he was a physical threat to those around him and suggested multiples times that no company should hire Shuler or his wife, Carol. They referred to Mr. Shuler as a "racist" and a "homophobe."
A witness has reported hearing Michelle Rollins (Ted's stepmother) say that she and Ted were going to "take care of Legal Schnauzer."
Zac Parrish, Ted Rollins' former stepson, has been listed as founding agent for at least one of the defamatory Web sites. Ted Rollins, while married to Sherry Rollins (Zac Parrish's biological mother), was convicted of assault against Zac Parrish, who was roughly 16 years old at the time. The state of North Carolina conducted an investigation of possible sexual abuse against Ted Rollins, based on a citizen complaint regarding his behavior toward Zac Parrish. 
(Also, a witness has reported hearing Zac Parrish say, "Something bad is about to happen to Legal Schnauzer," in the days leading up to my incarceration. That suggests the Rollins family was involved with, or at least knew about, my false arrest and imprisonment. BTW, the Rollins family members likely will be added as defendants in "The House Case.")
With what major U.S. legal figure is the Rollins family tight? Why, that would be . . . Clarence Thomas. Thomas' ties to the Rollines run partially through his connections to a Texas hotel magnate named Harlan Crow. From a
Legal Schnauzer
post on that subject:
Mounting evidence indicates Justice Clarence Thomas is so ethically compromised that he should be removed from the U.S. Supreme Court. The latest evidence comes from a New York Times piece about Thomas' ties to a Texas real-estate baron named Harlan Crow.
We have discovered that the Thomas/Crow story, in a roundabout way, links to one of our storylines here at Legal Schnauzer. In fact, our story is about judicial chicanery in Alabama, the kind that favors the wealthy over regular citizens. That theme should sound familiar if you have been following the trail of Clarence Thomas' numerous ethical lapses. And it raises this question: How far will some wealthy Americans go to buy justice?
The answer, in the case of Harlan Crow, appears to be "pretty darned far." When you examine the actions of another wealthy titan, a man whose family has ties to Harlan Crow, you get the same answer.
The Blog of Legal Times
provides details about
Thomas tendency to grant favors for, and receive favors from, his wealthy corporate boosters
, such as Harlan Crow:
A New York Times story Sunday detailed the friendship between Thomas and Dallas real estate magnate Harlan Crow, and the assistance Crow has given to projects of interest to Thomas -- including a planned nonprofit museum in Pin Point Georgia, where Thomas was born. After Thomas took an interest in the project, a company controlled by Crow bought the Pin Point property where the museum would be built, according to The Times. The story also describes instances in which "Justice Thomas's travels correspond to flights taken by Mr. Crow's planes," but Thomas reported he had been reimbursed for his travel by other entities. Neither Thomas nor Crow responded to Times requests for comment. . . .
The friendship between Thomas and Crow has triggered controversy before. We wrote about the relationship in June, 2002 after Thomas reported he had received a gift from Crow valued at $19,000.
Crow and affiliated groups have fared quite well before Thomas,
according to Think Progress
:
Real estate magnate Harlan Crow has been very good to Justice Clarence Thomas, lavishing gifts and other favors on Thomas and his family. Crow provided $500,000 to allow Thomas' wife to start a Tea Party group, and he once gave Thomas a $19,000 Bible that belonged to Frederick Douglass. He also served on the board of a corporate-aligned think tank called the American Enterprise Institute (AEI), which once gave Thomas a $15,000 gift.


As Think Progress reported earlier this week, AEI filed at least three briefs in the Supreme Court after giving Thomas this very expensive gift, and Thomas either sided with AEI or took a position that was much more extreme that AEI's in all three of these cases. ThinkProgress has now learned that a second Harlan Crow-affiliated group, the Center for the Community Interest (CCI), has a perfect record in front of Justice Thomas.
Crow served on CCI's board alongside failed Bush judicial nominee Miguel Estrada. Westlaw's database of Supreme Court briefs reveals eight briefs filed by CCI in eight different Supreme Court cases, and Justice Thomas voted for CCI's preferred outcome in every single one of these cases.
The Clarence Thomas-Harlan Crow story suggests the justice can be, and has been, bought -- that he accepts favors and returns them with favorable court treatment. Would he do that for members of the Rollins family. As we reported earlier, the answer appears to be yes:
The Crow and Rollins empires intersect in several ways. John Rollins built two hotels that were sold to Wyndham Hotels, which is owned by the Trammell Crow company. Both Rollins and Crow were in the Young Presidents' Organization (YPO), American Friends of Jamaica and the Horatio Alger Society.


Michele Rollins, John Rollins' widow, ran as a Republican in 2010 for a Delaware Congressional seat, narrowly losing to Glen Urquhart. Before becoming a corporate attorney and marrying John Rollins, Michele Rollins worked for the U.S. Securities and Exchange Commission, Justice Department, Environmental Protection Agency, and Department of Interior.


During her time in D.C., Michele Rollins got to know Clarence Thomas--and the Supreme Court justice served as master of ceremonies at John Rollins' 80th birthday party and roast at the Dupont Circle Hotel. In his opening remarks, Thomas talked extensively about his friendship with Michele and John Rollins.
Would Clarence Thomas cut the kind of court favors for Michele Rollins that he has cut for Harlan Crow? We will take a close look at that question in an upcoming post.
(To be continued)