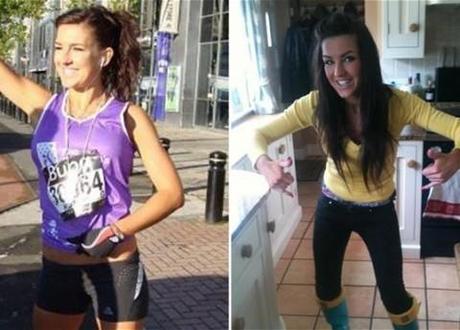 Claire Squires
On Sunday, 30-year-old Claire Squires collapsed and died while competing in the London Marathon. Ms Squires was the 11th participant to die since the event began in 1981 and the first woman. Partly thanks to social media campaigning, donations to her Just Giving fund-raising page have sky-rocketed since her death. Until the day of the race, her page showed that £400 had been raised for the charity. As of Monday afternoon, just under £500,000 has been raised – much of via small donations of £10 and £20. Her family has appealed to the public to continue donating to her selected charity, Samaritans.
The family of Miss Squires said in a statement: "Words cannot explain what an incredible, inspirational, beautiful and driven person she was. She was loved by so many and is dearly missed by all of us."
Tireless fund-raiser. In 2010, Squires climbed Mount Kilimanjaro in 2010 to raise funds for the RAF Association. The Daily Telegraph reported that friends said she was well-known in her home town (North Kilworth, Leicestershire) for her regular fund-raising efforts for a variety of causes. She ran the marathon in 2010 and also raised money with a sponsored bikini car wash with friends.
The Just Giving website has confirmed that Squires' page had attracted the largest number of donations ever received in a single day since the site was launched 12 years ago.
Tragedy in her life. It has emerged that her brother Grant had died of an overdose aged just 25. Friends believe she was running for the Samaritans in memory of her brother. Grant Squires died in 2001 from an overdose after becoming depressed following the death of his girlfriend Heidi Richardson, in a car accident which he survived.
Miss Squires died less than a mile from the finishing line of the 26.2 mile course when she collapsed in Birdcage Walk, near Buckingham Palace.
Samaritans 'overwhelmed' by the support. Catherine Johnstone, chief executive of the Samaritans, said that the charity had been "overwhelmed" by the response following Ms Squires's death and that the money donated would be given to projects chosen by her family. "We are truly humbled by the reaction from the public following Claire's tragic death, and are overwhelmed by the support they have shown. At an appropriate time we will be speaking to Claire's family about what they feel she would have liked these donations to fund."