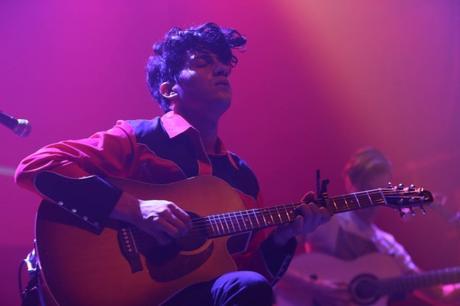 Photos by Mia Min Yen
New York's instrumental trio City of the Sun headlined a sold out show at Gramercy Theatre this past week. Formed in 2011, the band (consisting of guitarist John Pita, guitarist Avi Snow and precussionist Zach Para) has played everywhere from street corners to venue stages over the years in their hometown of NYC. And the show at Gramercy Theatre was by far the biggest.
The band had a two-month show blackout prior to their Gramercy performance, just so they could be fully dedicated to promoting and preparing for this concert. The result was tremendous — the show was sold out with fans they've accumulated throughout the years ("who have stuck with us from the street to the stage," the band said), and supportive family (the band gave a special thanks to their mothers).
City of the Sun beautifully delivered the show with their lively instrumental tunes as well as a cover of The xx's "Intro". The band will also be playing a gig in the West Coast next month.