The citadel was designed to command the valleys all the way to the sea.
La Citadelle, perched almost 1km above the sea, practically dares invaders to attack
I've been in Haiti for a few days now, trying to get a better understanding of life in one of the poorest nations on earth (see my related articles on Port au Prince and Cap Haitien.) By any measure, it has an arduous history. Haiti bears the misfortune of being the island that Columbus decided to claim and colonize first. The native Taino indians were promptly enslaved and sent off into gold mines to enrich the coffers of Queen Isabella of Spain. Disease and slavery swiftly took their toll on the population. Within just a few decades, the Taino people went extinct, forever expunged from the face of the earth. To make up for the shortfall, the European powers simply substituted slave labor extracted from western Africa. Revolutions, bloody civil wars, ongoing political instability, foreign interventions, ransoms and debts, endemic corruption, devastating earthquakes, hurricanes and diseases have largely been the unhappy story of Haiti ever since.
My time in Port au Prince has come to an end. I depart for Cap Haitien, on Haiti's northern peninsula, a 7-hour bus ride from the capital. I decide to take a short but bumpy 30-minute hop by propeller plane instead. And am I glad I did. As I glide above the country, I notice a sudden change in the vegetation below. Dry and barren mountains, reminiscent of my native southern California, give way to steadily more green highlands. The interior of this country is remote, sparsely populated and extremely rugged. Mountains are separated by deep gorges, rivers run here and there, sharp and jagged peaks soar out above the white clouds like islands in a sea of cotton. There are no towns below, the terrain is just too remote.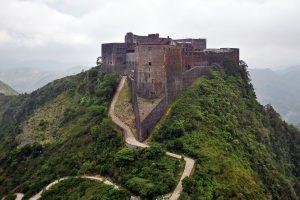 Citadelle LaFerrière, the largest fortress in the western hemisphere (photo from Wikimedia)
But the gods of good fortune smile upon me this day. As the plane starts its descent and banks sharply to align to the airport, the clouds part ever so briefly to reveal a behemoth of a castle on top of a mountain. Oooooh, THAT citadelle! What's the story behind this massive fortification? And how am I going to make my way up that steep mountain to explore it? Because, come on, this thing must be explored!  
A visit to La Citadelle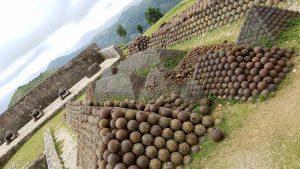 At its peak, the fort was provisioned with 50,000 cannonballs
A couple of days in Cap Haitien have afforded me the chance to research the matter further. Turns out, the citadel, while remote, is accessible after all. By car. Via guided tour. Dang it! Here I was, dreaming up a romantic and adventurous journey in my mind as I traverse through thick Haitian forests, wade across cold, clear rivers and climb up steep mountain slopes to reach a ruin that has not felt a human touch in years. Alas, for a small fee, the citadel can be reached easily by car. Eff it, I've only got a day left here, I'll hire that car and guide. Let's go!
At its peak, it was armed to the brink, a military bastion that probably could not have been successfully assaulted. Its high elevation affords commanding views of the plains and the seas below. It's 360+ canons would have been enough to grind any invading army into fine dust. Over 360 cannons. That's practically unheard of. The young Haitian military provisioned the fort with 50,000 cannonballs and almost a thousand soldiers manned it. To date, an estimated 10,000 cannonballs and over 200 cannons remain within the castle walls, including one of the finest 18th century European arsenal to be found anywhere in the world.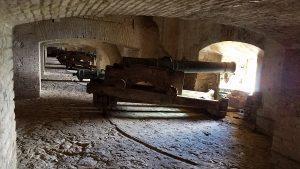 The Gallery of Cannons houses some of the finest guns of the 18th century found anywhere in the world
Twenty minutes of walking and the citadel still stares down from high above. Imposing and menacing, it seems to mock would-be invaders, practically daring anyone to try to capture it. No effing way would any force of arms have been able to take this stronghold, I think to myself. After a decade of continuous war against the strongest armed forces of the world, the Haitian military was battle hardened and experienced. Europe's great armies were designed to confront each other on the open field, not to fight a guerilla war in mountains and jungles. Little wonder that the Haitian independence forces sought refuge in the wild highlands. Citadelle Laferrière was based on this brilliant principle – strong enough to confront a large army but remote enough to prevent it from ever even approaching its walls.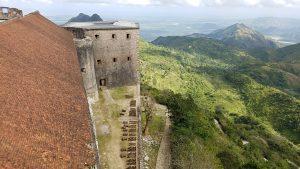 Gunners had unobstructed, 360 degree views of the entire region
th
Palais Sans-Souci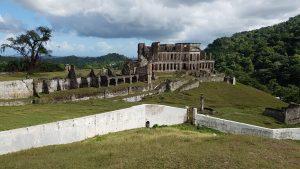 Ruins of Palais Sans-Souci
Who would ever have thought that Haiti bears such marvelous historical treasures. What a fine way to spend my final day in the country! The Cap Haitien region has been full of pleasant surprises.
[Author's note: all photos taken by me except as indicated]