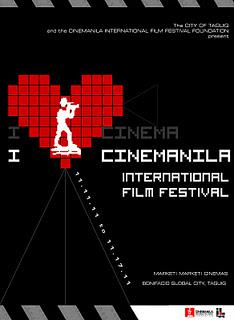 The Cinemanila International Film Festival, the Philippines' longest running and largest international film festival, celebrates its 2011 edition in partnership with Taguig City. Now on its 13th year, the festival will will be held November 11-17, 2011, and will once again screen 80 films from 30 different countries at Market! Market! and Fully Booked in Bonifacio Global City. There will also be outdoor screenings on the lawn of High Street.
The films range from the current toasts of the local indie scene to award-winners and favorites of prestigious festivals such as Cannes, Berlin, Rotterdam, Sundance and Pusan. The festival will also feature workshops, seminars and master classes.
One of the 2011 Cinemanila's highlights is a film program called "The Beautiful Game," which will feature films revolving around football/soccer and its beloved icons. Among the films to be exhibited in this program are Nick Lewis and Ranko Tutulugdzija's "Rise & Shine: The Jay DeMerit Story" (2011); Douglas Gordon and Philippe Parreno's "Zidane, A 21st Century Portrait" (2006); Jeff and Michael Zimbalist's "The Two Escobars" (2010); Jafar Panahi's "Offside" (2006); Khyentse Norbu's "The Cup" (1999); Pantelis Voulgaris' "The Striker with Number 9" (1989); Gurinder Chadha's "Bend It Like Beckham" (2002); and the Philippines' own "Happyland" (2010) by Jim Libiran (with a cameo by Azkals star Phil Younghusband), about a group of street kids who form a soccer team.
Lifetime Achievement Awards will also be presented to Philippine superstar Nora Aunor and Italian master of horror Dario Argento. And this year's festival will see the launch of the Cinemanila Moonlight Series--weekly outdoor film screenings to take place in Taguig City beginning January 2012.
For more information, contact [email protected] and [email protected] or visit www.cinemanila.org.ph.
For updates, join the Cinemanila International Film Festival Facebook Group at https://www.facebook.com/groups/246306172084819/ and follow Cinemanila on Twitter at http://twitter.com/CinemanilaIFF.