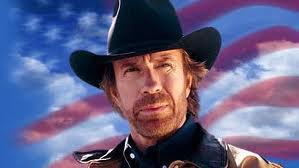 via Human Events
"Yet if you follow what's been going on with the United Nations this year, you know that the USA came perilously close to having other countries dictate our gun laws."
"In other words, the proposed treaty is a mechanism for Iran and other tyrannical powers to have a say in your gun ownership."
"In several drafts, the treaty would have mandated that every round of ammunition be tracked globally."
"Throughout my life, I've been committed to preserving our freedom from threats, both foreign and domestic."
"This proposed U.N. global gun control treaty may not be an "invasion" in the classic sense of the word, but believe me; over time, it represents the potential for encroachment of the greatest kind. "
It's hard to believe he can say some of that stuff with a straight face, but he does. And conservatives, Republicans, right-wingers, Obama-haters, UN-haters, gun-nuts and several other groups eat it up.
You know what they say about Chuck, he has a grizzly bear carpet in his room. The bear isn't dead it is just afriad to move.
What's your opinion?  Please leave a comment.