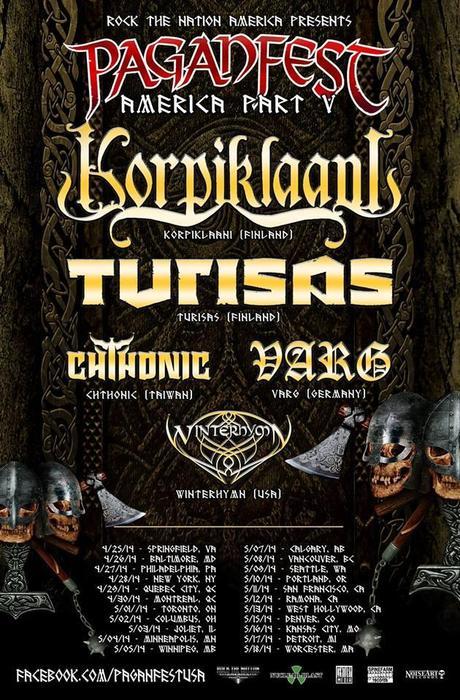 Taiwanese metal collective, CHTHONIC

, is readying to kick off another North American run as part of the fifth installment of Paganfest! Set to commence tomorrow in Springfield, Virginia, the band will join coheadliners

Korpiklaani and Turisas as well as Varg and Winterhymn for nearly two dozen live incursions across North America. See confirmed dates below.

CHTHONIC on Paganfest Part V
w/ Korpiklaani, Turisas, Varg, Winterhymn
4/25/2014 Empire - Springfield, VA
4/26/2014 Ottobar - Baltimore, MD
4/27/2014 Theater of Living Arts - Philadelphia, PA
4/28/2014 Irving Plaza - New York, NY
4/29/2014 Imperial - Quebec City, QC
4/30/2014 Metropolis - Montreal, QC
5/01/2014 The Opera House - Toronto, ON
5/02/2014 Alrosa Villa - Columbus, OH
5/03/2014 Mojoe's - Joliet, IL
5/04/2014 Skyway Theater - B - Minneapolis, MN
5/05/2014 Zoo Cabaret - Winnipeg, MB
5/07/2014 The Republik - Calgary, AB
5/08/2014 Rickshaw Theatre - Vancouver, BC
5/09/2014 El Corazon - Seattle, WA
5/10/2014 Toxic Lounge - Portland, OR
5/11/2014 The Fillmore - San Francisco, CA
5/12/2014 Ramona Mainstage - Ramona, CA
5/13/2014 House of Blues - West Hollywood, CA
5/15/2014 Summit Music Hall - Denver, CO
5/16/2014 The Riot Room - Kansas City, MO
5/17/2014 Harpo's - Detroit, MI
5/18/2014 The Palladium - Worcester, MA
CHTHONIC
recently released their Ián-Bú DVD via Eagle Vision. The first new video release from the eclectic ensemble in six years, the DVD includes stunning live footage and extensive bonus features beginning with CHTHONIC's full performance at the 2013 Formoz Festival in Taipei, Taiwan, where they were joined by the Chai Feng Traditional Orchestra, as well as renowned Taiwanese opera singer Tang Mei-yun for a collaborative rendition of the track "Defenders Of Bú-Tik Palace." Additionally, the near-hour-long DVD offers up five spectacular music videos from their recently released Bú-tik full-length: "Defenders Of Bú-Tik Palace," "Supreme Pain For The Tyrant," "Sail Into The Sunset's Fire," "Set Fire To The Island," and "Next Republic." The music videos are an extraordinary blend of martial arts, combat fighting, dance, and drama. CHTHONIC members wire-fly through the air, bathe in water amid torrential downpours and travel through time to a party in the 1930s in an elaborate military alliance between Nazi Germany and the Chinese Nationalist Party (KMT) regime. The production truly highlights CHTHONIC's irrefutable creativity both onstage and beyond. Other extras include behind-the-scenes footage from the video shoots as well as exclusive interviews with bassist Doris Yeh, director Vince Chuang and various backstage footage.
CHTHONIC
released their award winning, seventh studio recording, Bú-Tik, via Spinefarm Records last year. Called "a masterful and elegant tradition served underneath soaring thrash-influenced guitars, pummeling drums and a vocal performance that is absolutely stellar from an overlooked vocalist," by About.com, the critically adored Bú-Tik is centered around the story of the 228 Massacre, the Bú-Tik Palace and the Mirror Of Retribution, and emphasizes what bassist Doris Yeh describes as "righteous violence, justifiable defense, and the armed spirits." Formed in 1995, with the existing lineup having been together since 2005, CHTHONIC blends metal with traditional Taiwanese instrumentation, mythology, Taoist folklore and the country's labyrinthine history, each album bearing a deep, conceptual story. CHTHONIC is notorious for their elaborate costumes, stage makeup and highly visual stage shows as well as their outspoken political views on human rights and Taiwanese independence.
Ián-Bú
is currently available on DVD via Eagle Vision.
http://www.chthonic.org



http://www.facebook.com/chthonic


http://www.eaglerockent.com
http://www.facebook.com/EagleRockEnt