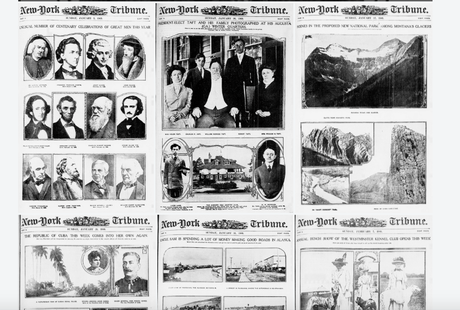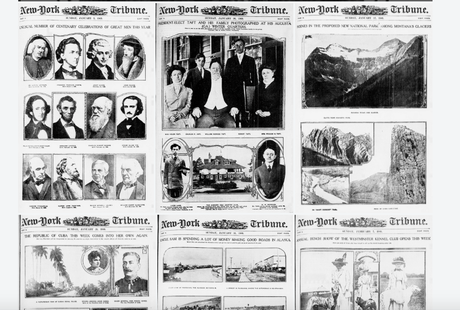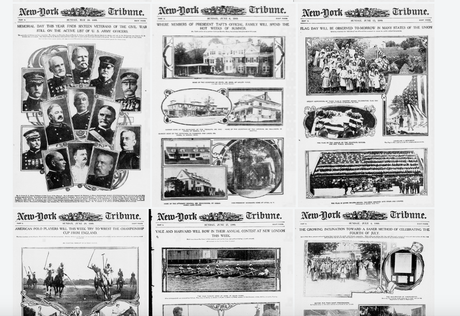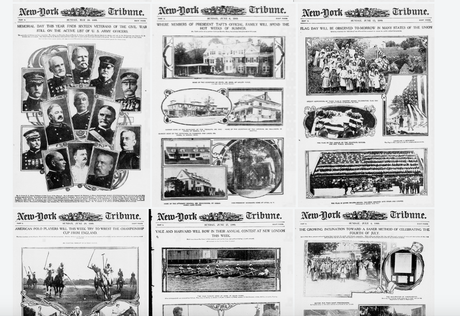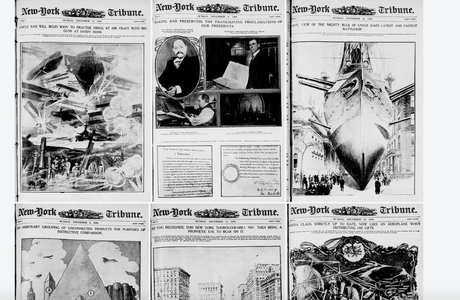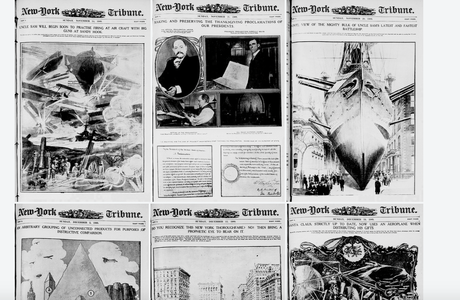 Yes, Chronicling America, a free, online searchable database of historic U.S. newspapers, has posted its 10 millionth page. What a great repository of history and of journalistic and advertising trends!  I am tempted to take a couple of days off and sample the collection.  I was curious to know which particular newspaper contributed the 10 millionth page and spoke to Deborah Thomas, National Digital Newspaper Program manager at the Library, but she tells me that there is NOT one specific page as such, that "many pages were released simultaneously to create this landmark moment."
Launched by the Library of Congress and the National Endowment for the Humanities (NEH) in 2007, Chronicling America provides enhanced and permanent access to historically significant newspapers published in the United States between 1836 and 1922. It is part of the National Digital Newspaper Program (NDNP), a joint effort between the two agencies and partners in 40 states and territories.

"Chronicling America is one of the great online treasures, a remarkable window into our history and a testament to the power of collaborative efforts among cultural institutions nationwide. The Library of Congress is proud to work alongside NEH and all our partner institutions to make this vision a growing reality," said Mark Sweeney, Associate Librarian for Library Services. "In the coming years, we look forward to adding newspapers from the remaining states and territories as new partners join the program."
"We at the National Endowment for the Humanities are proud to support the Chronicling America historic newspaper project," said NEH Chairman William Adams. "This invaluable resource preserves and makes available to all the first draft of America's history so that we can see the ideas and events that shaped our republic unfold in the headlines of their times."
The Chronicling America site includes a broad, curated set of newspapers selected for their historical value that users can browse or search, and through a few clicks narrow their focus to newspapers published all on the same day, in the same region, or the entire country. In addition, the content in Chronicling America is available for bulk download and API use, fostering new research approaches through computational and linguistic analysis.
By the numbers
The site now features more than 10 million pages - 74 terabytes of total data - from more than 1,900 newspapers in 38 states and territories and the District of Columbia. The site averaged nearly 3.8 million page views per month last year and is being used by students, researchers, journalists and others for all kinds of research, from family history to in-depth analysis of U.S. culture. The headlines, articles and advertisements capture the life and times of the American people, shining new light on historic events as they unfolded.  
Between January and December 2014, the site logged 3.8 million visits and 41.7 million page views.
The resource includes more than 285,000 pages in almost 100 non-English newspapers (French, German, Italian and Spanish);
More than 250 Recommended Topics pages have been created, offering a gateway to exploration for users at any level. Topics include presidential assassinations, historic events such as the sinking of the Titanic, inventions, famous individuals such as the Wright Brothers and cultural or off-beat subjects like fashion trends, ping-pong and world's fairs;
Join the Celebration
The Library is celebrating the milestone with a series of 10 lists featuring interesting and off-beat content from the online archive presented in weekly blog posts beginning Oct. 8 with "Cat Tales." Other topics will include "Medical Advances Gone Wrong," "Coffee 'Facts'" and "End of the World." Sign up for the blog at loc.gov/blogs and follow the fun on Twitter at @librarycongress #ChronAm #10Million.
"There is so much terrific content in these pages," said Deborah Thomas:
 "The newspapers are not only a key resource for historians, genealogists and teachers for serious research and fact-finding. It really is a time capsule of life in America in the nineteenth and early twentieth centuries – the gossip, the pop culture and the off-beat. The staff is constantly finding amusing and unexpected treasures, so we thought it would be fun to shine a light on some of those things, too."
TheMarioBlog post #2022
Please enable JavaScript to view the comments powered by Disqus. comments powered by
Disqus