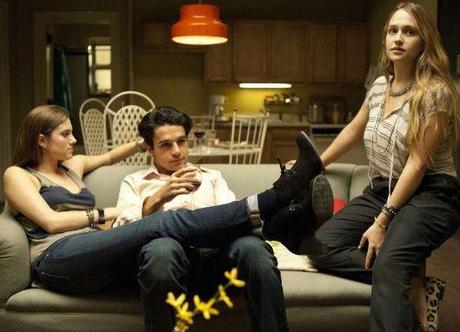 Allison Williams, Christopher Abbott and Jemima Kirke in Girls. (HBO)
-Christopher Abbott, the guy who plays Charlie on Girls (aka – the only semi-recognizable character who actually acted like a human being every once in a while), has abruptly quit because he was "at odds" with Lena Dunham. I guess I wasn't the only one who didn't love the mushy-gushy season finale.
-Jada Pinkett-Smith denied having an open marriage to Will Smith…but then went on to describe their relationship in a way that sounded very open-marriage-y.
-Jennifer Lawrence and Bradley Cooper appear to be engaged in some sort of bad hair battle. Bradley's winning, bt dubs.
-I love Emma Watson, but I'm not sure I'll ever forgive her for bringing Julia Roberts' Pretty Woman hooker dress back in style.
-Chelsea Handler and Conan O'Brien got very, very naked to film this shower sketch. Too bad it wasn't funny.
-Sad, sad news about Roger Ebert. He was always super approachable at TIFF, and I loved reading his reviews, whether he was riffing on a zero-star movie or recognizing the pleasures of a flick like Road House. Here's a good rundown of some of his best lines and crankiest tweets.
-Speaking of legendary movie critics, I liked this bit in Robert Redford's Esquire interview: "This woman comes running toward me and lunges at me. She grabs both my hands and she says, 'I'm Pauline Kael. You must hate me….'"
-The reviews have already started to come in for Sunday's season six premiere of Mad Men, and they're predictably glowing.
-Justin Bieber's tattooing skills are as terrible as you'd expect.
-A new Carrie teaser trailer has landed. Meh.
-Madonna's daughter Lourdes is dating the kid who plays the president's annoying son on Homeland.
-Miley Cyrus has been spotted wearing her engagement ring again, but people are too fixated on her lack of bra to care.
-A new Arrested Development poster revealed the new season will debut on Netflix May 26 (in both the US and Canada). Bonus: we're getting 15 episodes instead of the expected 10. I guess they found some extra money in the banana stand.
-Um, is Jeremy Irons kind of a dick? Check out his bizarre comments on gay marriage.
-Dammit. I actually really like this Isabel Marant outfit Gwyneth Paltrow is wearing. Dammitdammitdammit!
-I also really liked GOOP's easy up-do tips. What's wrong with me?
-I stuck with Fringe until the bitter end, but I still can't understand the producer's explanation of which timelines ended up being real.
-Beyonce's big announcement turned out to be just a new Pepsi ad. Yawn.
-She may play a queen on Game of Thrones but in a legal dispute with her ex surrounding a tax return, Lena Headey just claimed she has less than $5 in her bank account. Maybe she's broke because a Lannister always pays her debts?
-I really liked The Grid's oral history of MuchMusic.
-Speaking of other good reads, the author of Friday Night Lights is getting a lot of attention for this GQ article about his insane Gucci addiction.
-The original five-minute Daria pilot has surfaced, and it's pretty freakin' great.
-The actors who play Tyreese, Sasha and Beth have all been promoted to regulars on The Walking Dead. That doesn't mean they're safe from dying a horrible death in the near future, though.
-Yet another reason why I'm looking forward to Rebel Wilson hosting the MTV Movie Awards: she got the cast of Pitch Perfect to reunite for a musical performance!
-There's lots of talk about who should replace Jimmy Fallon in the Late Night slot. Seth Meyers seems to be the frontrunner but man, I love the idea of Aisha Tyler taking over.
-Lindsay Lohan wants to model for Saint Laurent. That's adorable!
-Today's Veronica Mars Kickstarter update included a screenshot from the movie's shooting script.
-Elisabeth Moss just played "marry, f*ck, kill" with the Mad Men cast. Sorry, Pete.
-Everyone from Jann Arden to Chris Brown is using Twitter to weigh in on Justin Bieber's recent troubles.
-Meanwhile, Selena Gomez's camp is denying rumours that she demanded to be removed from Bieber's upcoming 3D movie.
-First Tom Hardy floods the Internet with photos of him playing with puppies, and now he takes an adorable photo with a young fan who's dressed as Bane. Is he trying to kill us?!
-Louis C.K. and Letterman watched the "f*ck you, Letterman!" scene from Louis last night. Awkwardness ensued.
-Here's the new red band trailer for Only God Forgives, starring Ryan Gosling and directed by Nicolas Winding. It makes Drive look like a Disney fairytale.
-I was never really a huge fan of The Great Gatsby, but the new trailer for Baz Luhrmann's adaptation looks pretty damn awesome. I feel like my high school English teacher should have known that all I needed to enjoy a story about terrible rich people doing terrible things was Beyonce crooning in the background.