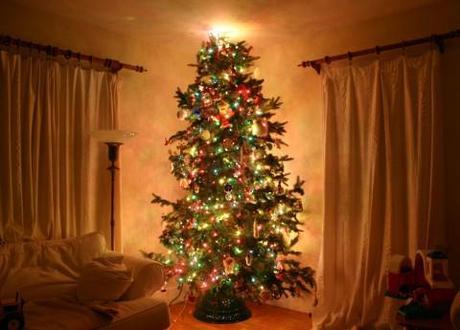 Pure Yuletide evil. Photo credit: Takfoto, http://www.flickr.com/photos/takfoto/328345794/
Look at it over there – the Christmas tree, the symbol of Yuletide joy, its fairy lights twinkling merrily, innocently. But who knows what evils lurk within in its green boughs, what horrors are masked by its be-baubled countenance?
Actually, scientists know. According to new research, Christmas trees could be to blame for a host of holiday season complaints, "from wheezing and coughing to lethargy and insomnia", The Daily Telegraph reported. It's called "Christmas tree syndrome" and it's caused, scientists at Upstate Medical University, part of the State University of New York, claim, by mold the tree is harbouring.
When the tree comes inside, the warm environs incite the naturally-occurring mold to release its spores. Once breathed in by the unsuspecting humans, the spores can cause itchy eyes and noses, coughing, shortness of breath, sinus congestion, headaches, chest pains, fatigue, and even long term problems, including bronchitis and pneumonia. The report, which appeared in the Annals of Allergy, Asthma and Immunology, also highlighted another study that noted that the longer a Christmas tree is indoors, the worse the problem gets: Within a fortnight, the number of airborne mold spores increased from 800 per 35 cubic feet to 5,000.
So blame your tree for your respiratory problems. But that post-holiday party pounding head? That's your own fault.
What else do you need to know about Christmas tree syndrome?
What can you do about it? Sora Song at TIME magazine offered a few tips to make your tree safe to have in the house: Wash the tree before bringing it in the hose – some Christmas tree sellers have a tree-washing service, or you could just hose it down and let it dry outside. She also suggested putting an air purifier in the same room as the tree, to help filter out some of the mould, and throwing the tree out as soon as Christmas is over. Or – avert your eyes, Christmas purists – you could just get an artificial tree.
Horrible Christmas-related jokes. It's snow joke – as soon as news of the syndrome broke, media outlets fell over themselves to make the worst Christmas jokes possible: "Oh, Christmas Tree Syndrome" read the headline at GlobalPost.com, noting, "So, maybe Charlie Brown's friends really did like his tree, they were just allergic to it." At The Toronto Sun, Mike Strobel laid it on thick and heavy, under the headline "Christmas Trees: The Silent Night Killer", calling the news a "ho-ho-horror story": "Thankfully, victims of Christmas tree syndrome usually survive, though I've heard they can have a permanent ringing in the ear. A jingly sound. Like bells."
Christmas trees really are dangerous. And it's not just the mould, Strobel warned: In the US, an average of 13 people die and 27 are injured each year in Christmas tree-related fires; damages usually run about $16.7 million. "At Yuletime, you're far more likely to perish by Christmas tree than by lightning, shark, or grizzly bear," he wrote. Remember, a "dry tree goes up like a torch", so keep the festive candles away; each year, 1,000 Britons are injured by their trees while fixing lights, that sort of thing, often under the influence of alcohol – so don't drink and decorate. And there's more: Christmas baubles are surefire child-chokers; broken Christmas baubles could "slice a Christmas turkey"; the needles are prickly; and psychological damage from choosing a crappy tree."And you thought Halloween was scary."
Happy Christmas!

Secret Santas save Christmas
The X(mas) men: Is there a Christmas gender divide?
Santa tracker is available in app form
All I want for Christmas is… more viral videos
More what can kill you this week »