DC Editor Adam writes…
Three more London Christmas shopping recommendations…


Christopher St James, Cecil Court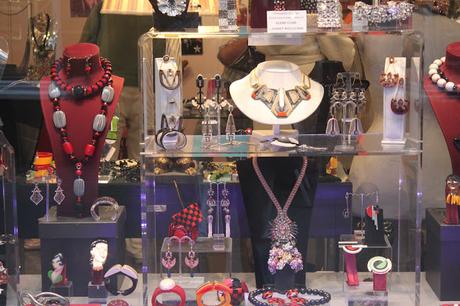 Christopher St James Costume jeweller extraordinaire! 
As well as lovingly replicated repro Art Deco brooches and necklaces there are authentic Vintage pieces too, as well as some gorgeous statement bracelets and earrings fashioned from Bakelite

  

- you could leave sporting a Carmen Miranda-inspired set of earrings or a costume choker as worn by Lady Mary of Downtown Abbey fame.
His, 'ow you say, quixotic opening times add an air of exclusivity to the proceedings – worth coming back another time if you are unlucky and find him closed at your first attempt.
Christopher St James, Cecil Court WC2N 4HE Opening hours - Varied. Sometimes VERY varied! Best to phone 07768 548371.
Find Cecil Court here…
Hornets

Hornets is London's classic vintage clothing shop for men.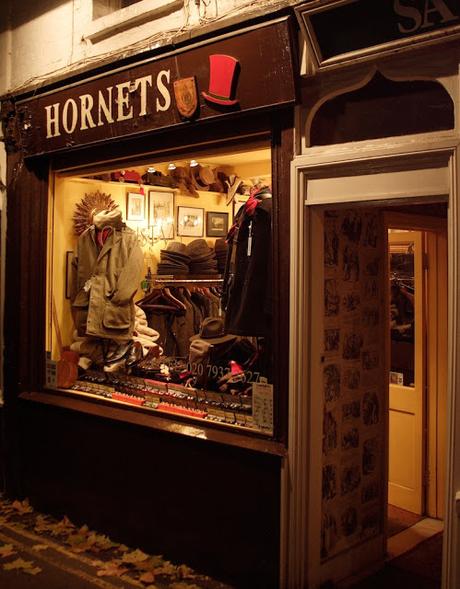 Their slogan says it all: "Not fashion. Style." Hornets specializes in British classics, tweeds and bespoke suits from Savile Row, but always have a fair smattering of designer pieces and wild and wonderful odds and ends.
Hornets' window is currently full of cufflinks in all shapes and sizes - you're bound to pick up something unique as a Christmas gift from their quirky selection. 
I asked the proprietor, Bill Hornets, to describe his business to us:
"To put it bluntly, we sell secondhand clothes. Backed up by new hats, garments and accessories and new ranges we buy in at a good price. If it was made yesterday we'll buy it and sell it, if it has style. This has always been my watchword. Style."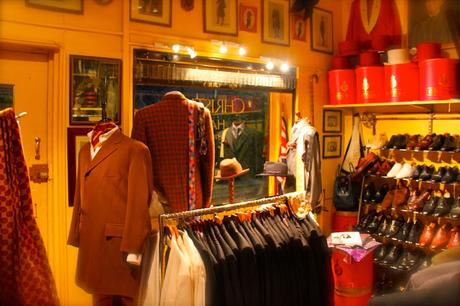 Hornets is at 2 & 4 Kensington Church Walk, Kensington W8.



You can find Hornets along the route of my Old Kensington tour on selected Thursdays.







Prestat Chocolates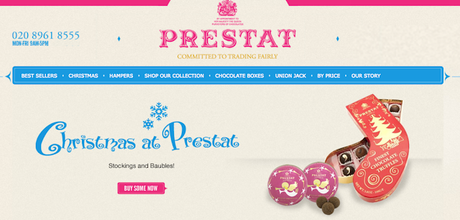 Very near Fortnum & Mason, in the crisply elegant Princes Arcade is Prestat's chocolate shop. Founded in 1902 it was the favorite chocolate shop of Roald Dahl. And he should know!


We pass by along the route of my Village In Piccadilly walking tour.



My Public Scheduled Tours for December 2019


6th December – Rock'n'Roll London – 2pm Tottenham Court Road Tube (exit 1)

7th December – Marylebone – 2pm Bond Street Tube
7th December – London Horror Story – 7.30pm St Paul's Tube
19th December – Old Kensington – 2pm High Street Kensington Tube


19th December – Jack The Ripper – 7.30pm Tower Hill Tube (by the tram)

20th December – Rock'n'Roll London – 2pm Tottenham Court Road Tube (exit 1)

21st December – London Horror Story – 7.30pm St Paul's Tube

23rd December – A Village In Piccadilly – 2.30pm Piccadilly Circus Tube (by Eros)
26th December – Jack The Ripper – 7.30pm Tower Hill Tube (by the tram)

27th December – Hidden London – 11am Monument Tube (Fish Street Hill Exit)

28th December – London Horror Story – 7.30pm St Paul's Tube

28th December – The Beatles & Bob Dylan In 1960s London – 10am Temple Tube

30th December – A Village In Piccadilly – 2.30pm Piccadilly Circus Tube (by Eros)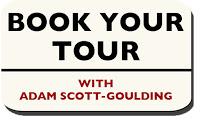 Keep In Touch…