To continue the theme of the previous post about paper lantern centerpieces, Allison Patrick sent over this idea for using the very same technique to make Christmas - or anytime - ornaments. Brilliant and so cute! I  love the way she's hung some in her entryway on branches. I'd leave them up all winter as a sign of spring to come.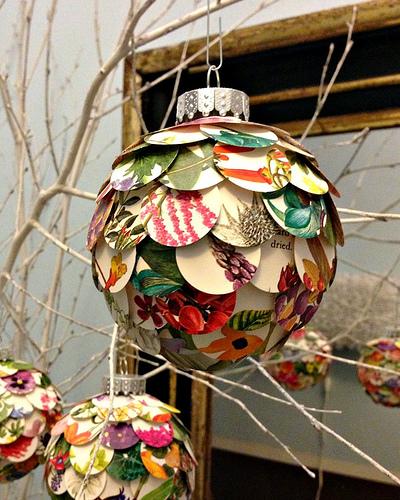 Allie said she drew guidelines by eye with a Sharpie marker, punched 1 inch circles from a flower painting book, and adhered them bottom to top on plastic ball ornaments using a glue gun.
This would be a great project for breathing new life into (onto?) discolored Christmas balls you haven't had the heart to throw away. And it won't be long until gardening catalogs start arriving in the mail, so there's a good resource for pretty flower pictures. 
Now I'm in the mood to craft. :) Have a great weekend!