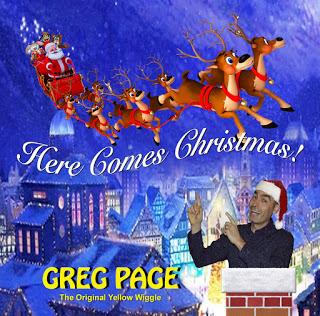 I went to the mall today, and it made me so happy to hear Christmas music playing throughout the stores! Holiday songs just make us smile. We think about Christmases past and feel hope for the future. They're great for the whole family, which is why I was pleased to hear that Greg Page, formerly of The Wiggles, has a new Christmas album for families! With three new original songs, a multitude of classics, and even a sneak peek at songs from Greg's new album, Here Comes Christmas! is a delightful addition to your family's holiday festivities.
With favorites like "Rudolph the Red-Nosed Reindeer," "Santa Claus Is Coming to Town" and "The Little Drummer Boy," everyone can sing along. Greg also has a new version of "The Twelve Days of Christmas," with more "kid-friendly" gifts. (After all, does anyone really want "pipers piping"?) Greg's new original songs are very catchy, too, and will soon become kids' new Christmas favorites. And I was thrilled to find that Greg did not shy away from the religious songs. From "Silent Night" to "O Come All Ye Faithful," these songs remind us of the real reason for the season.
I'm excited that Greg Page is entertaining kids and families again through his music. (He had to leave The Wiggles due to a condition of the autonomic nervous system, which is now under control.) Greg really knows the kind of music that kids like, and all of the songs on Here Comes Christmas! are fun and catchy. My kids and I have been listening to them in the car and bopping along on our ride! I hope you'll pick up a copy of this new CD for the holidays.
Order through www.butterscotchtv.com.
Learn more about Greg Page at www.gregpage.com.

Disclosure: I received a complimentary copy of this product to facilitate my honest review.