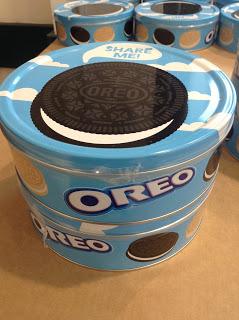 It's beginning to feel a lot like...actually, this year it felt like Christmas way back in September since most Christmas products started appearing on shelves then, but nevertheless I felt the need to do my yearly round up of some of the coolest/bestest/newest Christmassy products on shelves. You know you love it! So without further ado let's crack on and take a look at what's in the supermarkets this festive season...hopefully you might get a bit of gift inspiration! 
Firstly I have to mention the Oreo Cookie Tins (pictured above), which contain Original and Golden Oreos. They're £3 in Morrisons currently and supposed to be shared...yeah right!
Lindt Lindor Mint Limited Edition: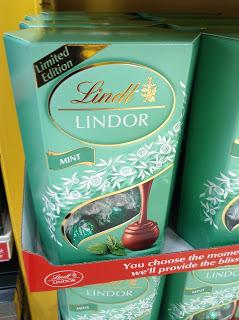 There's a new Lindor Limited Edition every year and this year it's the turn of Mint. Not groundbreaking perhaps, but it certainly sounds tasty. Spotted in Tesco.
Giant Toblerone 4.5kg: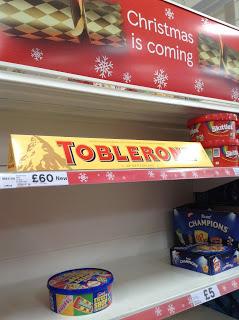 Last year this Giant Toblerone was available from Iceland but Tesco are stocking it too this year. It costs a whopping £60...nice if you have the money!
Cadbury Dairy Milk Oreo Balls: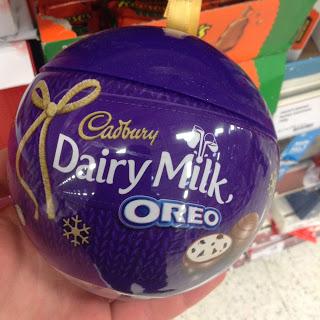 Mondelez brought these bite-sized Dairy Milk Oreo balls out last year and they're back again... Spotted in Sainsbury's.
Kellogg's Variety Cereal Advent Calendar: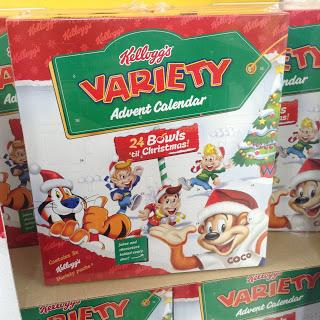 There's a lot of unique advent calendars this year, with everything from cheese to beer to makeup to Pringles...but Kellogg's may have won the battle with this calendar containing Kellogg's cereals, a small box for every day until Christmas. Available at Tesco.
Tesco Festive Filled Cookies: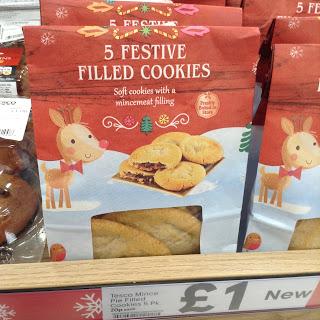 The mincemeat filled cookies return to Tesco, hurrah!
Whitworths Christmas Turkish Delight Fudge, Raisin & Chocolate Bags: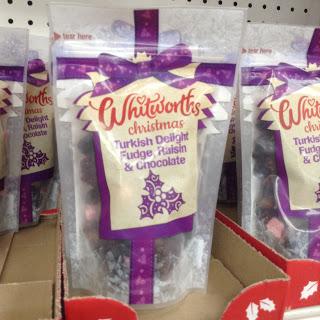 A festive snack mix of turkish delight fudge, raisins and chocolate chunks, available at Poundland.
Maynards Bassetts Jelly Babies Snowmen: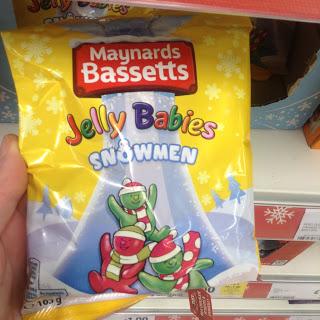 Jelly Babies have become snowmen! Available in festive colours, so basically red and green. How original. Available in Tesco, Asda, Wilko etc.
Haagen-Dazs Rum & Raisin: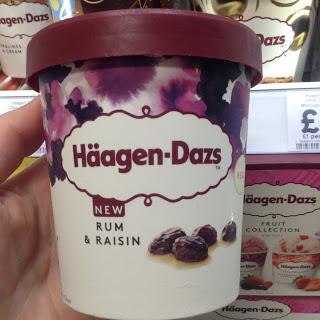 A new variety of Haagen-Dazs just in time for the festive season. As a lover of the classic Rum & Raisin combo I really want to try this...I hope it'll be on special offer at some point! Spotted in Tesco.
Cadbury Layers of Joy Christmas Trifle: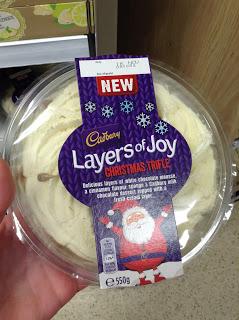 A Christmas trifle with layers of white chocolate mousse, cinnamon sponge, Cadbury milk chocolate dessert topped with fresh cream...this sounds delicious! Spotted in Tesco.
San Pellegrino Clementine Winter Edition: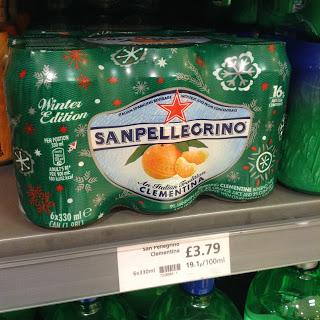 A Winter Edition of San Pellegrino sparkling juice, with clementine instead of orange. Spotted in Waitrose.
Ilchester Cheese Advent Calendar: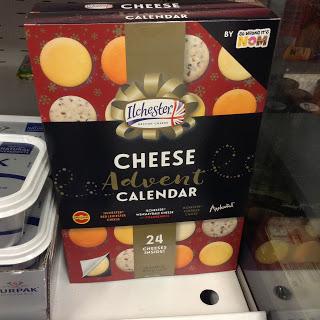 Another one of this years unique advent calendars, dedicated to cheese lovers. Because a cheese a day keeps the doctor away...or not?! Spotted in Asda.
Craft Beer Advent Calendar (Iceland):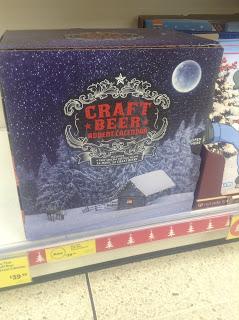 Another unique advent calendar, this is one for those who like to start their days with a bit of booze! (No judgements here) Available in Iceland.
Bailey's Alcoholic Advent Calendar (Iceland):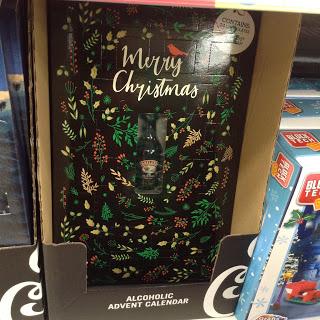 For those who like some booze and cream, there's this Bailey's variety available in Iceland. You only get a bottle of mini Bailey's for Christmas Day; the other days you get chocolate.
Smirnoff Alcoholic Advent Calendar (Iceland):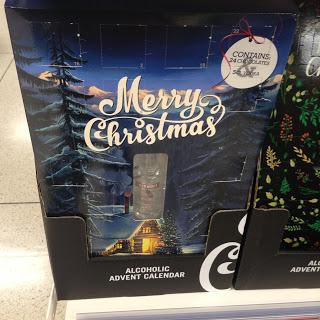 Containing chocolates and a bottle of Vodka for Christmas day...because who doesn't love vodka for breakfast on Christmas day? Available in Iceland.
Merry Pringles Advent Calendar: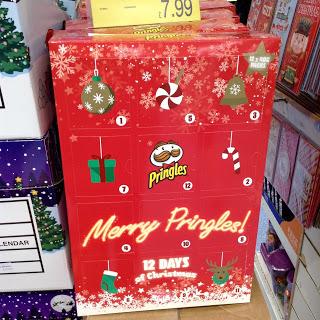 Confusingly, Pringles have opted for this 12 Days of Chrsitmas calendar, supposedly to save on costs. Spotted in B&M Bargains.
M&M's and Friends Advent Calendar: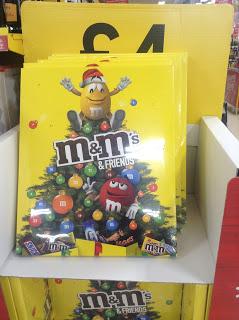 For the chocolate lovers, this one contains mini bags of M&M's, as well as Snickers, Mars, Milky Way etc. Spotted in Tesco.
Cadbury Heroes Christmas Advent-ure: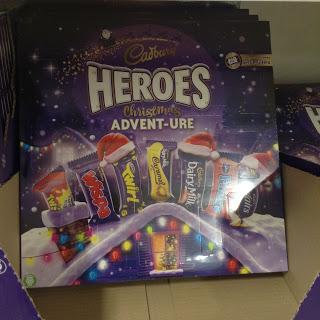 Cadbury chocolates are pretty crap nowadays, but if you fancy a mini bar of Heroes every day then this is the calendar for you! Available in Tesco, Wilko etc.
Nestle Aero Festive Orange Sharing Bar: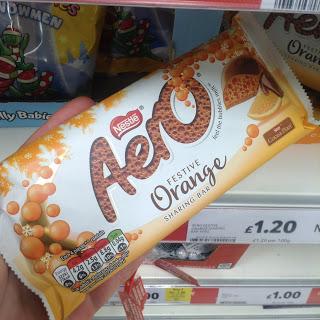 Not a new bar at all, but it's made a comeback in the form of this Festive Orange Sharing Bar. Nice if you like orangey chocolates! Available in Tesco, Wilko etc.
Nestle Orange Smarties Tubes: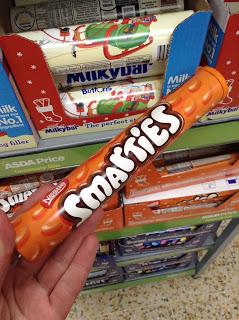 Another orangey chocolate making a welcome return are Orange Smarties in big tubes. Hurrah! They're also due to be given their own Orange Smarties Mini Eggs Easter Eggs next year, Double hurrah! Spotted in Asda.
Oykos Choc Orange (Asda Exclusive):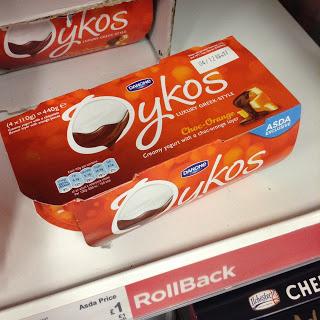 There's also this Oykos Greek Yoghurt with a choc orange layer, exclusive to Asda.
Galaxy Chocolate Orange Festive Cake Bars: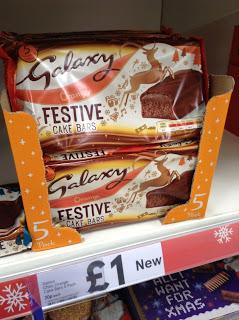 Another treat for chocolate orange lovers this year are these Galaxy Orange Festive Cake Bars. Spotted in Tesco.
Cadbury Roses Cake Bars Orange Creme: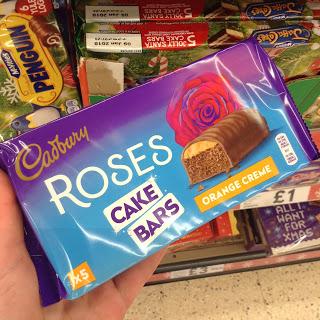 If you prefer Cadbury chocolate there's also these Orange Creme Cadbury Roses cake bars. Available in Tesco.
Cadbury Roses Cake Bars Strawberry Dream: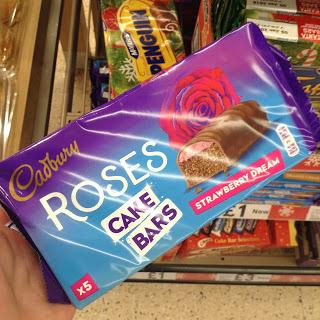 If you're more a fan of strawberry flavours there's also these Strawberry Dream cake bars, with a layer of strawberry fondant. Available in Tesco.
Celebrations Cake Bar Selection Cracker: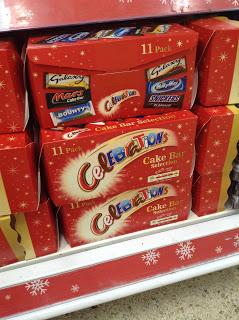 This 11 pack contains all the various cake cars made by Mars, perfect for any "Celebration"! With Mars, Galaxy, Galaxy Caramel, Bounty, Snickers and Milky Way. Spotted in Tesco.
McVitie's Digestives White Chocolate Nibbles: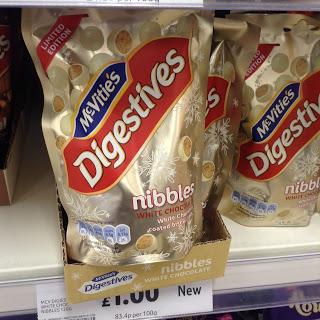 Limited Edition white chocolate coated nibbly biscuits - the perfect snack for the festive season!  Available at Tesco, Asda etc.
Haribo Sweet Medley Selection Box: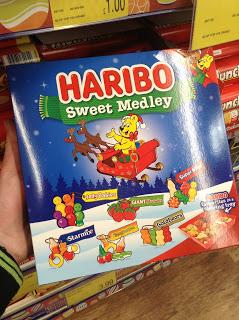 A selection pack containing Starmix, Jelly Babies, Goldbears, Tangfastics, and Super Mix. Perfect for any Haribo lover! Spotted in B&M Bargains.
Maltesers Teasers Gift Pack: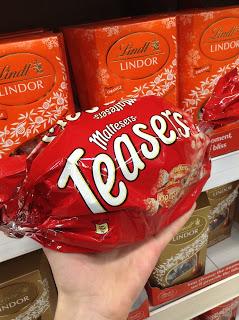 It may look like a giant Malteser, but don't be fooled, it's not! This is a gift pack containing mini Maltesers Teasers truffles. Spotted in Sainsbury's.
Maltesers Luxury Chocolates: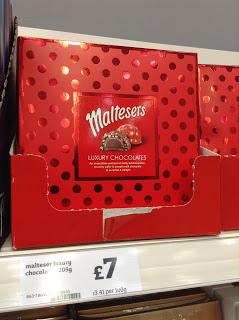 Seemingly a cross between Ferrero Rocher and Maltesers, these Luxury chocolates are available in Sainsbury's.
Ferrero Nutella with Festive Design: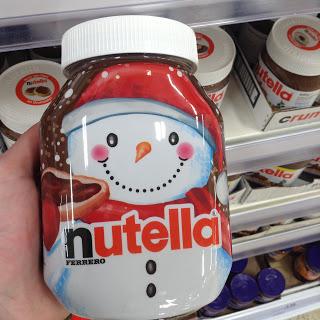 A lot of products have been given a festive makeover, but probably the best is this cute snowman wrapper on Nutella jars. Because snowmen like Nutella for breakfast...even if Ferrero have changed the Nutella recipe recently! Available in Tesco.
Cadbury's Dairy Milk Classic Collection: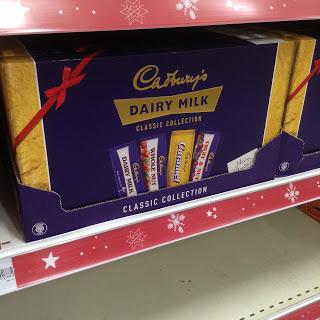 Cadbury's chocolate used to taste pretty good back in the day and they also had different wrapper designs. Now you can buy their classic bars in these selection boxes with the old designs, but not with the old chocolate recipe. Sadface. Available in Tesco, Wilko etc.
Green & Blacks Velvet Edition Dark Chocolate Pralines: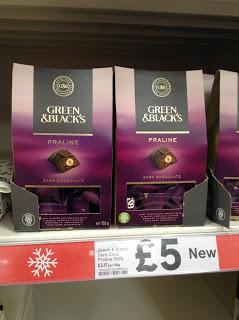 Mondelez continue their push of the Green & Blacks Velvet Edition range with these new Pralines, containing dark chocolate, praline and whole hazelnuts. Also available in Milk Chocolate. Spotted in Tesco.
Cadbury Dairy Milk Snowy Delight Pots of Joy: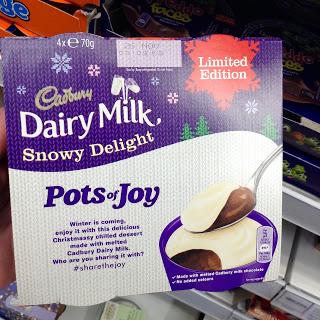 Cadbury have brought back their limited edition Pots of Joy Snowy Delight, containing milk and white chocolate dessert. Available in Tesco.
Reese's Lovers Collection Box: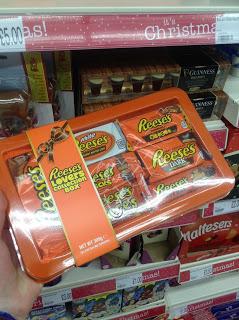 Peanut Butter lovers rejoice, there's a special selection box just for you this Christmas! Containing all your favorite Reese's products: Reese's Cups, Reese's White Cups, Reese's Dark Cups, Nutrageous, Reese's Sticks and Reese's Nut Bar. Sounds like heaven! Spotted in Bargain Buys/Poundworld Plus.
Thorntons Seasonal Selection: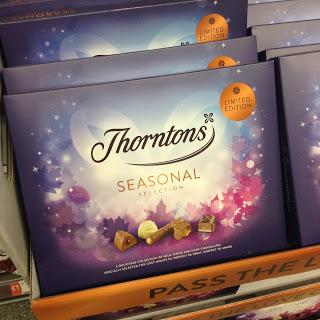 The classic Thorntons selection includes a spiced fudge chocolate for the festive season, available in Tesco, The Co Op etc.
Haribo Giant Trees: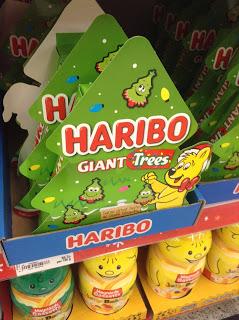 Some new Christmas gummies from Haribo, these Giant Trees are available from Asda.
Treat Factory Unicorn Lolly: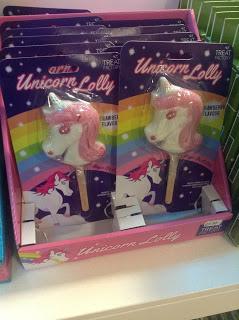 Unicorns are the biggets trend of 2017, and it's culimanted in these Unicorn Lollies. Facepalm. Spotted in Peacocks and Fenwicks.
Muller Corner Christmas Bakery Limited Edition: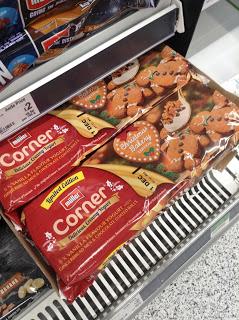 Containing gingerbread biscuits with vanilla yogurts, these limited edition Muller Corners sounds nice. Spotted in Asda.
Muller Corner Winter Limited Edition: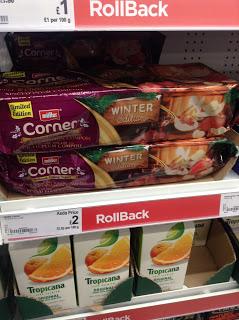 With spiced plum yoghurts there's also this fruity festive limited edition from Muller. Spotted in Asda.
Tesco Finest Candy Cane Limited Edition Crisps: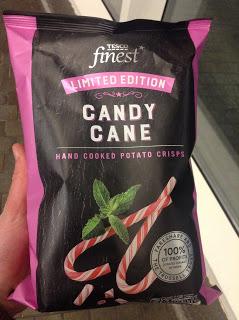 In case you haven't already seen it, check out my review of these novel and quite weird seasonal crisps from Tesco.
Kellogg's Cornflakes Season's Greetings Edition: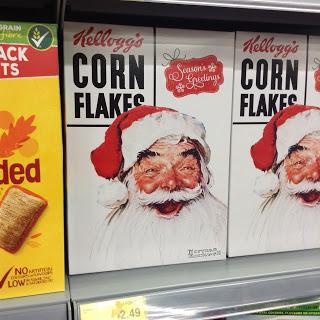 The yearly festive design for Kellogg's Cornflakes boxes is this smiley, jolly Santa. He clearly must love his cornflakes! Spotted in Asda.
Choc on Choc White Chocolate Unicorn Slab: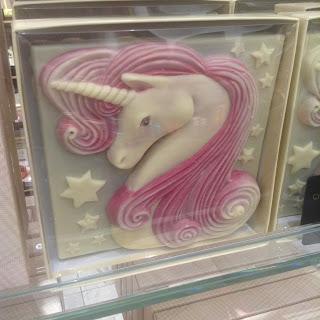 Another Unicorn product, this one is made by Choc on Choc, available in Fenwicks.
Taylor's of Harrogate Limited Edition Christmas Blend: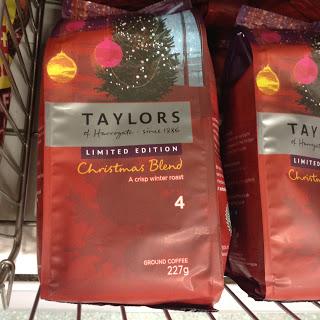 A crisp Winter roast from Taylor's of Harrogate. Spotted in Home Bargains.
Food Connections Winter Spice Flapjack: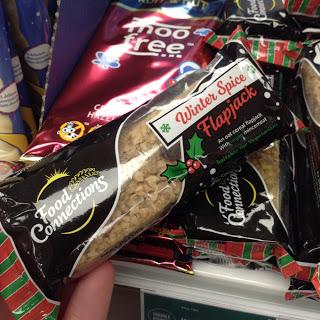 A vegan flapjack containing spiced mincemeat, available from Holland and Barrett. The perfect snack for doing some Chrimbo shopping!
Phew...that's a lot of festive food! But it doesn't stop there because supermarkets are doing lots of own-brand goodies which I'll be doing a separate blog post for in the coming days...stay tuned for that! And Happy Festive Snacks Hunting!