Concernées par la cause du "Children Cancer Center of Lebanon", Cynthia Boukather et Leslie Carapiperis, contribuent a leur facon en organisant pour la seconde année consecutive une exposition caritative a l'occasion de Noel qui réunit de nombreux designers libanais.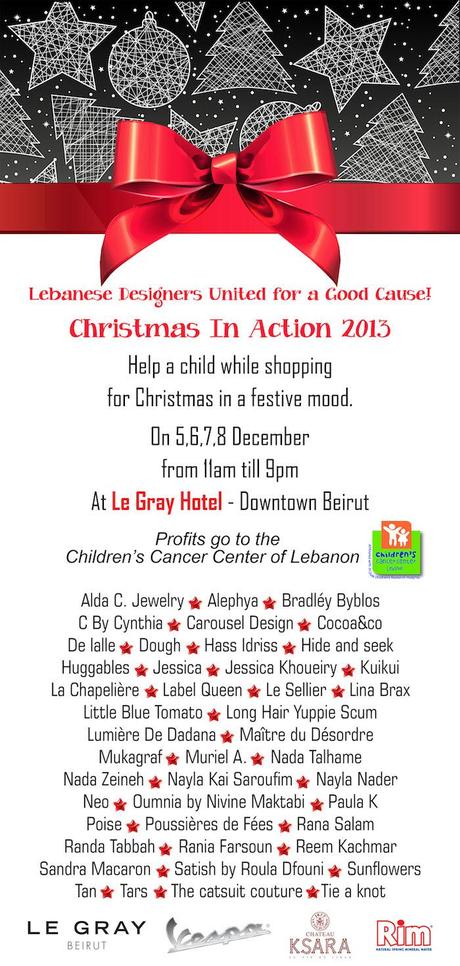 L'exposition Christmas In Action aura lieu a l'hotel Le Gray, qui offre gracieusement ses locaux,du 5 au 8 decembre 2013 de 11 heures a 21 heures.
Le succes de ce projet en 2012 et la participation massive des exposants et du public, a incité les 2 jeunes femmes a reprendre le flambeau pour sauver cette année aussi la vie d'un enfant.
Exposants:
Alda C. Jewelry
Alephya
BRADLéY Byblos
C By CynthiaJoud
Children's Cancer Center
Carousel Design
Cocoa&co
De Lalle
Dough
Hass Idriss
Hide and seek
Huggables
Jessica
Jessica Khoueiry
Kuikui
La Chapelière
Label Queen
Le Sellier
Lina Brax
Little Blue Tomato
Long Hair Yuppie Scum
Lumière De Dadana
Maître du Désordre
Mukagraf
Muriel A.
Nada Talhame
Nada Zeineh
Nayla Kai Saroufim
Nayla Nader
Neo
Oumnia by Nivine Maktabi
Pars
Paula K
Poise
Poussières de Fées
Rana Salam
Randa Tabbah
Rania Farsoun
Reem Kachmar
Sandra Macaron
Satish by Roula Dfouni
Sunflowers
Tan
The catsuit couture
Tie a Knot
Mais tout cela n'est possible et réalisable que grace à la générosité des exposants, des sposors et surtout du public qui est invité a venir visiter Christmas In Action du 5 au 8 decembre pour contribuer a cette cause qui nous tient tous a coeur tout en achetant les cadeaux de Nöel.