Next on my Christmas Gift Guide is how to shop at Christmas for your sister!  This is a gift guide collated in mind of a sister who is in her twenties onwards, we have a range from budget to high end and obviously for someone past teenage years.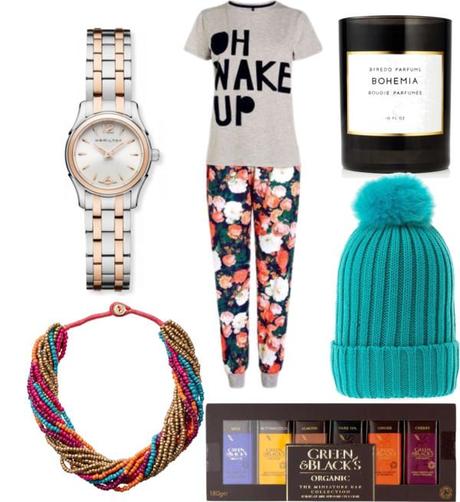 Watch - Hamilton Jazzmaster, Sleepwear - Next Slogan T-shirt and Floral Cuff Pyjamas, Candle - Byredo Bohemia Candle, Necklace - Oliver Bonas Intaguai Beaded Necklace, Hat - Somerville Scarfs Furm Pom Bobble Hat, Chocolates - Green and Blacks Miniature Collection
Watch 
You can never have too many watches.  I have a simple brown strap one from Next then my fun Mickey Mouse one, but I don't have a sleek silver one or maybe another in a different color.  You can go for a budget range one and expect to pay in double figures or go upscale with a plush one (like the one I've selected).  It really depends on how much you want to spend, but trust me there are endless styles, looks and shapes to chose from here.
Necklace
Jewellery is always a safe bet if you know your sisters style.  Me and my sister are polar opposite when it comes to style and she would select something that is more contemporary, whereas I prefer lots of colours with layers and very feminine.  Oliver Bonas always have some stunning items (check my Instagram for some pieces I shared), if not try Wallis or Accessorize as save bets.
Nightwear
Nightwear is in every gift guide I've done so far... not sure if part of that is because I love a fresh set of PJs!  Either way it's easy and you can get some fantastic designs at the moment.  I particularly liked these ones from Next because they're lounge wear as well as PJs.... great for just relaxing in and fun with the prints used.
Candle
I love a candle and you can chose from so many at the moment from size, color and of course scents.  For a much older sibling I'd say places like Laura Ashley are firm fave, but for your uber stylish sister a Jo Malone candle or the Byredo Parfums candle from Liberty of London is perfect.  Candles ooze relaxation and investing in a present like this is fabulous option for your female sibling.
Hat
A bobble hat!  Who doesn't love a bobble hat?!  Totally needed and with this beautiful shade of turquoise blue, your sister is going to look ready for a holiday on the slopes or just set for baring the UK winter!  You can get hats absolutely everywhere but I fell in love with the colour, length and general look of this one from Not On The Highstreet.
Chocolate
It seems daft not to add chocolate to any gift guide... unless they don't like chocolate of course.  If for any reason they don't like chocolate try getting some Thorntons Fudges perhaps or tasty Borders biscuits.  A sweet treat at Christmas is a lovely token but I absolutely adore these small chocolate bites from Green & Blacks in particular.  I've had them before and they have a range of flavours just for a little taste - this way the person receiving the gift has variety and of course the quality of delicious choccies!
There you have my top gifts for a sister at Christmas... this could also work for a best friend too but I felt these were a little bit more aimed at a sibling due to their pricing. 
I've struggled to buy my sister something so putting this list together has actually given me some inspiration!  How's your Christmas shopping going? what have you got for your sister?