Rating:
96/100
Welcoming:10/10
Menu Choices: 10/10
Food Presentation: 10/10
Food Temperature: 10/10
Food Taste: 20/20
Service: 10/10
Ambiance/Music: 9/10
Architecture/Interior: 10/10
Air Quality: 7/10
Total: 96/100
A long year passed that was a major turn for NGNO as I decided t start my travel and culinary journey in march of this year. I wasn't expecting the website to reach that level of success and become the talk of town in such a short period and this success is all because of you. I would like at the end of this year to thank you for your efforts and support that made my experiences more fun.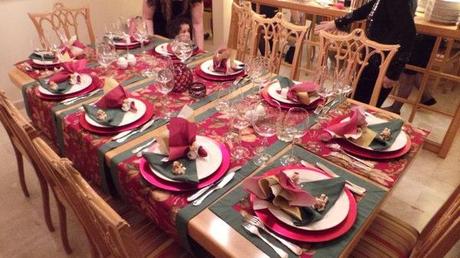 This year was not easy for me, a year that made gain more than 10 kilos in rich and diversified food… A year that made try over two hundred new restaurants, travel to more than four different new countries, discover ten additional cities and stay at dozens of renowned hotels. More than 200,000 miles traveled to discover and review what the world has to offer. It was great, preparing for more in 2013.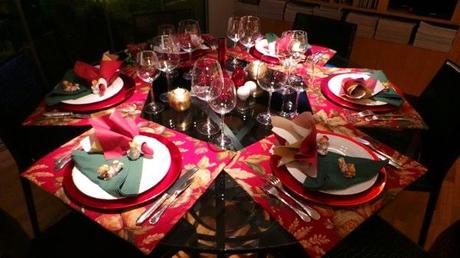 Last night was Christmas Eve, the most important and sumptuous dinner celebration, people from all over the world wait for, year after year. Families gather around one of the richest, heavier and most expensive tables to celebrate the birth of Jesus Christ. Foie gras, salmon, cheese, pâté, turkey and buche are few of the many possibility the traditions serve. In Lebanon, a réveillon is a long dinner held on the evenings preceding Christmas Day and New Year's Day. The name of this dinner is based on the word réveil (meaning "waking"), because the tradition involve staying awake until after midnight.
For the first time – even though I am asked to do it every time I'm invited out- I decided to review a home feast. Not any feast but "The Feast": my mother in law super Christmas dinner.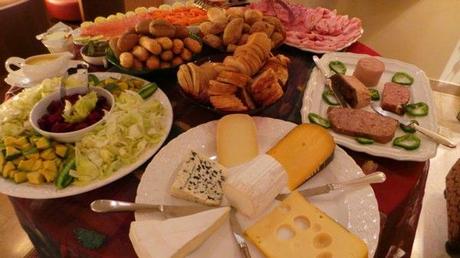 We arrived at eight o'clock to discover the red decoration that follows you all around the place starting by the house door, the living room and the dining table set in the outmost perfection accompanied by a background of musical tunes filled with the season's spirit. Every detail is mastered to perfection to make out of this dinner the grand finale of the year. Silver cutlery, porcelain plates, soft table napkins, thin crystal wine glasses in a mix of red, green and gold colours and much much more to make your eyes open wide from wonderment.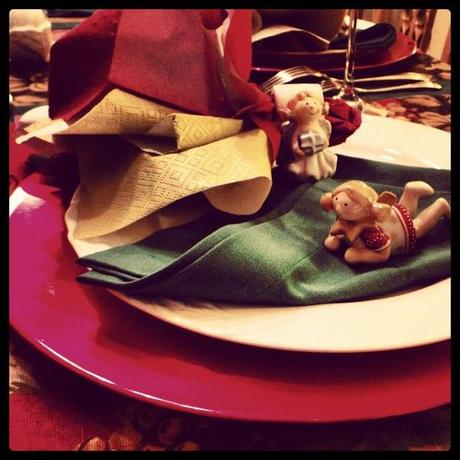 Smoked salmon:  A fillet, cured and hot smoked and served in two different ways: thin slices and thick Balik style. A thick non oily high-end fish imported from scotland. Lemon slices and capers are enough to accompany this fine product.
Pâté campagnard: a mixture of cooked ground meat and fat minced into a spreadable paste.
Mousse de canard (Duck mousse)
Mousse au poivre
Pâté au champagne
Terrine de foie gras: A terrine is a French forcemeat loaf similar to a pâté, made with more coarsely chopped ingredients.
Green salad including endives, avocado, iceberg, cucumber and beetroot next to the signature homemade sauce I call "The yellow sauce"; Simply mustard lemon and oil yet unique.
Delicatessen cold cuts: Different kinds of salami and smoked ham
Warm crunchy bread provided by Sophie de France.
Six kinds of rustic French cheese: Brie, Roquefort, old Amsterdam, goat cheese, Istara, Gruyere fruitee
The famous oven-roasted turkey: Prepared like no-one else on earth stuffed with Chestnuts and Apples (Sorry guys that is the maximum I can tell you about the inner filling as the recipe is a kept secret by the family: I couldn't get more info)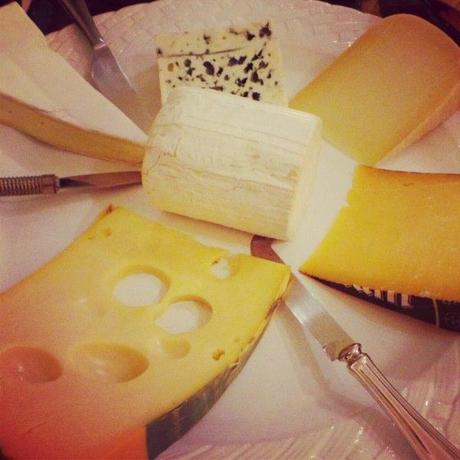 Preparing the Turkey is not as easy as you might think:
Defrosting in the fridge needs 3 days
Clean it afterwards
Stuffing with Chestnuts and Apples
Preparing for roasting, pan and foil
Roasting for 9 very long hours
Resting for 30 minutes
Preparing for serving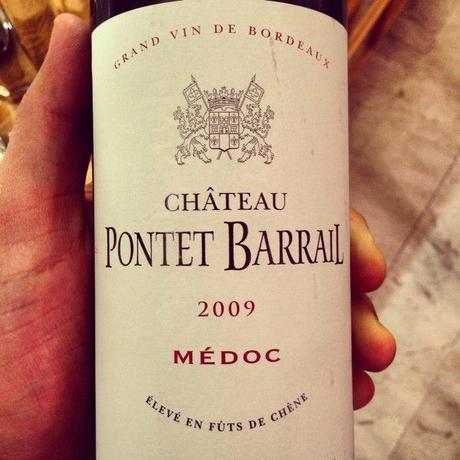 My father-in-law is in my opinion one of the best wine connoisseurs around with whom I had the chance to discover a large choice of bottles from the four corners of the world. He made sure to pair two great wines tonight which we appreciated sparklingly.
Rioja, Cosme Palacio, Cosecha 2007, Spain
Chateau Pontet Barrail, Medoc, 2009, Bordeaux
Every single preparation was sumptuous specially the roasted turkey: Something really unique that I've never had the chance to taste before in my life. I don't know if it makes sense, but you enjoy soft and tender pieces of chicken covered with a thick crunchy fat shield of delicious cover without feeling the pronounced taste of "turkey". It doesn't chew, it's not thick, it's not dried, it's not white but mixes a bland of aromas and colours making you close your eyes after every bite. I've had a piece of the body and another of the legs that are juicy and tasty alike: A key to heaven!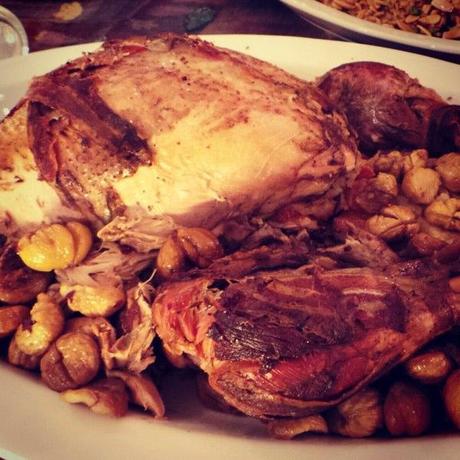 I begged my mother-in-law to open a cooking school… I believe she will shine at it if she accepts.
Dinner was not over yet as four different homemade "Yule logs" were served. We were full but couldn't resist the mouthwatering pleasure. Bûche de Noël is a traditional dessert served near Christmas in France and several other francophone countries and former French colonies. It's a type of sweet roulade. The traditional bûche is made from a Génoise or other sponge cake, generally baked in a large, shallow Swiss roll pan, frosted, rolled to form a cylinder, and frosted again on the outside. The most common combination is a basic yellow sponge cake, frosted and filled with chocolate buttercream; however, many variations on the traditional recipe exist, possibly including chocolate cakes, ganache and espresso or otherwise-flavored frostings and fillings.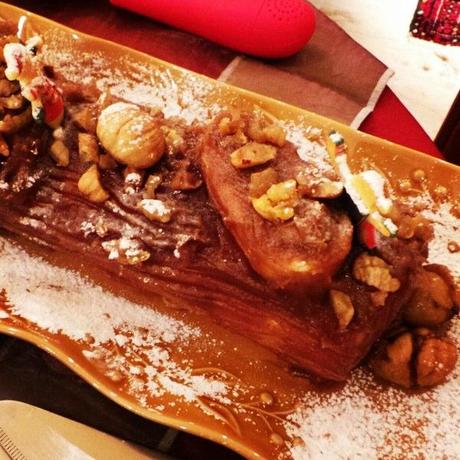 My mother-in-law Bûches are different and unique:
Bûche aux marrons (Chestnut chritmas cake)
Bûche aux marrons et chocolat
Bûche au chocolat a l'orange
Buche au chocolat et amandes
Should I give you more mouthwatering details of perfection, decoration and taste? Anything I would write wouldn't be enough to describe those simple yet extravagant pieces of cake and their royal fillings.
Not only that, but a fruit salad and some Sfouf (Sfouf is a Lebanese almond-semolina cake. It is made from semolina flour flavored with turmeric, sugar, and pine nuts) were also on the dessert menu.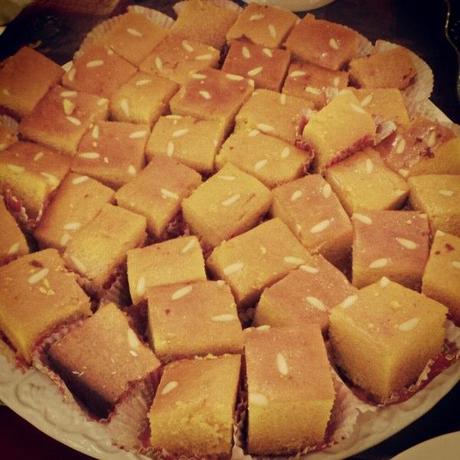 A night I enjoyed with a smile accompanied by my favorite cigar brand: Quai D'Orsay, few know about and not available in Lebanon: The Quai d'Orsay brand was created by Cubatabaco in 1973 for the French state tobacco monopoly, SEITA, and was blended with French tastes in mind, being a milder brand. There are a few competing stories as to what the marque's name refers to: one is that it is referring simply to the famous Paris avenue, another is that it refers to the French Foreign Ministry that is located on it, and another is that it is referring to the headquarters of SEITA which is also on the same avenue.
I hope you all spent memorable moments and had the chance to fill your tummies with gorgeous preparations like the ones I had… Take a break this week as the new year's eve is coming with heavier expectations.
























Pages  [
1
]  [ 2 ]