New to little Indiana? Subscribe for free to my RSS feed. Thanks for stopping by!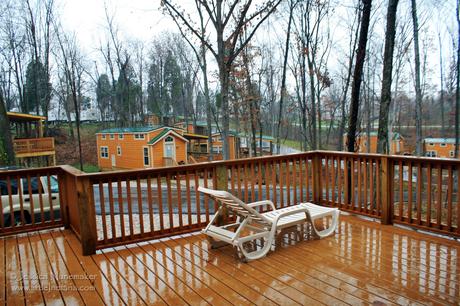 Lake Rudolph Campground and RV Resort: Christmas Cabins
Christmas may be over but at Lake Rudolph Campground and RV Resort, the festivity of the season doesn't have to end!
The brand new Christmas Cabins are a sparkly and bright addition to the already merry and bright town of Santa Claus, Indiana.
Lake Rudolph Campground and RV Resort: Christmas Cabins
When little Indiana and family pulled up to our cabin, Kid #1 wanted to wait until Kid #2 woke up so they could look at it together!
While I thought that was really sweet, I was also really impatient–I just knew they would love this unusual Indiana lodging option.
But who wouldn't? Electric fireplace in the living room, 3 flat-screen TV's scattered around the cozy cabin, surround sound (perfect for Christmas music), and a loft area for the boys to sleep. It's pretty much a kid's dream come true!
Christmas Cabins: Inside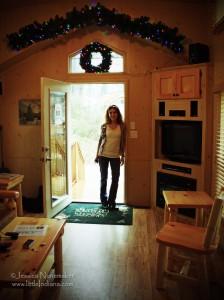 Lake Rudolph campground and RV Resort: Christmas Cabins
Not that grown-ups have anything to fear, either. These Christmas Cabins are so cute!
Like the custom RV that we stayed in last Summer, the cabins also have a cute little kitchen that's stocked with the necessities: plates, silverware, pots, pans, and grilling utensils. Huh?
Step out onto the spacious covered deck that's loaded with twinkling Christmas lights and you'll find a gas grill, all ready to go!
Spencer County Fun
This Indiana campground is the go-to destination when you need a bit of Christmas cheer–any time of year! It's just another great feature to fun-filled Spencer County.
Want a tour? Watch little Indiana and the Christmas Cabins at Lake Rudolph Campground and RV Resort on YouTube or below.
See more of Lake Rudolph Campground and RV Resort and other pictures in Indiana on my Flickr photostream!
Lake Rudolph Campground and RV Resort
78 N Holiday Blvd
Santa Claus, IN 47579
812.937.4458 or Toll Free 1.877.478.3657

View Larger Map
Special thank you to Melissa Wilkinson of Spencer County Tourism for arranging our stay. Opinions remain mine and mine alone (as always).
little Indiana: Where to Stay, Play, and Eat in Small Towns in Indiana. Discovering Indiana's best small towns!Now get little Indiana on your Kindle.
Targeted. Relevant. Affordable! little Indiana advertising!