Happy 2015 Friends!!
I can't believe it is already 2015! 2014 was an eventful year to say the very least. Thanks to the arrival of our tiny human, I definitely think it was the best year yet! I took a little blogging hiatus over the holidays so I could focus on spending quality time with my little family. We were away from Austin for most of the break, so I didn't want to have to lug around my computer. We had plenty of baby stuff to keep our hands full! 
We kicked off our holiday festivities with a little Texas basketball on December 23rd. E had to work a little bit the morning of Christmas Eve so we couldn't leave town until after that. Belle absolutely loves basketball games there is so much to look at. It was a great game and a wonderful start to our very sports filled holiday!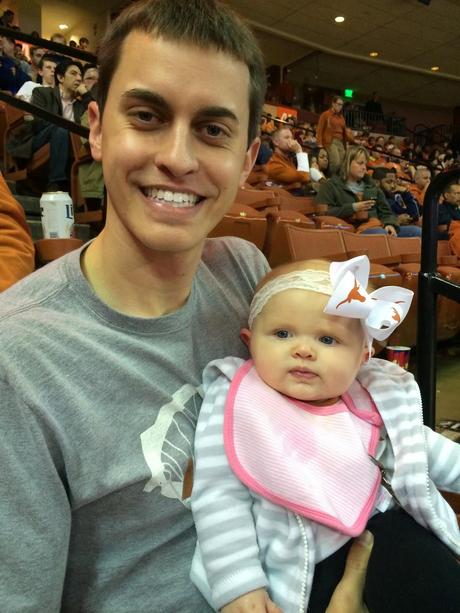 Once E finished working on Christmas Eve, we headed down to College Station to spend some time with both sides of the family. We celebrated with E's family on Christmas Eve night but I didn't get many pictures because Belle was a bit fussy. She was ready for bed. Christmas morning, we woke up and did Santa and presents at my parents house. As you can see, Annabelle was a big fan of one of her presents.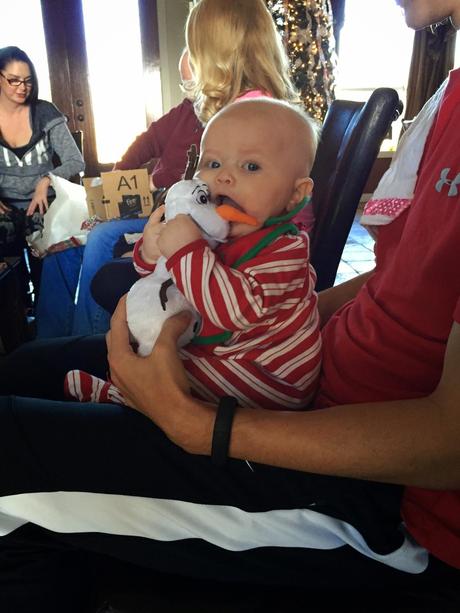 Her Christmas jammies were compliments of E's mom, and they are some of my favorite yet. Who doesn't love a giggly candy cane?


All the girls got sunglasses from my parents so of course we had to do a photo op. Aunt Brookey and Belle definitely know how to work it for the camera. Combination duck face and binky face for the win!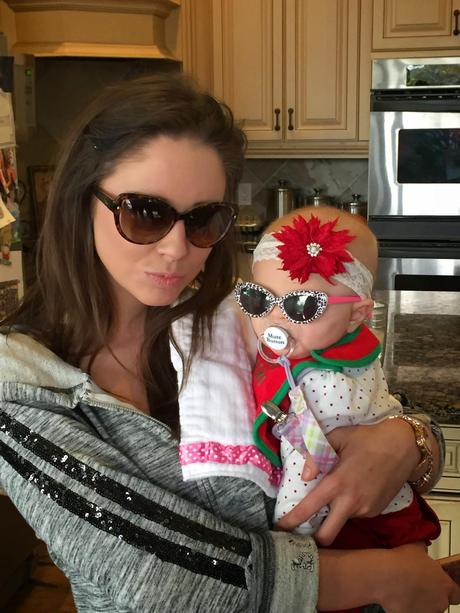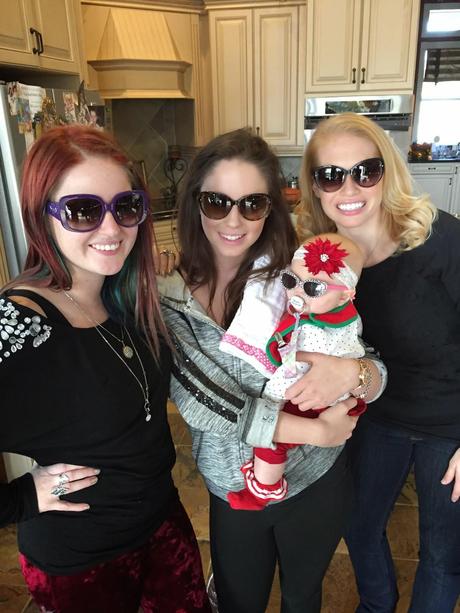 The day after Christmas, we headed down to Houston for the Texas Bowl. E works in the business office at The University of Texas so it was a work/play trip. Well, a little work for him, all play for Belle and I.
We totally lucked out because my amazing Uncle Brady who lives in DC was in town visiting his brother in Katy. Neil and Brady came and met us for lunch to catch up and see Belle. She was a big fan of her Uncle Brady as you can tell!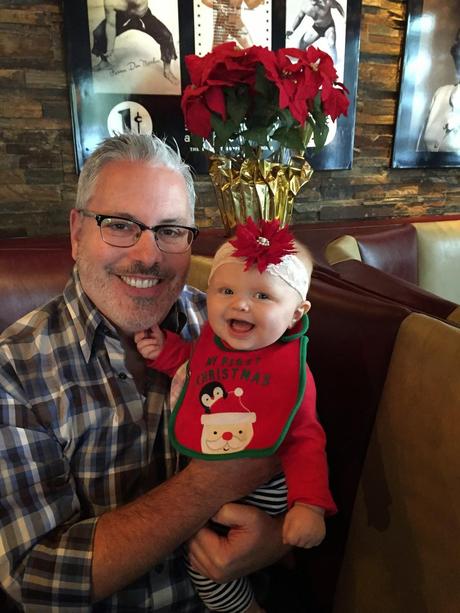 The first night of bowl festivities was probably my favorite. The bowl hosted a rodeo where the two teams competed against each other in rodeo inspired events such has chalk branding, hay bale tosses, and of course a good 'ol dance competition. Watching the teams compete was hilarious and UT won, which was a bonus. After the rodeo, we all got to each delicious BBQ.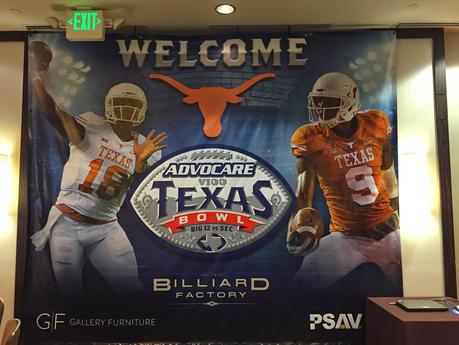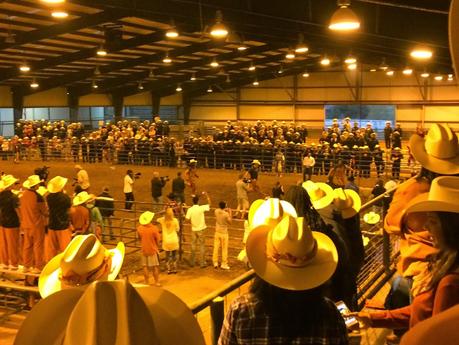 Don't let Belle's face fool you in this picture, she had a blast!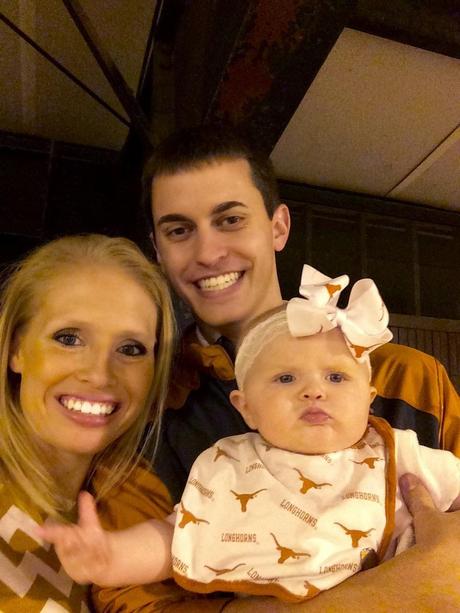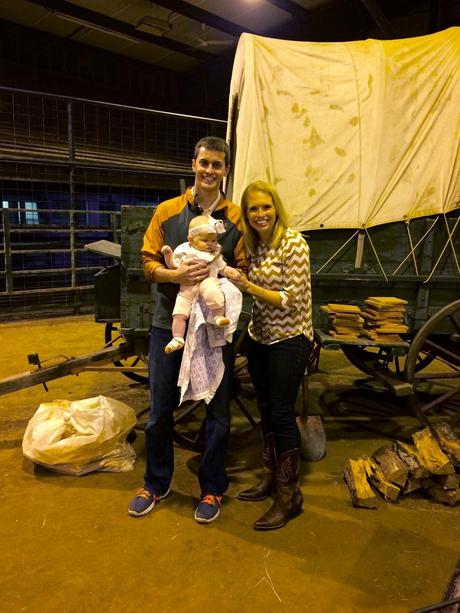 The next day, E had to work in the morning and then he took his girls out to lunch. That evening, we got to visit the Houston Zoo Tour of Lights. I had never been to the Houston Zoo, and although we didn't see that many animals since they were put up for the night, the lights were AMAZING! I loved being able to walk through the park all lit up versus driving through Christmas lights. Belle was absolutely mesmerized by all the lights and sat happily in her baby back pack for most of the trip. She started to get a little antsy when we stopped for dinner, but considering it was past her bed time, she did great!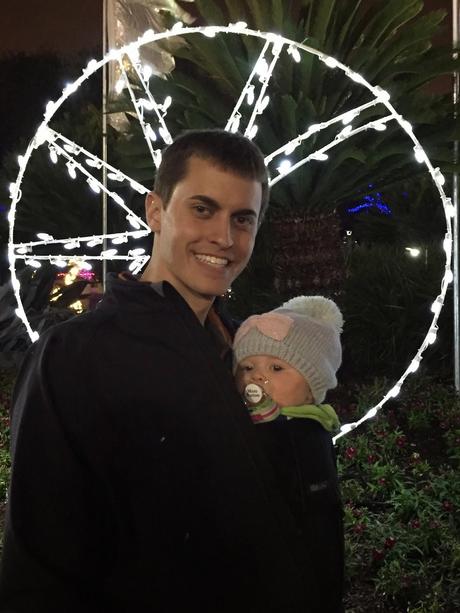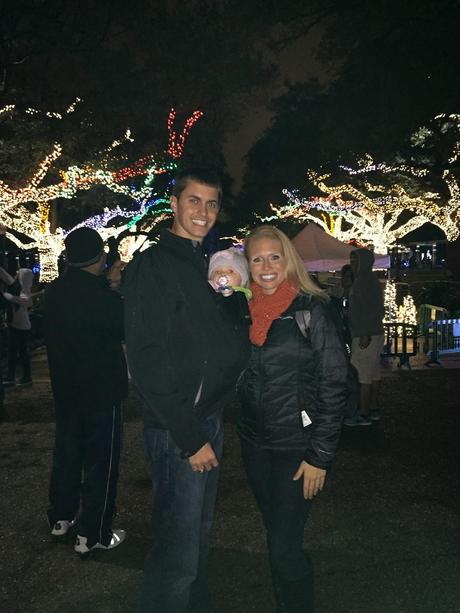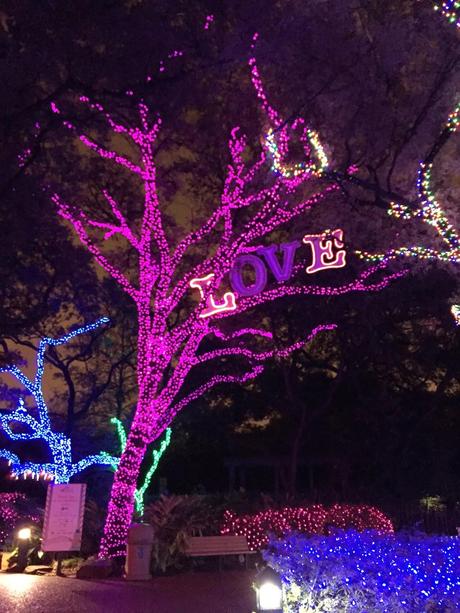 The next day, we got to meet Aunt Kelley for breakfast! It was great to be able to catch up with her. It's crazy we haven't seen her since Belle was born. After breakfast, Annabelle had a caricature sketch done of her in the kids play room. The artist was amazing and did the whole drawing in less than 5 minutes! What an amazing souvenir.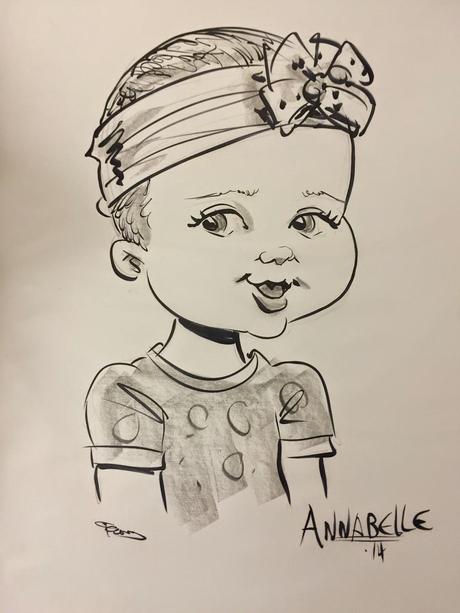 After a quick nap for Belle, we headed off for some bowling. This bowling alley was unlike any bowling alley I have been to before. They had huge projector screens behind every lane showing football games, more food set out than we could ever eat, wii bowling, and comfy couches for lounging on while you watched your team bowl. Belle was a great cheerleader for our team!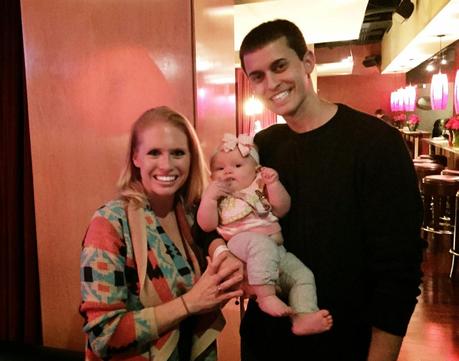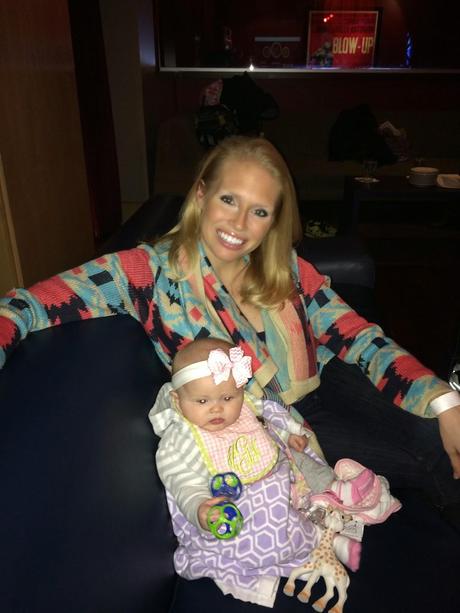 I think the best part about the whole trip was how much time we got to spend with Dad! Belle loved having a personal entertainer 24/7. E can always make her crack up and keep her happy even when she is a little fussy or bored. Having so much quality time with dad was amazing!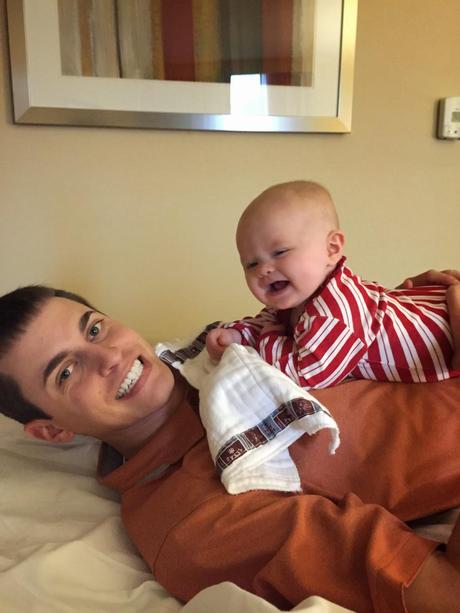 Monday, December 29th was game day and Annabelle was more than ready! Or at least she looked more than ready!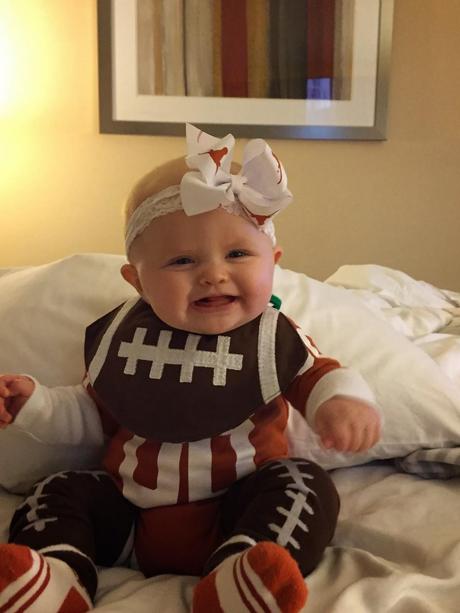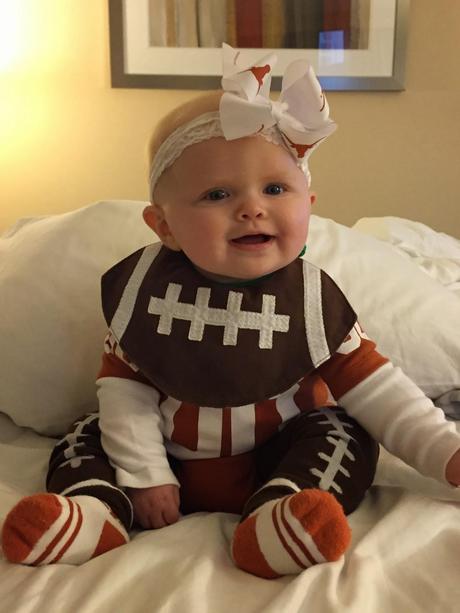 She probably has more football apparel than most boys do. Girls can love football too!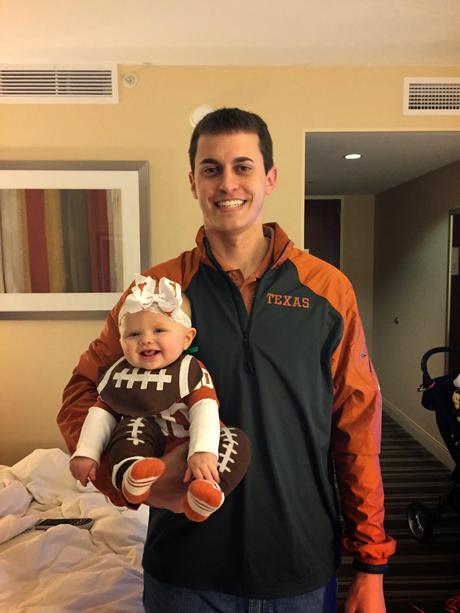 We were so lucky to get to ride over in one of the team buses so we didn't have to deal with traffic or parking. In fact, Belle thought the whole trip was very relaxing!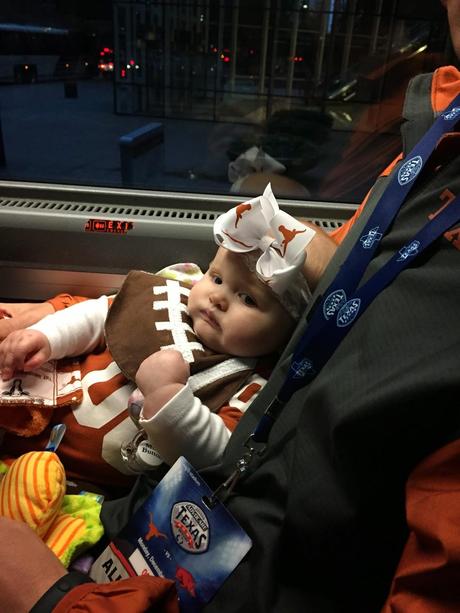 She was a little upset dad did not get her an All Access pass. I tried to explain to her that her cuteness would distract the players on the field, but she wasn't having it. :)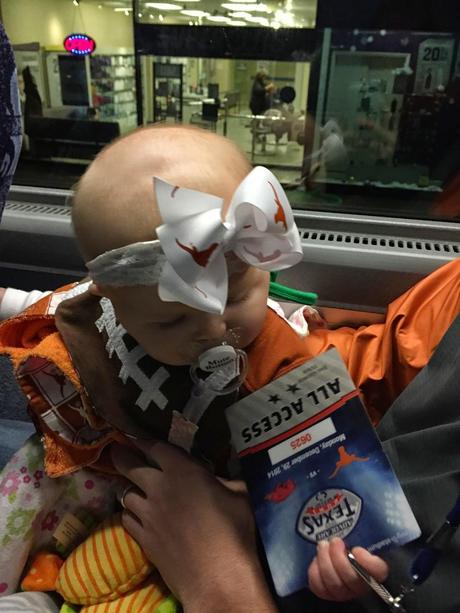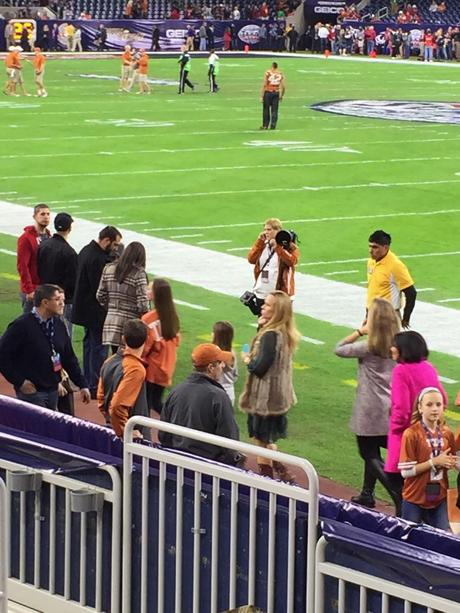 She did get to sneak down onto the field before the game to hang out with dad for a bit. There was way too much going on for her to be bothered with posing for pictures!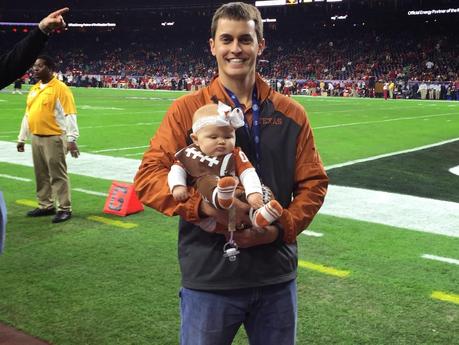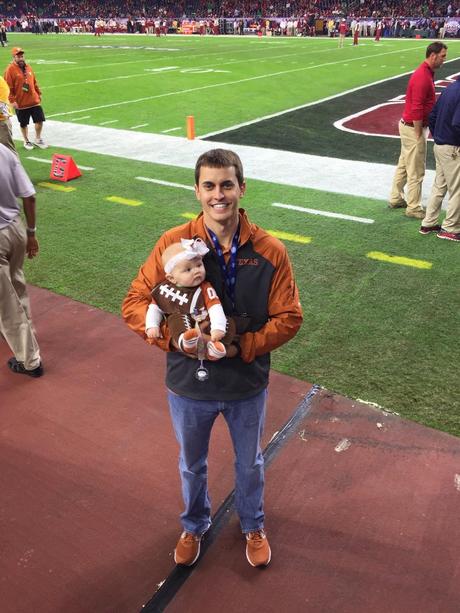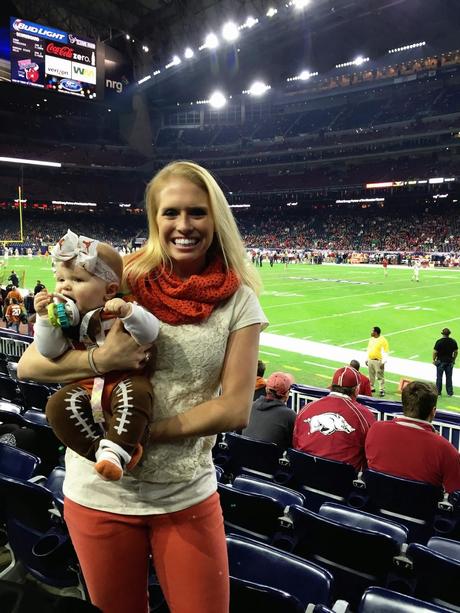 Since we got to the game about 2 hours early, she was pooped and ready for a nap by the first quarter. Luckily, her head phones make napping in a loud stadium a cinch!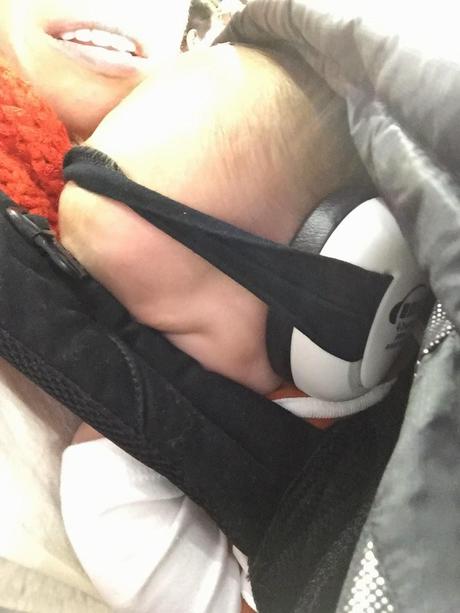 Tuesday, Dad was in charge of babysitting while Mom went to workout. We can all see how that worked out. Hahaha!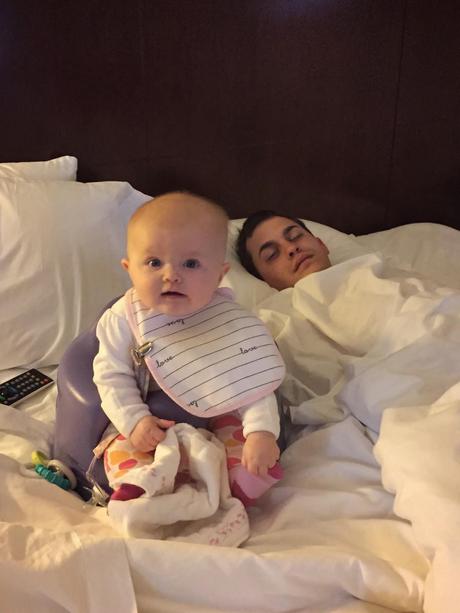 We headed home Tuesday afternoon and spent New Year's Eve and New Year's day just hanging out at home and recovering. Belle also fully broke in all of her Christmas presents.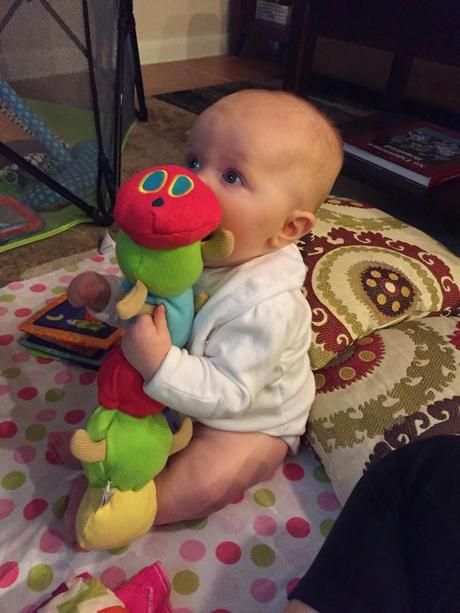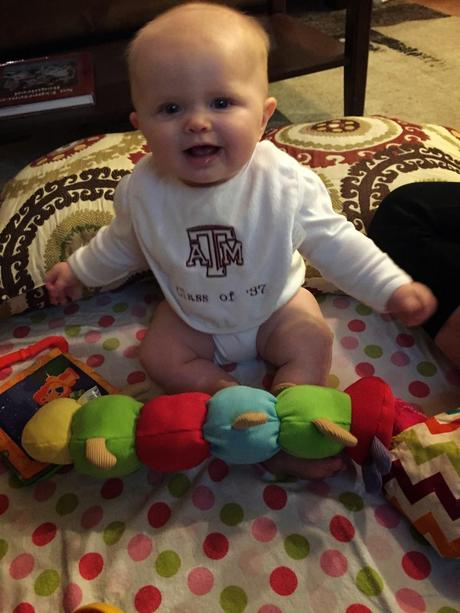 It was the perfect end to a wonderful baby filled year! I can't even begin to describe how incredibly blessed I feel to have such a loving, fun, and caring family. The holidays really remind you that simple family time is one of the greatest gifts of all. I hope you all had an amazing holiday season!
What was your favorite part of the holidays?
In health!