New to little Indiana? Subscribe for free to my RSS feed. Thanks for stopping by!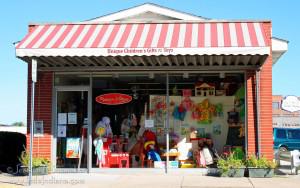 Batesville, Indiana: Christian's Kinderladen Unique Childrens Gifts and Toys
Batesville, Indiana has the best toy store I have ever seen: Christian's  Kinderladen. Wall to wall unique gifts and toys for kids! It's a toy extravaganza!
Toyland in Batesville
Named for the owner's grandson, she started the shop when she had a hard time finding really good toys for him.
Walking into this Indiana toy store? Is what it must feel to stroll around Santa's workshop!
Indiana Toy Store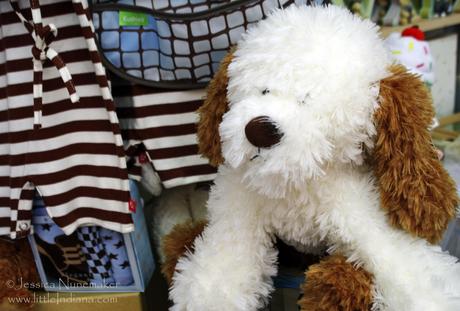 Batesville, Indiana: Christian's Kinderladen
It's bright, it's colorful, and it's full of  the most incredible toys. She's definitely hit the mark!
Kid #1 had been going on about the toy store off and on for hours. To add fuel to the fire, our room at the history-filled Sherman House Inn faced Christian Kinderladen's front window.
We knew we had to get in to this Ripley County shop–or suffer the consequences!
I'm so glad we had a chance to wander around inside before continuing on our little Indiana trip.
There's really good stuff here! These aren't the type of things you see at the big box shops. It's more the sort of toys you think are out there but can't ever seem to find.
Kids of All Ages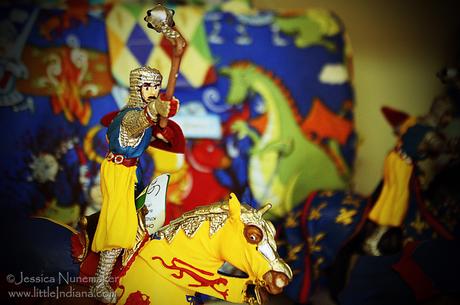 Batesville, Indiana: Christian's Kinderladen
Small Indiana towns win again! This toy store? Has it all!
Melissa and Doug, Sock Monkeys, Kitchens and play food, costumes from Aeromax (who rock, by the way), and so many more.
Seriously, hubs and I were as bad as the kids! We had such a good time browsing around. The owner reassured us from the start that it's okay to touch them–good thing since Kid #2 (toddler) was with us!
A Kid at Christmas
Young or old, I think you'll get a kick out of the toy offering. There's a lot of new classic toys here, too. We absolutely loved it and can't wait to go back and play!
See more Christian's Kinderladen images and other pictures in Batesville, Indiana on my Flickr photostream.
Christian's Kinderladen Unique Gifts and Toys
38 S Main St.
Batesville, Indiana 47006
812.932.3322
Monday – Friday: 10 AM – 5 PM
Saturday: 10 AM – 4 PM
Sunday: Call

View Larger Map
little Indiana: Where to Stay, Play, and Eat in Small Towns in Indiana. Discovering Indiana's best small towns! Now get little Indiana on your Kindle.
New! Offering affordable online advertising for your small Indiana business! little Indiana Businesses is the online presence that you've been looking for.