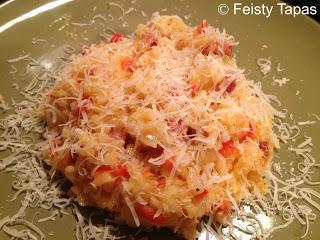 I first discovered this
Chorizo and red pepper risotto
recipe this time last year, I had never cooked risotto in my life and chorizo seemed the right place to start. It's (Mostly) Yummy Mummy's recipe and, as you can see in the comments on her post I first tried it in February this year. Well, I can tell you I have cooked it a fair few times ever since then and it is one dish that my husband loves.
What I like the most about this recipe is that these are ingredients that we tend to always have at home, meaning that I can prepare a delicious dish that we all love when I have no idea what else to cook.
Sarah aka (Mostly) Yummy Mummy is a lovely lady with a fantastic blog (make sure you check it out), I have also met her offline and can tell you she is just as lovely as she writes. A lot shier than I had imagined she would be, then again she probably wasn't expecting this Spaniard to be so excited to meet her.
I have tweaked the recipe a bit to suit our taste over time so you may want to take a look at Sarah's original recipe too.
For those of you who are Thermomix users, come back tomorrow as I have now adapted it to the TM31 for you all to try! Same ingredients so do get buying.
Chorizo and red pepper risotto 
Serves: two adults and one kid or 2 adults and leftovers for a work at home adult the next day (you may well feed a family of 4 with this at your household though!)
Adapted from: (Mostly) Yummy Mummy's original recipe

Ingredients
1 onion
2 cloves of garlic (finely chopped)
1 red pepper (stem and seeds removed, cubed)
100 g chorizo (I use 2 sausages of Tesco's cooking chorizo). I quarter it lengthways first and then slice it, it makes the most of the chorizo, reducing how much of it you have to use and giving the dish lots of flavor. Thriftier and healthier in one go.
300 g Arborio risotto rice
1 liter hot chicken stock approx. (I use Kallo stock cubes or my own chicken stock if I have any ready)
Olive oil (1tbsp approx)
Handful of fresh parsley or coriander or a tsp of dried mixed herbs (optional, don't worry if you realize at the last minute that you haven't got any at home)
Salt and pepper to season (bear in mind that you'll need little salt)
Parmesan cheese (grated)
Equipment
1 chopping board for vegetables, 1 chopping board for meat and a large pan, 1 ladle, 1 wooden spoon.
Method
Gently fry the onion, garlic and red pepper until soft in olive oil in a large pan until soft.
Add the chorizo to the pan and fry gently stirring every once in a while for the oils to be released.
Next add the rice, stirring continuously for a couple of minutes to mix well and coat it in the chorizo oils. Try not to let it stick but it's not the end of the world if it does (there are no Michelin stars being awarded today so don't panic!).
Add the stock a little at a time, a ladle at a time regularly o a ladle and a half if you want to go a bit faster (if you're like me it helps to set the phone alarm to remind you every 3-5 minutes). Keep adding more stock as the rice absorbs the liquid. After about 20 minutes and a liter of stock it should be cooked, with a lovely creamy yet firm texture.
Stir in the herbs, if you're using them (it works well without them too) and add salt and pepper to taste. Try it before adding the salt though as it's often the case that, thanks to the chorizo and the stock, this dish has plenty of flavor.
Serve with Spanish flair and freshly grated parmesan and a twist of the pepper mill.
Tip: Next time try adding a splash (an a half) of red wine when you're frying the chorizo, it gives it an irresistible depth of flavor and, since you had to open the bottle, you can drink a glass of vino tinto with your dinner.