In an attempt to live my life with some semblance of order and decency, I discovered the wonder of charts. A morning routine chart changed the way our mornings run around here. Punkin used to be flustered, tearful, and rushed on far too many occasions. I sent her off to the bus with a rushed hug and kiss more often than I care to admit. Enter the morning routine chart, and she is always ready early, we often get to curl up on the couch with her devotional and have Mommy/daughter/God time, and now the only tears result from her not getting her hair the way she wants it. But that's a whole other post.
I found an idea for a chore chart here, but it needed some tweaking to work for my family. A lot of the chore cards available in the download didn't apply because we have no pets. And we have a small house without fancy entry ways, so "tidy front door" doesn't apply unless you're literally wiping the front door. And while I love the idea of rewarding good behavior, the separate system with bees and stickers, in addition to the tickets and prizes, probably would have left Goo and Smush scratching their heads and wondering why the heck they didn't get tickets for using manners at dinner. If my kids were older, it would probably work.
In my journey to an orderly house, step 1 was to find the perfect pocket chart. I found mine here. Thank you, Amazon.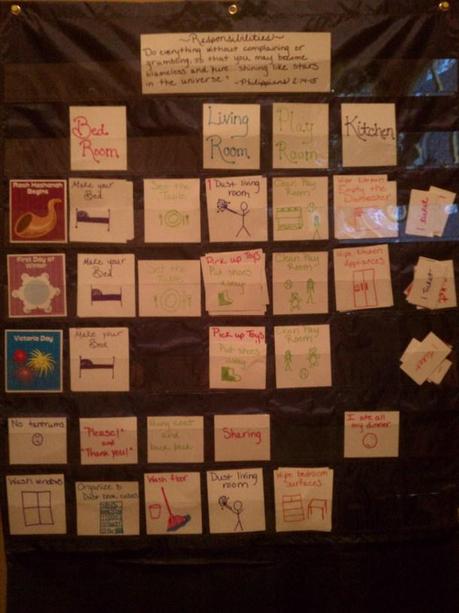 This is a photo of our actual chore chart. I know you're wondering why I waste my time writing when I clearly have a future in the visual arts, but there's only so much awesome one girl can handle. My personal favorite is the dusting one, where I clearly drew a stick man jousting with the Olympic torch. Also, I flipped the girls' names around to protect their anonymity. Or something.
Step 2 was to develop a list of reasonable chores for each kid. And yes, a two-year old can have chores. And yes, I was seriously underestimating my girls' ability to handle household responsibilities.
Goo is 4 1/2. I found the most perfect quote for her ever, penned by Shakespeare, that brilliant bard: Though she be but little, she is fierce. It's like he knew her. Anyway. Goo is significantly smaller than our vacuum. And our swiffer. And our sink. But her chores, by request? Vacuuming, washing the floors, and cleaning dishes. She gets her tiny little body behind that beast of a vacuum, grabs it with both hands, and throws her full body weight into it  to get the job done. I seriously love that kid.
Smush is in charge of putting shoes in the closet, picking up toys, and helping to make her bed. She's the best listener ever. And she does every chore with a smile. *melting*
Punkin is just like me: she loves a clean room. But she absolutely detests cleaning it. She's a pouter. And a procrastinator. But we're getting there. Which inspired me to do this for our chart title: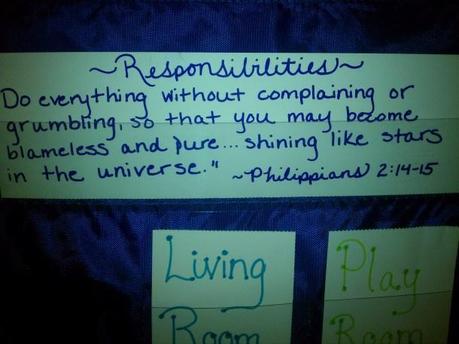 Holy slap in the face. I hung this up for the girls, and now have a very real reminder that cleaning up milk and pee and Little People is part of my job forever right now and I need to can the whining. But it's given me a great teaching point to show the girls that I still have things I'm working on, and we all need to remember that we can find joy, and glorify God, in even our mundane tasks.
Step three was to figure how I was going to reward all these chores. I developed a reward system using points and monetary reward that will come in part 2 of this post so that I don't leave you yawning at your computer desk with my incessant babbling.
Oh, and if you were to take on this task, I highly recommend opting for the chart with the calendar inserts. Flip them around, write whatever you want, and you don't have to spend eons cutting paper to the perfect pocket size. You're welcome.