Chardham Yatra is an important pilgrimage trip for Hindus. Every year thousands of pilgrims throng the Uttarakhand region to pay their tribute at the 'Char' Dhams. To lessen the difficulties of the route, Rental car services can be hired up to a certain point. Read on to learn more-
The chardham yatra need not be considered a sacred spiritual duty. It can also become a fun-filled vacation even if it means enduring the hardship of trekking some distances to reach each temple. This is possible if you choose a rental car for chardham yatra instead of joining a group tour.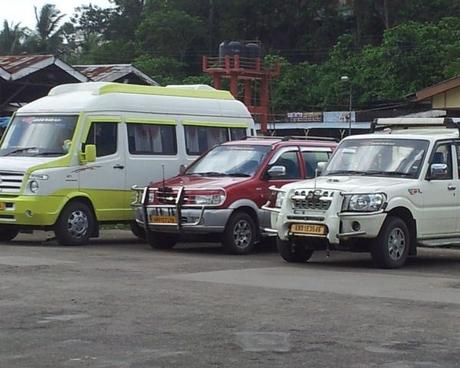 Chardham Car Rental
The Char Dhams
In contrast to the major char dhams spread over four corners of India, the chota char dhams are located conveniently close to each other and a tour can be completed in a week or so. The four holy pilgrimage sites are Yamunotri, Gangotri, Kedarnath and Badrinath.
Yamunotri is home to Yamuna Devi and the site is about 13 km from Hanumanchatti from where you go on to Phool chatti, a distance of 5 km and from here you walk the rest of the way to the temple.
Gangotri is next on the list, 105 km from Uttarkashi and can be reached from Hanumanchatti if you travel by road. The temple to Ganga devi is on the banks of the Bhagirathi and this is the spot where Ganga is said to have descended from Heavens on to the matted locks of Shiva.
Kedarnath is the third pilgrimage destination, one of the 12 jyotirlingas in India and home to temple of Lord Shiva. Pilgrims reach Sonprayag because the road to Gaurikund may not be fully repaired after the 2013 floods. From here you go on to Gaurikund and walk, take a palanquin or ride a horse for 13 km on a steep path to reach the temple.
Badrinath is the final stop. It is located in the scenic Chamoli district and reach Joshimath, the closest town with some facilities.
Best Way to Travel
If you can afford it and are short on time, take a helicopter to reach each of the char dham and your pilgrimage could be completed in as little as 4 days. However, hiring a rental car is the better way since you can admire the scenery, stop at interesting places and take excursions to nearby places of interest. If you have come all the way to Uttarakhand, it is only fair you sample some of its scenic delights.
Which Type of Rental Car Should You Select?
This again depends on the number of passengers traveling together. A family of three could make do with a sedan but be sure to pick a car with a powerful engine and enough road clearance since the road may be littered with rocks at places, especially near Kedarnath.
A family of five to eight members would find an SUV to be better. In fact, even a small family would find SUV more comfortable with ample legroom and more than sufficient space for luggage. SUVs also have more ground clearance, more powerful engines and can take on tough terrain with ease. With more than enough space, SUVs allow you to pack in all your luggage and clothing as also food and even a camping tent or a folding cot.
Needless to say pick a car that is almost new and is well maintained and serviced with good tyres. A breakdown could leave you stranded.
You will not need air conditioning since the weather is cool and pleasant even in summer.
Groups of 10 to 14 could do well in a mini coach but picking 2 SUVs is better since the roads are narrow and a smaller vehicle navigates turns much better.