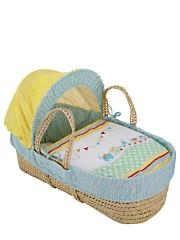 Congratulations on your new bundle of joy, or maybe you have just learnt that you are pregnant. Either way this is a fun and exciting time, full of joy and new beginnings. This is also the time that you need to start thinking about the little ones nursery. This is not only in terms of style, but also the functionality and safety for both your baby and you.
You will undoubtedly be spending a lot of time in this room. From midnight feeds through to afternoon naps, this is one of the rooms in your house that you will get to know very well over your child's first few years. Extremely exciting but confusing all the same. So to help you to take the first step, here are some top tips to help you find the perfect nursery furniture today.
Comfort and Style
One of the most important things to start off looking at is how comfortable your new baby will be. This will come from the furniture you pick and the love that will be emanated from the room. So, let's start with the crib. Cribs or cots, are potentially the most important item in any nursery, this is where your baby will dream, get the rest they need and develop, so you need to choose wisely.
There are two main styles of cots. The first is a free standing, non removable crib and the second is a Moses basket that can be taken with you around your home. Both of these are great options for different reasons. You will need to start by looking at a wide range of cribs. Cots at littlewoods.com and in many other stores come with safety guidelines, such as how to make sure your baby stays within a comfortable sleeping position and to make sure that the crib is secure. Moses baskets are great for traveling around your home with you, but you do need to make sure that they are secure both on the frame and off.
Functionality
Having multi functional furniture in a nursery is a key to both saving money and keeping the space tidy. Babies need a lot of changing, feeding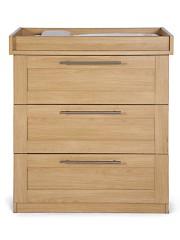 and ultimately acquire a lot of clothing. This is both fun, but also creates an issue when looking at space. This changing table is a great example of functional furniture. It will save you space, it has a safety changing mat on the top and drawers below where you can keep all the cleaning products and baby grows.

When looking for a changing station, you either want one that is on the floor to protect against wriggling falls, or for a mat that has raised sides. Whilst you bundle of joy is a newborn, this will be plenty to ensure their safety. As they get that little bit older, you can remove the mat and use it on the floor, as this is when they are likely to get a little more active.

There are many other small ides for storage that could be utilised in a nursery. Blanket boxes are excellent for storing toys, whilst also working as a seating area. Then there are in wardrobe dividers that can be great for hiding a multitude of sins.

Get your personality into the room

Finally one of the most important things to do is to get your personality into the room. This is where your child will begin to learn about mom and dad. There are many ways that you can add a little personality into your room, through photos of your family, color schemes and even the furniture.

If you are a lover of shabby chic, then why not introduce this into the room. There are many stores that sell wooden letters that you could use to spell out your names. Equally, if you are a fan of modern minimalism, why not look at incorporating this into the color schemes and furniture of the room. Most of all have fun. Enjoy this time and the years to come as they are precious to everyone.