When it comes the time to choose the destination for your next vacation and you have enough finances to afford good options, there will be pretty much to pick out from. Of course every family has different taste for nice and interesting vacation. Many will go for the luxury and expensive hotel complexes that are situated in some of the world's top vacation places.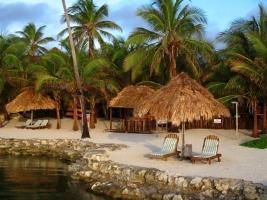 There is however certain group of people that will take one very unpopular decision which will be to go to a less famous part of the world, which will offer a holiday that will not harm the nature in any way.
If it is happens you to be one of these people, here are some nice options for you to choose from.
Fiji
One magic place on the islands of Fiji will be the first offer for eco-tourists. On the island of Vanua Levu there is a family called Cousteau who will welcome you in their magnificent resort, situated on more than seventeen acres. The homes for the visitors are decorated with rattan furniture and native hardwood. In the tour for the tourists is included very interesting visit in a native village in the surrounding as well as a trip to a mangrove lagoon.
Belize

When you are a couple looking at the same time for an eco friendly place and romance you can discover it on a private island situated near Belize. Except the calm and tranquil atmosphere, there are many options for outdoor activities so in case you are dynamic person you do not have to spend your whole day lazily lying on the beach.
There are pretty good conditions for kayaking, surfing and scuba diving of course. As for the accommodation, there are fifteen cabanas equipped with solar systems, wind power and composting toilet.
 Antarctica

People who are looking for the adventure of their lifetime can sign for an expedition to Antarctica. It is true that the packages are not affordable for everybody, as their price ranges from ten to forty thousand dollars, but it will worth every penny.
If you join the famous Lindblad Expeditions you will be kayaking on the ice – something that surely few of your friends will do in their life. A close look to the life of the penguins near their natural habitat is also included in the trip.
Costa Rica
During the last few years the island of Costa Rica has also become one of the symbols and synonyms of ecotourism all over the world. Even if there were no hotels, the nature is enough for the perfect close to the  nature vacation with its diverse and interesting wildlife, rain forests and sparkling beaches. The best part is that this will be a trip affordable for most of the tourists.

About g_bailey
has written 12 article(s) for EnvironmentGreen.com.
View all posts by g_bailey

→

Web Site
Share
Filed in: Green Travel