I promised y'all yesterday that I would share my new favorite protein-packed recipe! It's super easy, delicious, filling, healthy, and gluten free!
As we are super close to the holidays, all those annoying/delicious treats are everywhere! And most of you know, I have a MAJOR sweet-tooth. This microwave muffin satisfied that craving (and it's not really sweet!), and gave me a protein-filled, healthy breakfast. Kyle thought it looked like poo, but he also doesn't like delicious things like broccoli, spaghetti squash, and brussels sprouts ;)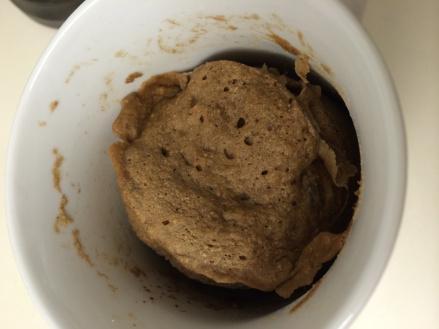 Now I know some of you (who really know me) are thinking, she doesn't really like chocolate! You're right! That being said, chocolate is kind of growing on me with age, but I still much prefer non-chocolate items (e.g. vanilla) over chocolate.
However, I recently was sent the Natural Chocolate GNC PUREDGE Complete Protein and it is great! If you haven't heard about their PUREDGE protein, it's whole-food based and delivers 20g protein and 1 full serving of fruits and vegetables per serving! It's meant for active adults who are on-the-go and need a little extra help getting their essential nutrients!
It's gluten-free, contains no preservatives, and no artificial flavors, colors, or sweeteners. It's designed to support muscle health while supplying daily nutritional needs!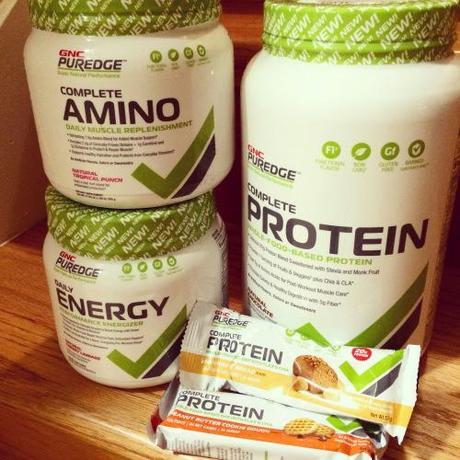 Right now, I'm trying to heal my wonky knee, hip/ass issues (in different legs) but as soon as I start training for my next half marathon, I cannot wait to try the GNC PUREDGE Daily Energy and Complete Amino!
I also got to try the 2 GNC PUREDGE protein bars too. I was running late to work on 2 different days and grabbed them as I rushed out the door. I think I liked the Banana Nut Bread more than the Peanut Butter Cookie Dough- but keep in mind I don't like peanut butter flavored things.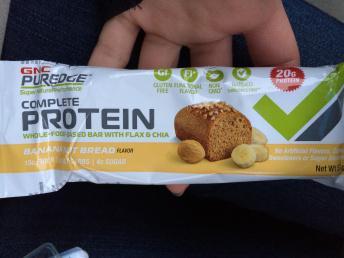 On to the SUPER easy recipe!
Mash your ripe banana with a fork. It will look super appetizing like baby vomit.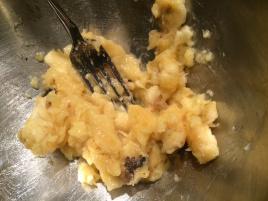 Add 1 scoop of protein powder, coconut flour, egg, cinnamon, baking powder, and almond extract. Mix well and microwave for 2-3 minutes!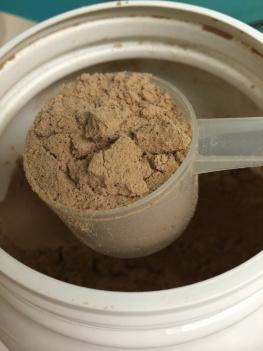 Okay, starting to get the poo reference…but I promise it tastes yummy! Almost like a slightly chocolate flavored banana bread :)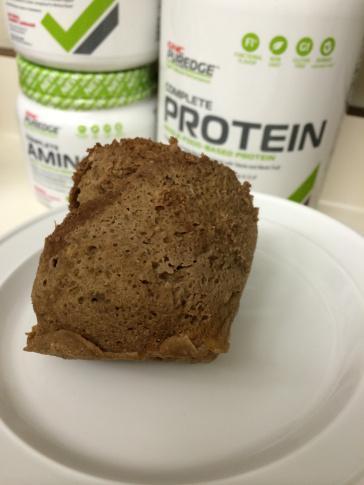 Chocolate Covered Banana Protein Microwave Muffin (Gluten free)
Servings: 1
Difficulty: easy
Print
Ingredients
1 scoop, Natural Chocolate GNC PUREDGE Complete Protein
1 banana, mashed
1 tbsp coconut flour
1 egg (or 2 egg whites)
1/2 tsp cinnamon
1/4 tsp baking powder
splash of almond extract
Directions
Mash banana in a microwave safe mug. Add and mix in the rest of the ingredients until combined. The consistency should be such that you could pour the "batter" out of the mug (still thick though). If it is too thick, add a teaspoon of almond milk (or other milk) at a time until desired consistency is reached.
Microwave for 2.5-3 minutes (will depend on your microwave). Once cooked, you should be able to invert the mug and the muffin should slide out. Eat as is or cover with your favorite nut butter!
fitnessmeetsfrosting.com

Thanks to GNC for sponsoring this post! All opinions are my own.

Do you use protein powder?
What would you make with the chocolate protein powder?
Have you ever made a microwave muffin?
Peanut butter flavored things- yes or no?