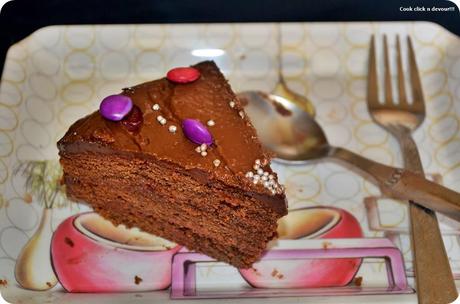 The egg less chocolate cake I am blogging here today is a true chocoholic's heaven.This cake has not 1 or 2 but 3 elements in it,which makes this cake simply rich and addictive.I warn though a small slice goes long way.I had collected this recipe from femina long back and tried some time back.Thought of posting here today,as this is my 300th post.Here I would like to thank all my dear friends and readers for this kind of support.I really did not expect this kind of support when I started.,thank you all.Now coming to this cake,this has a basic egg less chocolate sponge cake,chocolate butter cream icing,cherry preserve and finally an absolutely irresistible ganache to hold up every thing.I have decorated the top with few gems and silver balls and that is optional though.I so wanted to do a white chocolate ganache to cover the top to make the layers distinct,but my sister the hard core dark chocolate fan she is,would not let me do so. Any ways I am very happy with this cake and the way it turned out.This is my first attempt on making a three layered cake and baking the layers separately.With shivering hands I poured each portion in tin and was anxiously praying for a cake that would be soft yet firm and let me decorate.I know there needs a lot of improvement still sharing this here.Please lemme know your thoughts.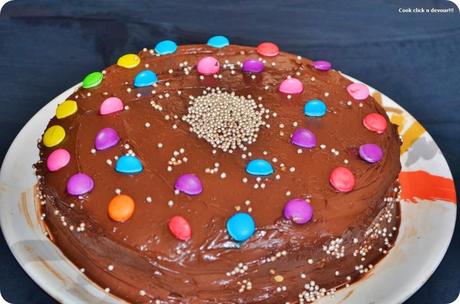 Chocolate cake with chocolate butter cream icing and chocolate ganache frosting recipe
Star ingredients:Cocoa powder and dark chocolate
Time:2 hours+resting
Yield:1 9" inch round cake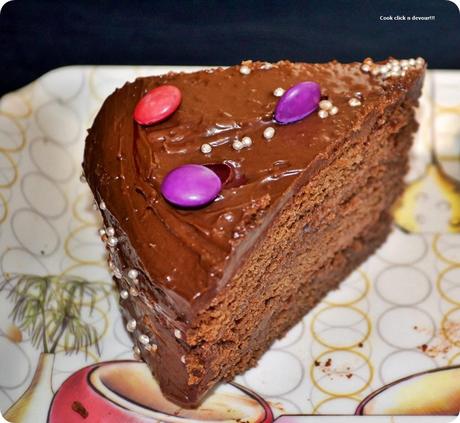 Egg less chocolate sponge
Ingredients:
1 1/4 cup all purpose flour
1/2 cup cocoa powder
1 tin sweetened condensed milk
120 gram butter(room temperature)
1 cup milk
1/3 cup sugar
2 teaspoons baking powder
1 teaspoon baking soda
1 vanilla bean scrapped or extract
1/8 spoon salt(if using unsalted butter)
Method: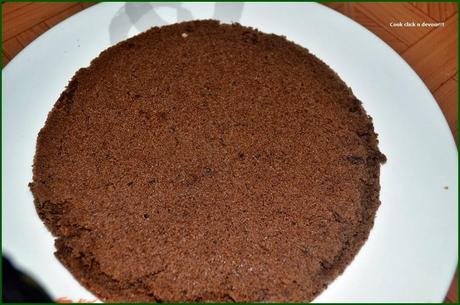 1.Cream butter and sugar until light.Add condensed milk and mix till incorporated.Do not over beat and do the mixing in on direction.
2.Sift all the dry ingredients together and keep aside.
3.Preheat oven at 160C and prepare a 9"round tin.
4.Now add the dry mix to the wet mixture slowly and add milk step by step.Mix well in the same direction  and form the batter.
5.Divide the batter into three portions and bake three cakes.I did this one at at a time as my oven is not that large.
6.Allow the cakes to cool thoroughly.In the mean time prepare the butter cream and ganache,
For the chocolate ganache
Ingredients:
250 gram dark chocolate(I used horde)
400 ml fresh cream
2 tablespoons salted butter
Method:
1.Melt the chocolate in a double boiler until smooth and glossy.
2.In the mean while simmer the fresh cream in a vessel for 2-3 minutes,add butter and mix well.
3.Stir in the chocolate to the cream and mix till smooth.Keep aside.
Chocolate butter cream icing
Ingredients
1/4 cup+2 tablespoons butter(room temperature,soft)
1 1/4 cup icing sugar
1/8 cup milk
Vanilla
Method: 
1.Cream in all the ingredients together until the icing is light and fluffy.Add milk in stages and only more if needed.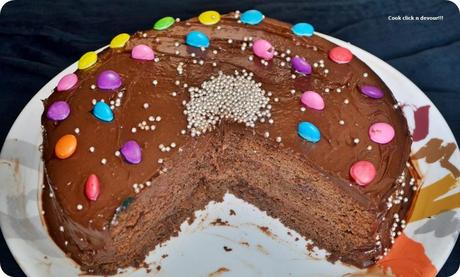 Assembling the cake:
Ingredients:
3 chocolate sponge cakes
Chocolate butter cream icing
1/2 cup Cherry/strawberry preserve
Choclate ganache
Few gems
Edible silver balls
Simple syrup
Method:
1.Prepare simple sugar syrup by boiling 150 ml water with 4 teaspoons sugar until well disoolved and about to turn sticky.It should not form one string consistency.
2.Now take a wide plate and apply some icing sugar all over it.Place one cake over it.Brush the sugar syrup all over it and apply a generous portion of butter cream.Spread the cherry preserve and close with another cake.
3.Repeat the same in this cake also and close with the last cake.


4.Now cover the entire cake,the walls,top with chocolate ganache.
5.Start working from the too,work your way down and walls and keep turning the plate in one direction while you are spreading the ganache.
6.Decorate as you need and set in refrigerator until the time of serving.

Notes:
1.If you wish to see the layers distinct,use vanilla butter cream and white chocolate ganache.
2.Allow the cake to rest in refrigerate for at least 4 hours before cutting the cake.