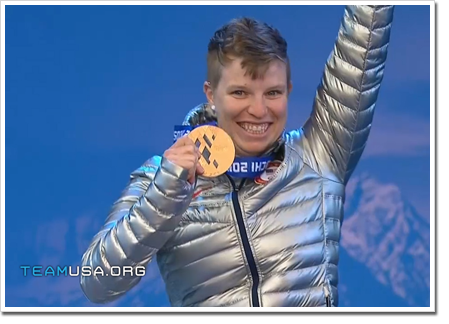 Arriving in Sochi, Russia as a Paralympic veteran, Allison Jones competed with her usual tenacity and drive–which ultimately earned her an impressive bronze in the Women's Downhill Skiing. "Winning the first medal for the USA, what more could I ask for? I came here to have fun because this is my seventh Games, and I've had a blast," Jones said. "It's absolutely amazing. I did some great skiing and there is great snow." Her bronze medal makes it her fourth career Winter Paralympic win with a time of 1:34.09.  The race used the principle of so-called "calculated time," in which each athlete's times is modified by a percentage reflecting the extent of their disability.
Humble Beginnings
Born without her right femur, Jones is a two-sport threat as a Paralympic medal-winning skier and cyclist. On her website jonezyrocks.com, she writes about her humble beginnings into the foray of sports, and specifically, cycling. "Living in Colorado Springs there was always something to do and often we would visit the local Velodrome when ever we saw the lights on.  Usually it would be just a locals race, maybe even a nationals, once it was the Junior World Championships.  In 1998 we went to the velodrome just as if it were a normal race going on and low and behold it was the Disabled World Championships.  I had never seen someone with a disability compete in cycling before and I was very interested.  My mother found the first American coach and asked how to sign up and learn to ride.  The following spring I was being taught how to ride a track bike, never have ridden a normal road bike.  I started to compete locally not realizing what opportunities were out there for me.  I went to the disabled nationals, which coincided with junior nationals in T-Town, Pennsylvania.  I competed in both the disabled athletes and the junior riders."
A Chiropractic Advocate
Jones is a strong believer in the benefits of chiropractic care. She said, "I was born without my right leg, and have met life's challenges with the attitude that quitting is not an option.  Chiropractic care has been essential to my good health and success – including earning multiple gold medals in international competitions over the past 10 years."
Jones credits her chiropractor with helping her to achieve the most her body can accomplish.  "I always push my body to the limit. The precise muscle releasing techniques and joint alignment that chiropractic care provides allows me to race day after day at peak performance."
Chiropractic for Athletes
In a previous blog post on the impact chiropractic has on reaction times, we were able to see how chiropractic could make such a tremendous impact on an athlete's performance.  The New Zealand School of Chiropractic had conducted a study to test the effects of Chiropractic adjustments on reaction time. In this study two groups were used to check reaction times. One group received chiropractic adjustments to the neck, while the other group was a control group for comparison and only received a short period of rest.
The results showed a marked improvement for the group that received an adjustment over the group that got nothing but rest. The group that got only rest did show an average decrease in reaction time of 58 milli-seconds, which represented an 8 percent quicker reaction time. The group that received the Chiropractic adjustment showed a decrease in reaction time of 97 milli-seconds representing a14.8 percent quicker reaction time.
*   *   *
If you have questions about chiropractic care and how it may help your health concerns, feel free to give us a call to set up a complimentary consultation.  As chiropractors in Augusta GA, our patients at Georgia Clinic of Chiropractic, which include athletes from the Augusta GA area as well as nationally, comment on how much they appreciate us going the extra mile in making sure their questions are answered and they completely understand what their treatment entails, how their treatment works, and why it works.  We want to work together with you as a partner in your health, and as an informed patient.  Visit our website to read more information about our services and how we've helped others as experienced Augusta GA chiropractors.
---
The Georgia Clinic of Chiropractic Blog is written by Dr. Mark Huntsman.
Augusta GA Chiropractor Georgia Clinic of Chiropractic provides customized chiropractic care to the Augusta GA , Martinez GA, and Evans GA communities. Visit our main website at www.georgia-clinic.com for customized chiropractic in Augusta GA.
Choose several options to schedule your appointment: call (706) 814-5053, use our online voicemail, or use our online form.