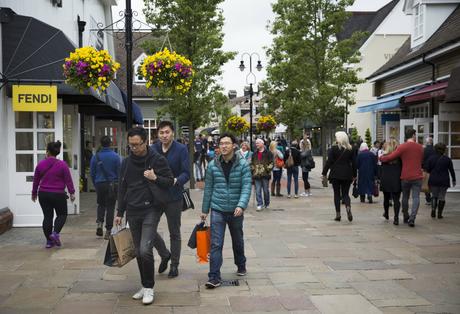 NEWS COPY - WITH PICS
More than three million Chinese tourists are flooding into the UK every year to see an unlikely landmark - Bicester Village shopping centre.
The designer outlet centre in Oxfordshire has become an unlikely Mecca for a legion of bargain-hunting Chinese shoppers hungry for a cut-price British buy.
Chinese tourists make up half of the six million shoppers a year to the shopping centre, making it one of the most popular attractions in the UK for the Asian visitors - second only to Buckingham Palace.
So popular is the destination with Chinese shoppers that Travelodge has opened a new hotel in the picturesque town and trained its staff in key phrases from the Far Eastern language, as well as designing oriental welcome packs for guests.
And after launching their new hotel online, Travelodge saw a huge 61 per cent increase in web traffic from China.
As a result, the budget hotel chain has enrolled the help of Katy Wang a Chinese Tutor for students at Oxford University, to advise its Bicester hotel team on Chinese etiquette and key Mandarin welcome phrases.
The bespoke masterclass informed the team that Chinese guests should never be given a room on the fourth floor of the hotel or a room with the number four in it because, in Mandarin, the number four sounds too similar to the word death.
It is also imperative not to point with one finger but with the whole hand.
The team were also taught Mandarin phrases to help at check-in such as 'Welcome to Travelodge', 'Hello', 'Please', 'Thank You' and 'Have a Nice Stay'.
Travelodge is also trailing a service offering Chinese visitors a noodle kettle, as well as a bespoke Oriental snack box, which contains a packet of flavoured noodles, a bowl, chop sticks, a green tea bag and a fortune cookie.
Green tea bags have also been introduced as part of the complementary in-room offering.
Travelodge spokeswoman, Shakila Ahmed, said: "With Bicester Village welcoming a growing number of Chinese visitors and the strong demand that we are experiencing in web traffic from China we have gone Chinese friendly at our new Bicester hotel.
"It's vital that we make our Chinese customers feel welcome and that's why at Travelodge we have introduced the little things like a word or two in Mandarin and a way to enjoy familiar food in the comfort of their room.
"These little changes can make the world of difference to someone's stay."
Chinese tutor Katy Wang, said: "It's great that Travelodge acknowledges the value of going Chinese friendly, it makes good business sense.
"Simple things like the team learning welcome phrases in Mandarin showcases that Travelodge is a warm welcoming hotel which is vital for Chinese visitors."
ENDS