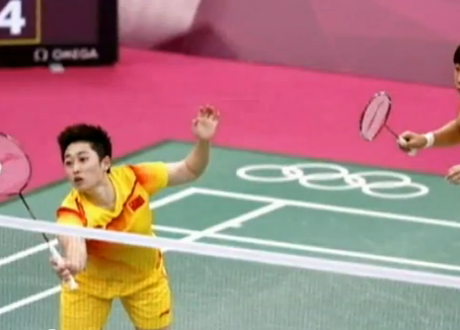 Yu Yang, one of the disqualified players. Photocredit: ITN
The background
Li Yongbo, China's head badminton coach, has apologised after his two top players were disqualified from the London 2012 Olympic Games. They deliberately tried to lose a match so that they would avoid playing another Chinese team.
Eight women's doubles players in total were disqualified, including Yu Yang, one of the Chinese players, who has now announced that she is leaving the sport. Her partner was Wang Xiaoli. The other teams who tried to lose were South Korean and Indonesian. The scandal came after new rules affected the tournament: instead of a straight knock-out, a round-robin stage meant that if a team lost a match, they could have an easier match in the next round. All four pairs have been charged by the Badminton World Federation and disqualified, reported the BBC.
"This is my last competition. Goodbye Badminton World Federation (BWF), goodbye my beloved badminton," wrote Yu Yang on her Tencent microblog.
A disgrace to the Olympic spirit
The Chinese duo were castigated by Chinese officials, reported the BBC, which quoted a Xinhua report: "profoundly recognize the seriousness and the harmfulness of this matter, reflect deeply on it, publicly apologize and resolutely prevent such incidents from happening again." A South Korean newspaper said that their players had "disgraced the Olympic spirit and embarrassed the country."
It's the rules that are wrong
They garnered support, however, from web users in China, quoted on the BBC: "Those judges are just letting people down. If football lets you lose to avoid some opponents, why can't badminton?" said one; another blasted: "How could they say this is cheating? It's the rules that are not right!"
The fans were treated with disdain
4,800 fans, said the Evening Standard, "were treated with disdain." The teams "sprayed hopeless shots into the net and beyond the lines", and their game was "beamed around the globe to a disbelieving audience."
It's not uncommon in China
The players were all booed, reported the Telegraph, and the evening was "embarrassing." But such scenes, though "unusual" in badminton, are not that uncommon between Chinese players. The paper's badminton correspondent, Rod Gilmour, said that "out of 99 Chinese affairs, 20 of those were not completed or were walkovers."
What did you expect?
Dave Berry in The Sacramento Bee said, well, what do you expect? The sport has the word "bad" in it. And the word "minton."
The "disgraced" players should be congratulated
Actually, said Simon Jenkins in The Guardian, the attacks on these "players are grossly unfair." They were only "doing their best with added cunning." We're constantly reminded about how we should win – and look at the Chinese, they "clearly know how" to do so. They've only done what "their tacticians" told them to do. It's no different from, say, a cyclist "hovering" whilst he waits for the "right moment." Sure, it may have been "depressing for the spectators", but nobody made them watch. The Olympics aren't about "taking part" – and in fact, "watching people lose" can be exciting in itself. These players were acting "in the spirit of the modern Olympics," whicis is "not a spectator sport but a deeply serious competition for national pride. The players should be congratulated on their ingenuity."