Many South American countries such as Argentina, Brazil and Colombia are planning to build stronger cooperation with China.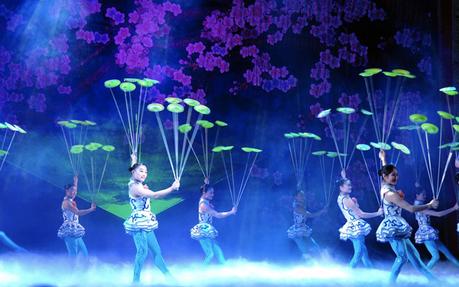 Especially the tourism sector is in focus as the Chinese ambassador to Argentina called for intercultural communication between the two nations in order to gain greater wisdom.
To promote the understanding of Chinese culture, an acrobatic venue known as Chaoyang Theatre is gaining momentum amongst South American visitors in Beijing.
"All things are difficult before they are easy"- a popular, old and wise Chinese proverb goes like this and the Chinese art of Acrobatics is the burning evidence of the faith and the influence of this saying to the Chinese people. This traditional two thousand year old- art is a great composition of highly skilled and daring performances presenting the glory of strength, creativity, accuracy and a high level of physical motion balance. The extremely risky and difficult Chinese acrobatics had a period of great development in the Han Dynasty of China due to the great patron of acrobatics, the Emperor Wudi.
Click here to visit the Chaoyang Theatre homepage!
The Chaoyang Acrobat Show in Beijing
The capital city of Beijing is one of the most culturally important places for traditional Chinese performance, with several famous acrobatic venues to choose from. Currently there are three large and stylished acrobatic show theatres: Chaoyang Theatre, Tianqiao Theatre and Tiandi Theatre. Amongst them, Chaoyang Theatre (English: Chaoyang Theatre) is the largest and the most popular acrobatic show theater in Beijing, which organises the world famous Chaoyang Acrobat Show, every day of the week. During high season, there can be seen even four performances in one day.
Features
The showcase of guts, fitness and skills of this show, attracts a million yearly tourists around the world to China. The most amazing features of this show are:
There are no tricks or security ropes used in the show, it is a pure presentation of extremely high level of trained skills. The performances are breathtaking and even scary at times. However, it is known to be popular amongst all ages. Spectators range from kids to adults, who can truly appreciate the vibrant show atmosphere. This entertaining show is a visual representation of Chinese tradition, taking great pride in taking the feats to their extremes. According to the tradition of Chinese entertainment, the performers here represent traditional acrobatic performance by using wicker rings, bowls, plates, jars, chair, tables, tridents, knives and so on. Most astonishing and popular performance items of the show are- "Jar Tricks", "Lion Dance", "Hoop Diving", "Flying Trident", "Balance on Chairs", "Spring-Board Stunts", etc.
The show goes on through the whole day in 4 shifts during high season- 2:30, 3:50, 5:30 and 7:15 pm and it is a one-hour show.
The tickets are available at different prices according to the location of seats. For advanced online booking, a discount is available starting 220 Chinese Yuan (price has increased slightly almost every year).
Starting from Beijing, China the Chaoyang Theatre can be accessed through the Subway line 10 or 6. Get off at Hujialou Station exit C1 and continue to the 36 Dongsanhuan North Road of Chaoyang District.
Other Places to Visit in Beijing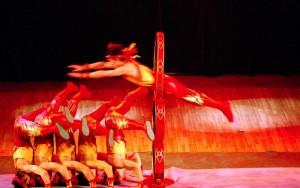 Beijing has many more historical and attractive places to pay a visit for South Americans. Amongst them, some remarkable attractions are:
Great Wall of Beijing: Astonishing world heritage site and one of the new7wonders of the world.
Beijing Ming Tombs: Tombs of 13 emperors of the Ming Dynasty.
Beijing Forbidden City: Chinese imperial palace during the years from 1420 to 1912. Now visited by 14 million people, annually!
Beijing Summer Palace: The beautiful imperial garden, lake that has been enjoyed by many emperors.
Temple of Heaven: A magical place of worship used by the emperors.