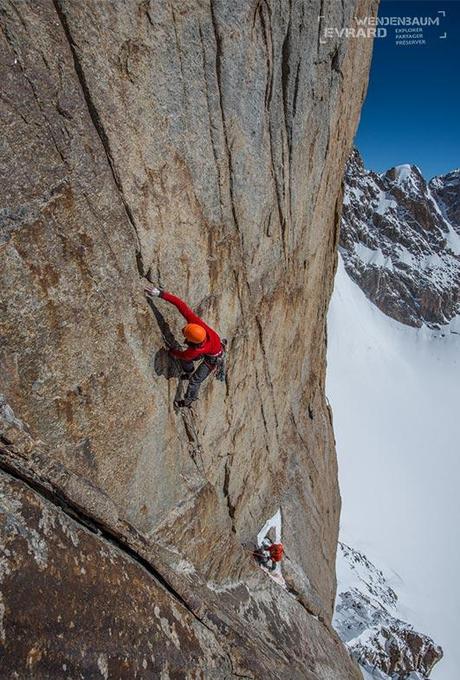 While most of the attention in the climbing community has been centered on the Himalaya once again this fall, there have been other bold climbing adventures taking place in other parts of the world as well. For example, a team of four big wall climbers traveled to a remote region along the border of
China
and Kyrgyzstan in search of new challenges to test their skills. They found that challenge in the form of a mountain called Kyzyl Asker, a 5842 meter (19,166 ft) tower with a 1220 meter (4000 ft) race that required two weeks to complete.
In late August,  Sean Villanueva O'Driscoll, Nicolas Favresse, Stéphane Hanssens and Evrard Wendenbaum gathered in China with no specific climbing objective in mind. They had read about a region in the Tien Shan Mountain Range that offered excellent opportunities to tackle unclimbed routes across a wild, rugged region that is seldom visited by outsiders.
After clearing some logistical hurdles and gathering what they though were the right permits, they set out for their destination using camels to shuttle their gear. After setting up Base Camp, they surveyed he area and settled on Kyzl Asker as their target. But they soon discovered that the permit they had been issued was meant for trekking only and not climbing. It also had a number of other restrictions that were problematic to the expedition as well. Luckily they had a Chinese liaison officer with them who helped get the issues resolved so they could proceed.
Once the team had its objective picked out, they began moving their gear to Advanced Base Camp so they could being the ascent. Of course, these types of climbs are never easy and there are always unexpected challenges along the way. The four men had to deal with altitude, cold temperatures, constantly changing weather, illness and a host of other issues. Eventually they did climb the wall, but it took them 14 days to do so, topping out on September 22.
You can read a full account of the China Jam Expedition, as it has come to be known, on the Petzl blog. Evrad also wrote extensively about the climb as well, posting
updates to his blog
too. Those are in French however, so if that isn't a language you're proficient in, you'll need to run the reports through
Google Translate
first. I think it'll be worth your effort however, as this sounds like it was quite an experience.
Finally, check out the video below to see how the expedition not only got its name but also what the boys did to pass the time while suspended on Kyzyl Asker's big wall. These guys have quite a career ahead of them when they're done climbing.
China Jam - Portaledge Song from Evrard Wendenbaum on Vimeo.