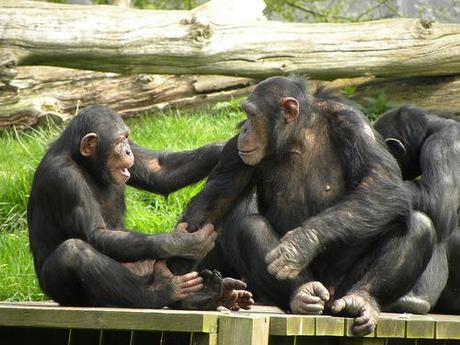 Oohh chimpanzee that! etc. Scientist's have discovered that chimps use at least 66 forms of gesture to communicate with each other in the wild.
The research team from the University of St Andrews studied 120 hours of footage of chimpanzees in the wild, looking for signs of interaction via signalling. The new findings more than double the initial number of gestures the animals used.
"This result shows a large repertoire…We think people previously were only seeing fractions of this, because when you study the animals in captivity you don't see all their behaviour"
"You wouldn't see them hunting for monkeys, taking females away on 'courtships', or encountering neighbouring groups of chimps."
In looking for these clear signs of deliberate movements towards their counterparts the researchers have been provided with clues about the origins of chimps' gestures. The results suggest that there is a common system of communication across the species rather than social group specific actions.
If you want to monkey around on your gap year then why not take a look at our many projects abroad.