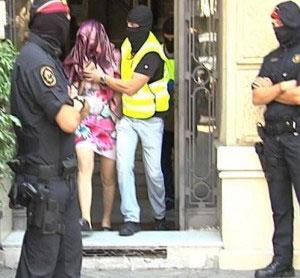 An elderly couple from Chile has been arrested for apparently claiming a dead man's state pension for the past 13 years.
A bank clerk became suspicious of the couple when asked about the beneficiary and even more so when the woman refused to provide proof that the deceased was still alive.
Police now know that the woman involved, Chilean national María Elena T.P., 67 ran a nursing home in Barcelona where the deceased man passed away in 1998.
She had been claiming the pension for the past ten years by taking advantage of her position at the nursing home. She registered the dead man on the local census in her hometown of Cervelló near Barcelona.
María Elena was able to draw the money from the retirement pension, which amounted to €748 euros every month for the last 13 years. She would present to the bank, a branch in Sant Feliu de Llobregat, a letter supposedly signed by the beneficiary, which allowed her to draw the pension money.
If the woman was ever told that the beneficiary would have to come in to prove he was alive, she simply said that the man was too old and had problems getting about. She even turned up on a few occasions with old men pretending they were the beneficiary of the pension in question.
Both María Elena and her husband José Patricio Avelino, 69, have now been released with charges pending trial.