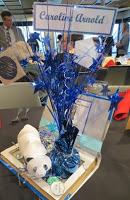 Panda and book centerpiece
Imagine 40 children's book authors and illustrators plus 4000 children and their teachers all talking about reading, writing and illustrating for three days in March.  That is the Children's Literature Festival, held each year in Warrensburg, Missouri, at Central Missouri State University.  This was the 45th year of the festival and I was honored to be one of the authors participating.  (I came once before, about fifteen years ago.)  The Sunday schedule included a luncheon for authors, illustrators, librarians, teachers and friends, followed by book sales and autographing. The luncheon tables were decorated with wonderful open "books" displaying the name of each author, names of their books both on the cover and embedded in small plastic domes, and a paper cut object representing the author's work.  My centerpiece had a charming paper panda on it.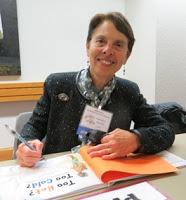 Autographing Too Hot? Too Cold?
On Monday and Tuesday, I met with groups of students and their teachers in classrooms on campus. I was impressed by the appreciative audiences and grateful for the volunteers who saw that everything ran smoothly.  I thank Naomi Williamson and her hard working committee and volunteers, especially the drivers who ferried us to and from the airport and between the hotel and campus, for the splendid organization of the festival and for making it such an outstanding event.
And I learned that most of the people in Missouri pronounce the second "i" not as a long "e" but as if it were an "a" as in "uh"! The next time I visit I will be sure to pronounce it like a native!