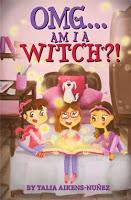 If you're looking for a great read for a child between the ages of 8-12, I recommend OMG ... Am I a Witch?! by Talia Aikens-Nunez. Kids with siblings will understand perfectly why April got so mad at her pesky brother that she wished he were a dog, and will laugh when they find out that she actually accomplished it! Other weird things keep happening, too. For instance, when April wishes a door would open, it does! It appears that April has "the gift," according to her friend Eve's grandma, who hails from New Orleans. But how will April change her brother back into a boy before her mother finds out?
This fast-paced, humorous book is a fun read. I hope we'll be learning more about April and her magic abilities in future books as she learns more about her about interesting talent. If your child, like mine, has ever wanted to turn an annoying sibling into a pet, she or he will love OMG … Am I a Witch?! Learn more on the author's website and "like" her on Facebook, too!



This post contains my Amazon affiliate link.